Muslim boycott of Danish products in 2006 cost companies millions. How much is at stake for France's exports?
---
Muslims in several Islamic nations started campaigning on the weekend for the boycott of French goods after President Emmanuel Macron on Oct 21 defended the right to show caricatures of the Prophet Mohamed. Muslims consider any pictorial depictions of the Prophet as blasphemous.
President Macron's comments came after the murder on Oct 16 of a French teacher who showed caricatures of the Prophet Mohamed during a class about free speech. The suspected murderer, 18-year-old Abdullakh Anzorov, was shot dead by French police on Oct 23. Anzorov was a Chechen who had lived in France since 2008.
Following a backlash from Muslims, President Macron tweeted on Oct 26: "We will not give in, ever. We respect all differences in a spirit of peace. We do not accept hate speech and defend reasonable debate. We will always be on the side of human dignity and universal values."
BACKGROUND: 2006 BOYCOTT OF DANISH PRODUCTS
The caricatures in question were first published by Danish newspaper Jyllands-Posten in September 2005. They were picked up by other European publications in early 2006, including the French satirical Charlie Hebdo magazine.
The caricatures led to protests among Muslims in many countries who started boycotting Danish products. Governments also became involved, with diplomatic protests escalating to the closure of several embassies. The boycott of Danish goods in Islamic countries cost Denmark's companies millions. Between February and June 2006, Danish exports to the Middle East fell by half and the cost to Danish businesses was around 134 million euros ($170 million).
Dairy giant Arla was forced to take up full page ads across the Middle East condemning the caricatures for insulting Islam. Arla lost some 450 million kroner (est $70 million) because of the 2006 boycott. The impact was prolonged – in April 2008 the company said its turnover was only half of what it expected for the year.
Jyllands-Posten apologised on January 30, 2006 saying it was not its intention to offend.
In France, Muslims took to the streets in 2006 in protest against the caricatures and the Grand Mosque of Paris and the Union of French Islamic Organisations sued Charlie Hebdo. A year later a French court cleared the magazine citing freedom of expression and said the cartoons did not constitute an attack on Islam in general.
In Jan 2015, 12 people at the Charlie Hebdo office were killed by attackers who allegedly said they were avenging the Prophet Mohamed. The two attackers were killed in police raids at the time but the trial of 14 people accused of helping them started last month. Ahead of the trial, Charlie Hebdo republished the caricatures.
FRANCE AND ISLAM
These "cartoon incidents" are not the only ones that have stoked the anger of French Muslims. For example, in 2004 the state banned the use of headscarves in public schools and for civil servants at work, and in 2010 it passed a law disallowing full-face coverings in public, which Muslims saw as an effort to prevent Muslim women from wearing the niqab. In 2016, there was a ban on the burkini on three French beaches.
More recently, President Macron on Oct 2 vowed tougher laws to tackle what he called "Islamist separatism" and defend secular values. He said France's Muslims were in danger of forming a "parallel society" and described Islam as a religion "in crisis".
"Islam is a religion that is currently experiencing a crisis all over the world. We're not just seeing it in our country, it's a deep crisis linked to tensions between forms of fundamentalism, specifically religious and political projects which, as we're seeing in every region of the world, are leading to a very strong hardening, including in countries where Islam is the majority religion," said the president.
He went on to say that he does not want to stigmatise French Muslims, and that France itself had failed its immigrant communities, creating its own separatism with ghettos of "misery and hardship".
REACTIONS FROM MUSLIMS, ISLAMIC NATIONS
Muslims and Islamic countries have spoken out loudly in response to President Macron's defence of the caricatures on the basis of freedom of speech.
Saudi Arabia's government on Oct 27 said it renews its rejection of any attempt to link Islam and terrorism and its "denunciation of the offensive cartoons" of the Prophet. It did not address the calls for the boycott of French products.
A protest in Bangladesh on Tuesday (Oct 27) is by far the biggest in-person action todate as thousands marched in the streets.
#boycottfrenchproducts and #boycottfrance are going around social media platforms
Pakistan's foreign office on Monday (Oct 26) summoned the French ambassador to lodge a "strong protest" after prime minister Imran Khan denounced Macron's "encouragement of Islamophobia".
France recalled its ambassador to Turkey on Oct 25 after President Tayyip Erdogan said Macron needed mental help over his attitude towards Muslims. Erdogan is also supporting the boycott of French goods. France said on Monday it is not planning a reciprocal boycott against Turkish products and will continue talks and relations with Turkey.
The Organisation of Islamic Cooperation on Oct 23 released a statement saying it was "struck with astonishment at so unexpected a discourse from certain French politicians, which it deems to be harmful to the Muslim-French relations". The OIC general secretariat said it will "always condemn practices of blasphemy and of insulting prophets of Islam, Christianity and Judaism."
Kuwaiti retailers pulled French products off their shelves. The head of the Union of Consumer Co-operative Societies told Reuters the products were removed in response to "repeated insults" against the Prophet.
Qatar's supermarkets started removing French products on Oct 24.
Jordan's foreign ministry on Oct 24 condemned the "continued publication of caricatures" of the Prophet "under the pretext of freedom of expression". Social media users in the country have started a campaign calling for the boycott of French products.
HOW MUCH DOES FRANCE EXPORT TO ISLAMIC COUNTRIES?
Pharma and cosmetics
France is the second biggest exporter of pharmaceuticals to OIC countries, at $4.4 billion in 2018, according to the State of the Global Islamic Economy 2019/20 report from DinarStandard. Germany is the biggest pharma exporter to the OIC, with $5.1 billion in exports.
France was the biggest exporter of cosmetics to the OIC bloc in 2018, selling some $2.6 billion, according to the same SGIE report.
Total exports
In 2019, France exported $555.1 billion worth of products to the world, according to the U.N.'s ITC Trade Map data. $50.31 billion went to the 57 countries of the Organisation of Islamic Cooperation (OIC). That's 9.06% of the EU country's exports.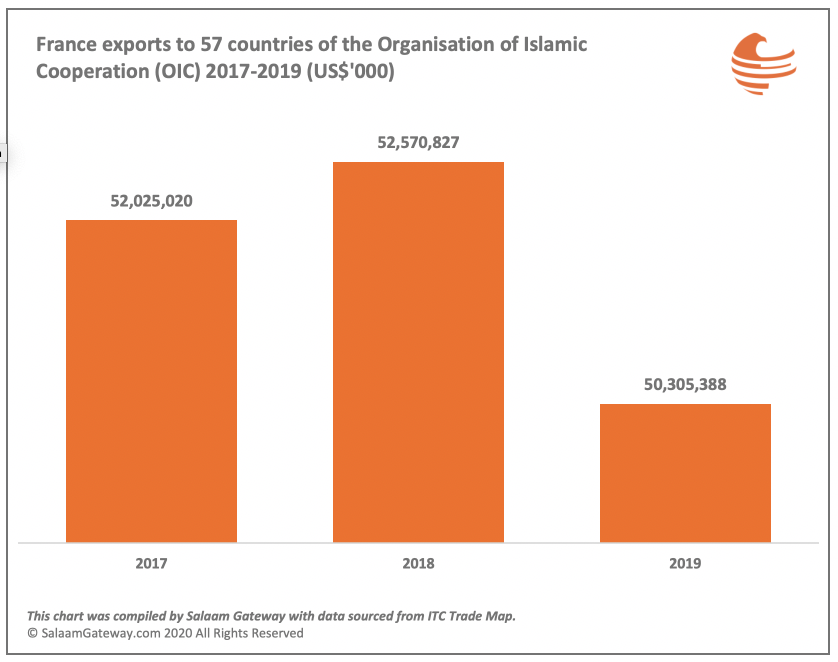 The OIC as a bloc bought $1.79 trillion worth of products in 2019, which makes French goods stand at 2.8% of all its imports.
France is the OIC's eighth biggest trading partner. As a bloc, the 57 member states of the OIC buy most from China (2019: est. $319 billion), USA (est. $120 billion) and India (est. $92 billion).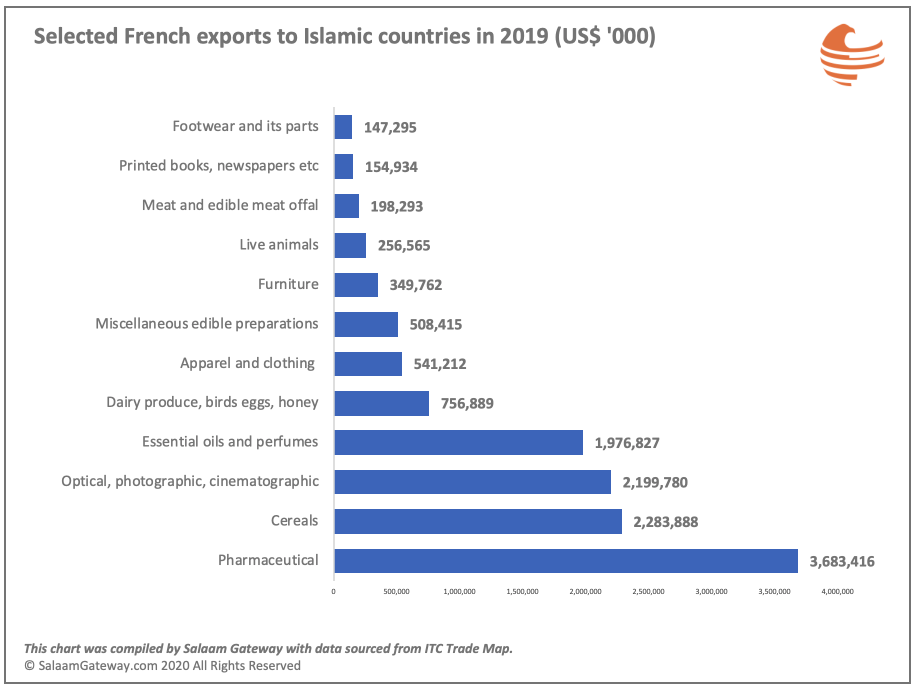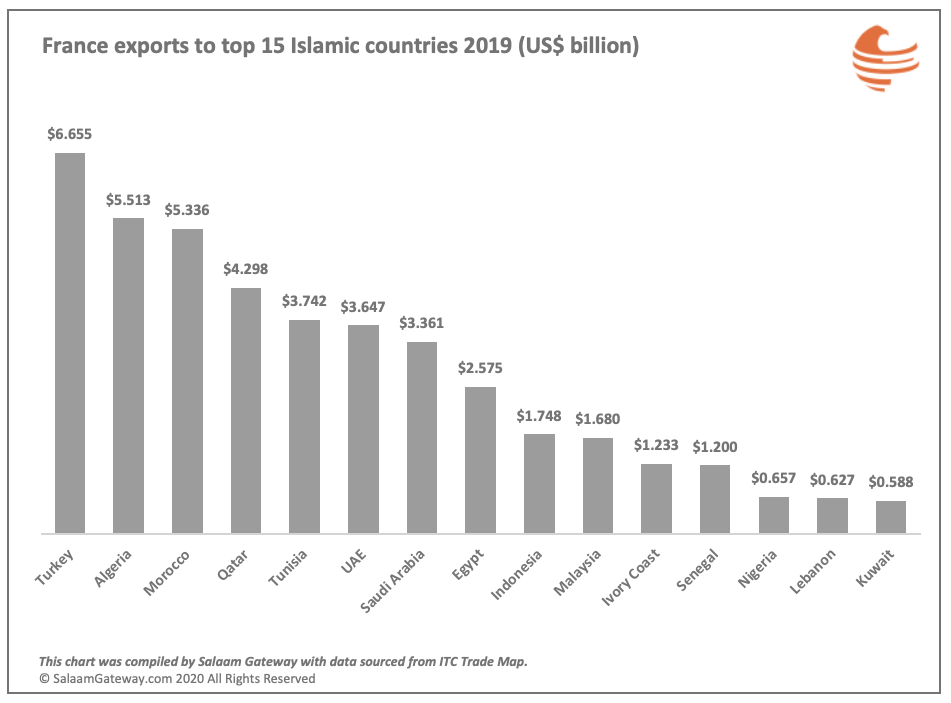 © SalaamGateway.com 2020 All Rights Reserved
---