A woman's gaze on women: Sudanese female director wins French award for film about arranged marriage
---
In the run-up to International Women's Day (IWD) on March 8, Salaam Gateway features stories about women entrepreneurs and leaders tied to the global Islamic economy. These women have one thing in common – they all #ChoosetoChallenge, reflecting IWD's 2021 theme. The International Women's Day celebrates the social, economic, cultural and political achievements of women.
---
15-year-old Nafisa has a crush on Babiker. But her parents have promised her to Nadir, a young Sudanese businessperson who lives abroad. Nafisa's grandmother, the village matriarch, has her own plans for the young woman's future.
This is the storyline of the short film Al-Sit, that earlier this month won its writer, director and producer Suzannah Mirghani the Canal+/Cine+ Award from the French channel Canal Plus Cinema, at the Clermont-Ferrand, one of the world's largest international short film festivals.
"I'm proud to be part of a new wave of locally-produced films and visually telling stories I find interesting and representative of my idea of Sudan," Mirghani told Salaam Gateway.
This "new wave" of Sudanese films follows the decline of the country's industry under three decades of military rule. In 2019 when President Omar Al-Bashir was ousted in a coup, Sudan sent its first-ever Academy Award entry, the feature film "You Will Die At Twenty", although it did not go on to be nominated in the International category.
"Sudanese cinema is still nascent," said Mirghani, who grew up in Sudan and has lived in the UK and Cyprus, and is now based in Qatar.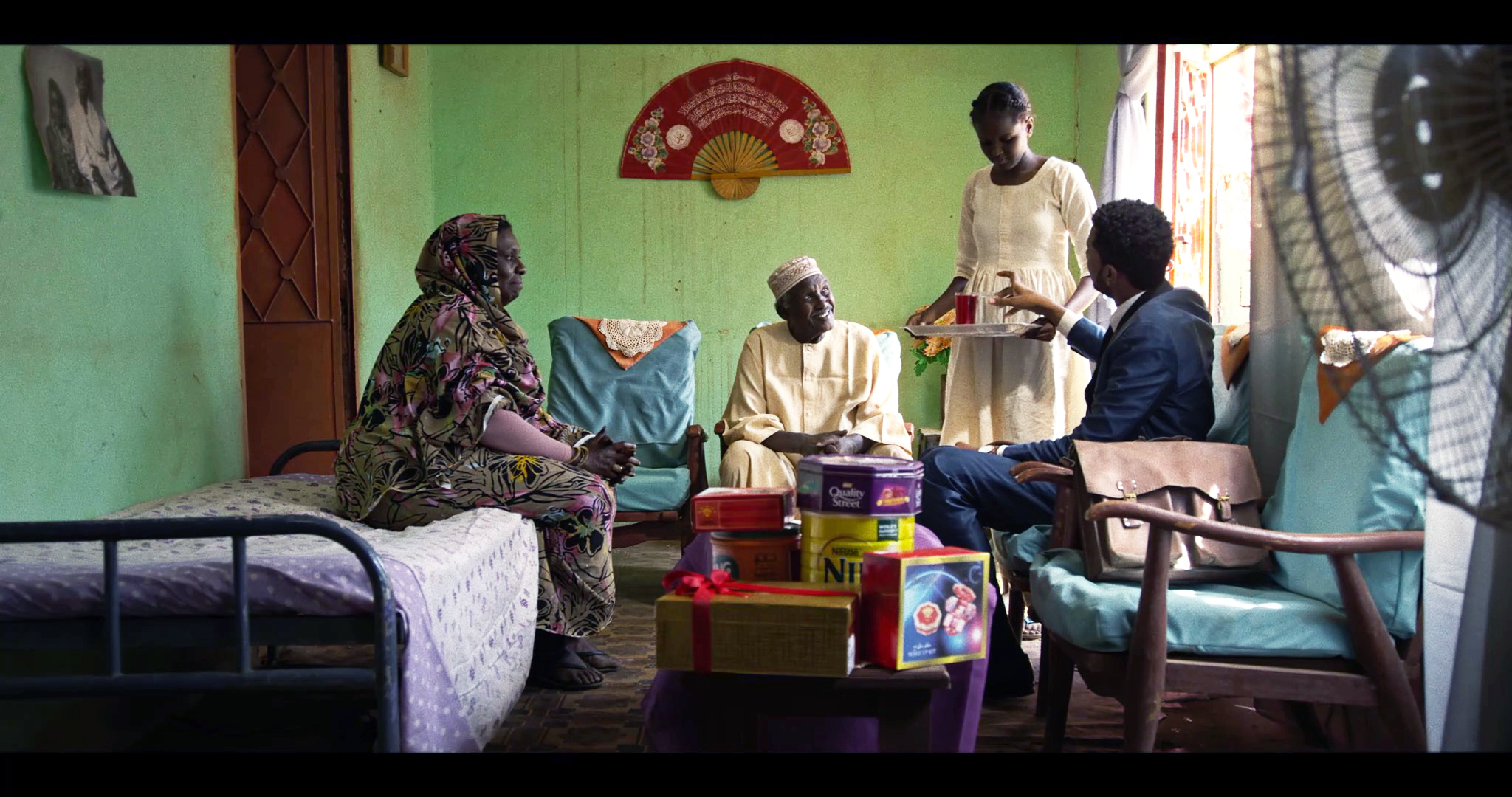 Photo: A scene from Al-Sit. Photo supplied by Suzannah Mirghani.
Mirghani's 20-minute award-winning film highlights the cultural and familial norms surrounding arranged marriage, a contentious issue that she said is hardly ever discussed publicly.
A strong sense of faith and community is distinctly felt throughout the short. "While religion isn't explicitly stated in the film, it's closely intertwined with daily life," said the filmmaker.
This religion, of course, is Islam. Over 90% of Sudan's 45 million population are Muslim, predominantly Sunnis, who are in transition following the 2019 coup that resulted in Sudan becoming a secular state last year after adhering to Islamic laws since 1983.
Al-Sit was born out of this backdrop. Mirghani finished writing it in 2019, at the beginning of the revolution in Sudan. "This is reflected in Nafisa's personal and symbolic revolution," said the filmmaker.
Amid momentous changes in the country, Mirghani places a tight family drama at the heart of the film, shooting it against the landscape of a cotton-farming village that itself evokes other cultural themes and social issues.
The village, established by British colonialists in the twentieth century, positions the characters in a historical atmosphere filled with lingering questions of control, independence, and neoliberal exploitation, Mirghani explained.
According to her, cotton has been part of the Sudanese culture and economy for centuries, evidenced by the cloths in the burial chambers of the country's ancient kingdoms. Sudanese cotton was industrialized on a massive scale by a British colonial initiative: the Gezira scheme, one of the world's largest irrigation projects. "This was an immensely successful industry for the British, and cotton became a major export and cash crop," Mirghani said.
The numbers speak for themselves. In 2019, cotton was the country's fifth largest export, earning it $132.44 million, according to most recent data from the U.N.'s ITC Trade Map.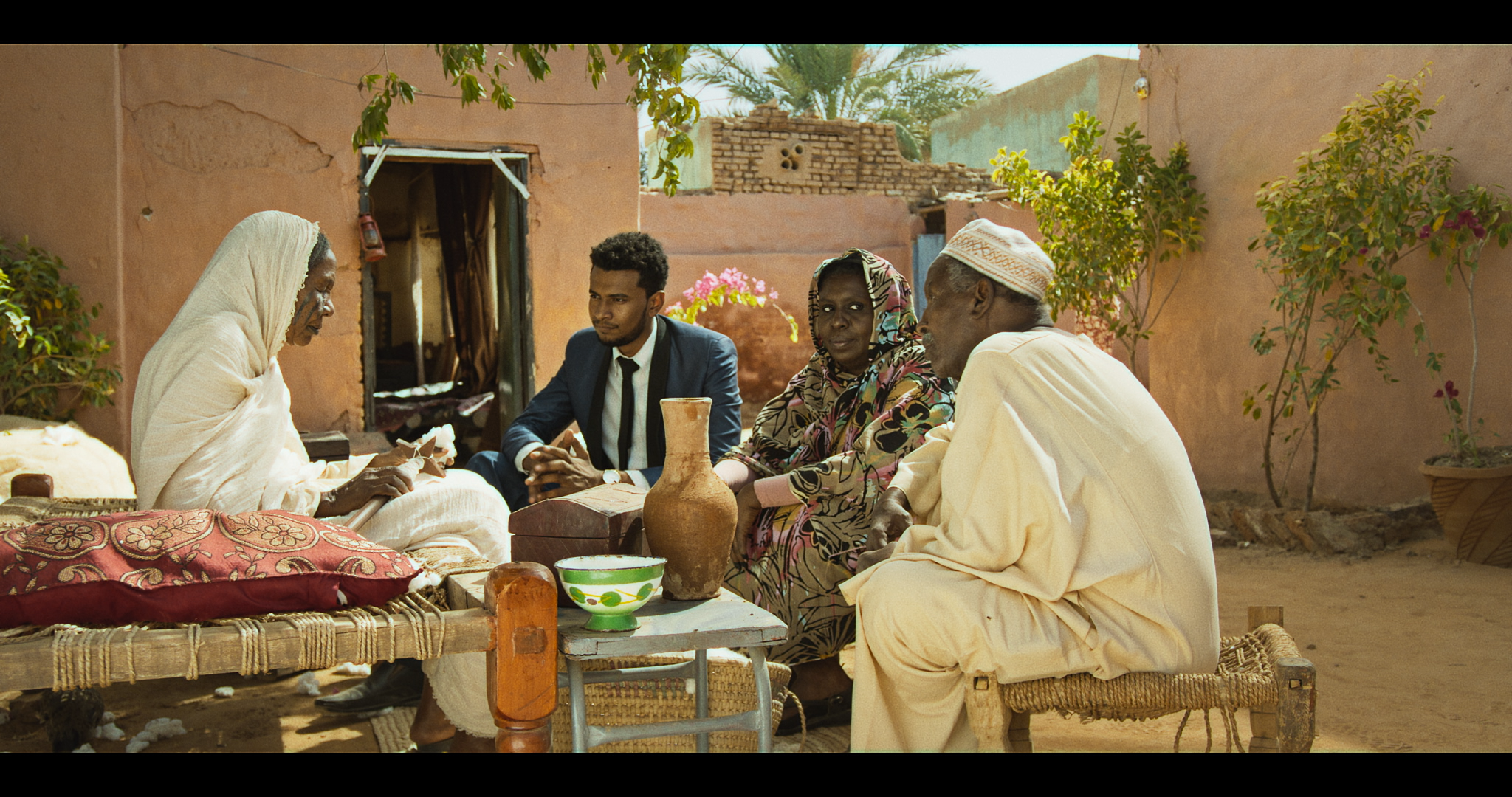 Photo: A scene from Al-Sit. Photo supplied by Suzannah Mirghani.
Mirghani's memories of Sudan's cotton fields are vivid. "My family would regularly visit relatives in Sudan's cotton-farming regions," said the filmmaker. "Even though cotton is a common, everyday fabric, seeing little balls of cotton straight on the plant is a fascinating sight."
She also has her family to thank for contributing to the making of Al-Sit. "My parents' stories about my Sudanese grandmother and elders, in general, helped to flesh out the Al-Sit character," Mirghani said. Her sisters Nadia and Tatyana read multiple script versions and watched countless rough-cut screenings.
Family was also there to support her in other ways. Although Mirghani received a production grant for Al-Sit from the Doha Film Institute it wasn't enough to cover all expenses. Determined to make the film, she became the lead producer, along with Eiman Mirghani (not related to Suzannah). Her husband, Dr. Rodney Sharkey, and her sister Julietta Mirghani joined as associate producers.
She had other help. Kuwaiti filmmaker and assistant professor at VCUarts Qatar, Maysaa Almumin, supported the production by contributing institutional design support and funding.
The production also benefitted from the in-kind support received by the Sudan Film Factory. The provision of audition and rehearsal spaces made it the pre-production hub.
When it was ready for the world, Al-Sit premiered at the 2020 edition of the Ajyal Film Festival in Qatar in November, with MAD Solutions distributing it in the Middle East.
Thanks to COVID-19 restrictions, films like Mirghani's received greater exposure and the reach of a broader audience as film festivals mostly went online or in hybrid formats.
"The silver lining is that festivals exempt from geo-blocking reach watchers all over the world and people can take part in festivals they never had access to in the past," she said.
Being of multicultural Sudanese and Russian backgrounds, Mirghani is interested in stories that examine the complexities of identity. "I have always been wary of the mythology of racial or national purity, and constantly question the idea of a solid identity," she said. "People are complex, complicated, changeable, unreadable creatures, and so our identities are always fluid and unfixed."
She acknowledges that men have historically dominated the film industry, making too many films told from a male perspective. She encourages women to embrace the industry's labyrinthine structures and complicated production processes to contribute to film as art and education.
"Women, we need your stories!" she said.
And what of Nafisa's own story?
The film director chose Nafisa not to say anything, allowing the audience to fully appreciate her lack of choice and voice regarding the arranged marriage. "I wanted Nafisa's silence to speak loudly," Mirghani said. "She finds her voice, so to speak, through her actions."
(Reporting by Petra Loho; Editing by Emmy Abdul Alim emmy.abdulalim@salaamgateway.com)
© SalaamGateway.com 2021 All Rights Reserved
---