Africa's battle to stay cool to reduce post-harvest losses and increase food security
---
In Africa, over 20% of the population faced hunger in 2021, while in Sub-Saharan Africa, post-harvest food losses are estimated at $4 billion annually, enough to feed at least 48 million people, according to the UN Environment Programme.
Addressing the 2.1 billion tonnes of global food loss and waste is a planetary problem but one that requires local solutions. In Africa, one of the key measures to reduce post-harvest food losses is the expansion of sustainable cold chains, suggests the UN Environment Programme (UNEP). Cold chains are climate-controlled infrastructures helping to preserve edible products by maintaining a consistent ambient temperature.
"With Africa's economy, driven by population growth, urbanisation and food security is expected to grow tenfold to $29 trillion by 2050; this presents a challenge and an opportunity" in accelerating the uptake of sustainable cold chain solutions in the agricultural sector, said Ziad Al Bawaliz to Salaam Gateway. Cold chains are climate-controlled infrastructures that help preserve edible products by maintaining a consistent ambient temperature.
Al Bawaliz is Danfoss's regional president for Turkey, the Middle East and Africa. With over 40,000 employees worldwide, the Danish multinational company engineers energy-efficient technologies and delivers cold chain solutions through commercial and industrial refrigeration.
Danfoss is a founding industry partner at the Africa Centre of Excellence for Sustainable Cooling and Cold-Chain (ACES), located at the University of Rwanda. Through its office on the ACES campus, Danfoss supports students and technicians in their training needs.
"Refrigeration has been around for more than 100 years, and it's an evolving industry," Al Bawaliz said. "We can leapfrog the challenges developed nations face with CFCs and HCFCs."
Chlorofluorocarbon (CFC) and hydrochlorofluorocarbon (HCFC) refrigerants are ozone-depleting. The use of these chemicals has been banned and is currently being phased out, following the Montreal Protocol of 1987.
ACES is a UNEP-led initiative established in 2020 by the governments of Rwanda and the United Kingdom. Its mission is to develop and accelerate the uptake of sustainable cold chain solutions in Africa's agriculture and health sectors.
"Besides dealing with a large number of small farmers, a lack of policies, investments, awareness and technical capabilities are the main challenges," said Al Bawaliz about the difficulties of expanding refrigeration networks to prevent post-harvest losses.
According to Al Bawaliz, most small farmers cannot afford a cold chain infrastructure. What makes matters worse is that according to the World Investment Report 2022, foreign direct investments (FDI) in various sectors relevant to achieving the UN Sustainable Development Goals (SDGs), especially in food, agriculture, health and education, continued to fall in 2021. However, flows to Africa increased from $39 billion in 2020 to $83 billion in 2021.
"We need to have the right financial models to ensure the development of cold chain; the return on investment is viable," he said, suggesting service-based models to avoid the upfront investment.
"The banks need to be part of the picture," Al Bawaliz added.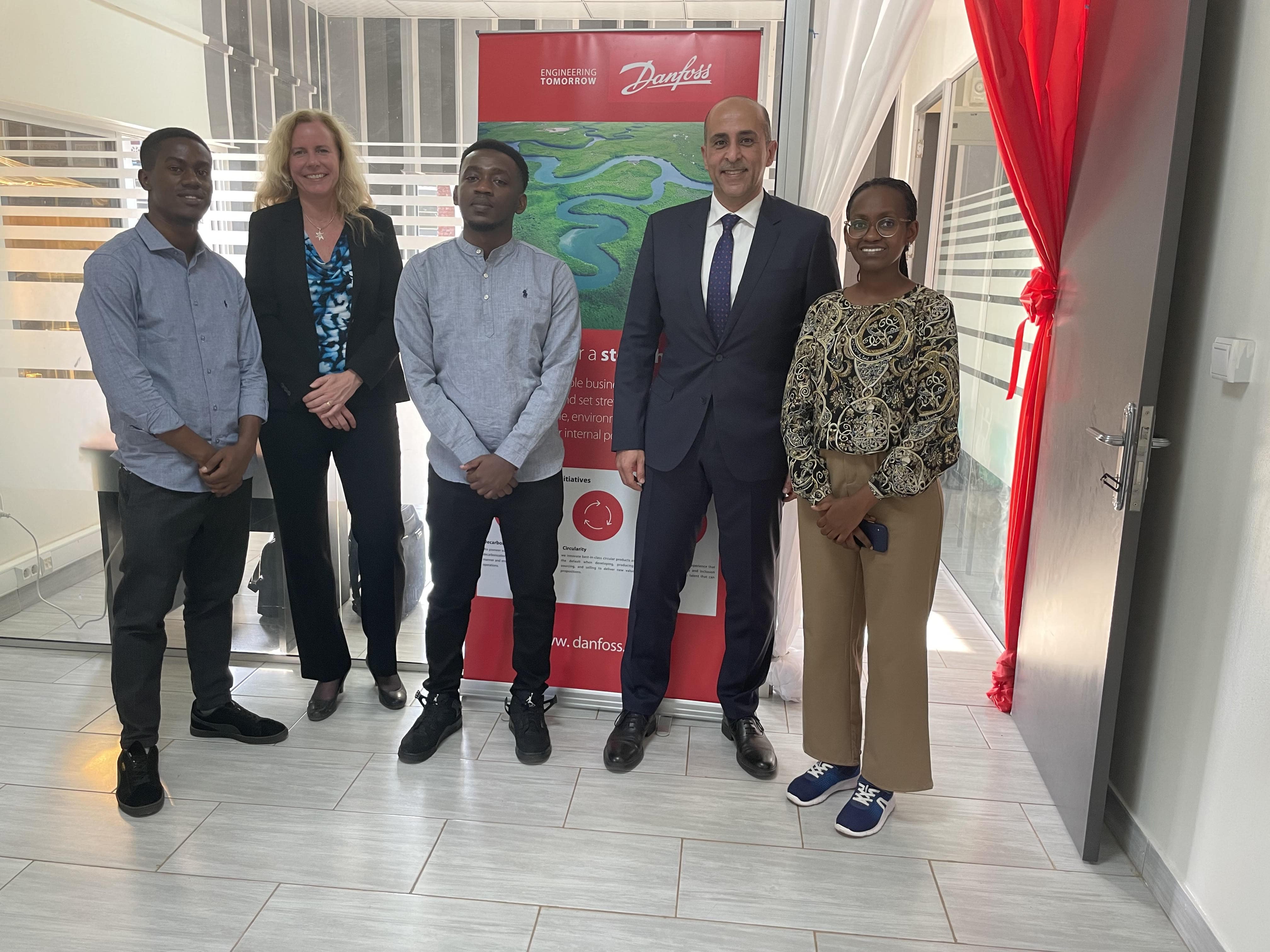 Ziad Al Bawaliz (Regional President at Danfoss Turkey, Middle East & Africa), Andrea Voigt (Head of Public Affairs at Danfoss Climate Solutions), and students from Danfoss' internship project Eyes and Ears in Africa: Yves Nezerwa, Parfait Niyonshuti and Natasha Mutangana (Courtesy: Danfoss).
The World Resource Institute also names insufficient energy access to power cold storage and poor road and railway networks as an issue to be tackled, in addition to Africa's low adoption rates for innovations in managing post-harvest losses.
To shift these low adoption rates, the Nigerian entrepreneur and founder of the Smallholders Foundation, which informs on sustainable farming through a radio station, Nnaemeka Ikegwuonu, travelled across the country to speak to farmers to co-design such innovations and help scale up businesses.
The result is a ColdHub, a "plug and play" modular, solar-powered walk-in cold room for 24/7 off-grid storage and preservation of perishable foods.
"When you travel along Nigerian roads, it's a typical picture of citrus and other high-quality fresh produce dumped on the roadside due to lack of storage," Ikegwuonu said at an event organised by The Oxford Martin School, a research and policy unit based in the Social Sciences Division of the University of Oxford.
"I discovered that more than 45% of food is lost due to lack of cold storage at key points along the food supply chain," Ikegwuonu added.
According to him, with just 10,000 metre cubed, Nigeria has one of the lowest cold storage capacities in Africa, mainly catering to the needs of the health sector and fish imports from Europe and Asia. Refrigeration, which he describes as critical infrastructure, doesn't exist in Nigeria's food aggregation centres.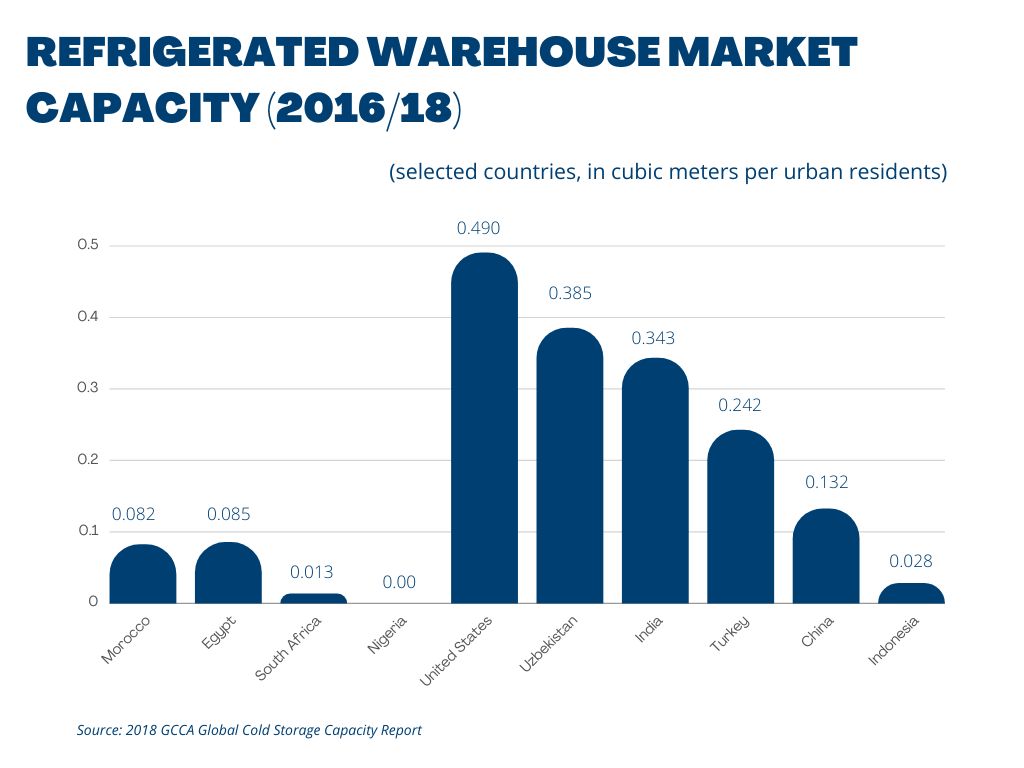 "The power grids can't deliver energy reliably, and the average farmers and wholesalers can't afford most of the refrigeration equipment needed to provide large-scale cooling," he said, confirming the challenges mentioned by the World Resources Institute and Danfoss's Al Bawaliz.
Ikegwuonu founded ColdHubs in 2015, and besides designing and building 100% solar-powered cold rooms, the company also operates and maintains them.
Over 5,000 farmers, retailers and wholesalers are using Coldhub's services, nearly doubling their income from about $60 per month to $100 to $120 by selling the food that usually was thrown away.
"The goal is to extend the shelf life of food from two days to more than 21 days by bringing refrigeration closer to farmers at farm gates, where they need it the most," Ikegwuonu said about the 54 cold rooms the company is running at the moment.
For 2022, Ikegwuonu projects to grow to 100 such rooms.
"Moreover, we've saved more than 1 million kilogrammes of CO2 by using renewable energy exclusively in all our systems, with no need for diesel generators at all," he said.
© SalaamGateway.com 2022. All Rights Reserved
---