Arab chic and modest fashion are more intimate than ever
---
The last generation witnessed a conscious shift in Arab clothing design in a way that has intertwined religious adherence more closely with high fashion, though what is worn beneath the abaya still often remains racy.
According to Dr. Reem Tariq El Mutwalli, a scholar of couture from the Arab world, the schools of Arab design and modest fashion are now increasingly intertwined, especially in the Gulf, whereas once they had been distinct.
"It's easy to forget that the Arab world is comprised of many different religions. You have Christians, Jews, Druze, Kurds, Maronites, Sunnis and Shias in this vast area of countries where Arabic is the language of the masses," Dr. El Mutwalli, a native of Iraq whose family moved to Abu Dhabi when she was a girl, told Salaam Gateway.
"Modest fashion is a relatively fresh term that can be traced back only to the 1980s. In general, it is thought to have stemmed from the amalgamation of a number of Islamic practices, such as the need to cover specific body parts, and of the rising desire to include these specific clothing items in the broader fashion industry."
Even the abaya, a black outer robe widely favoured by women in the Gulf states, does not have its roots in religion, though is now seen as central to modest wear among women there.
It was originally worn by wealthy men and women and resembled the ornate gown Arab sheikhs often wear today over a thobe, and then adopted by women in its current black format in the 1930s as a large square cloak worn over the body. After evolving into a gown worn over the shoulder, it has become a modest fashion icon in the last generation or so.
"It metamorphosed as its function required, becoming more tapered as women started to drive and take office jobs," said Dr. El Mutwalli, who has chronicled the evolution of Arab dress through her collection of some 1,350 pieces of clothing from across the region. These date back to the 1950s and have been catalogued into a virtual collection under her vehicle, the Zay Initiative.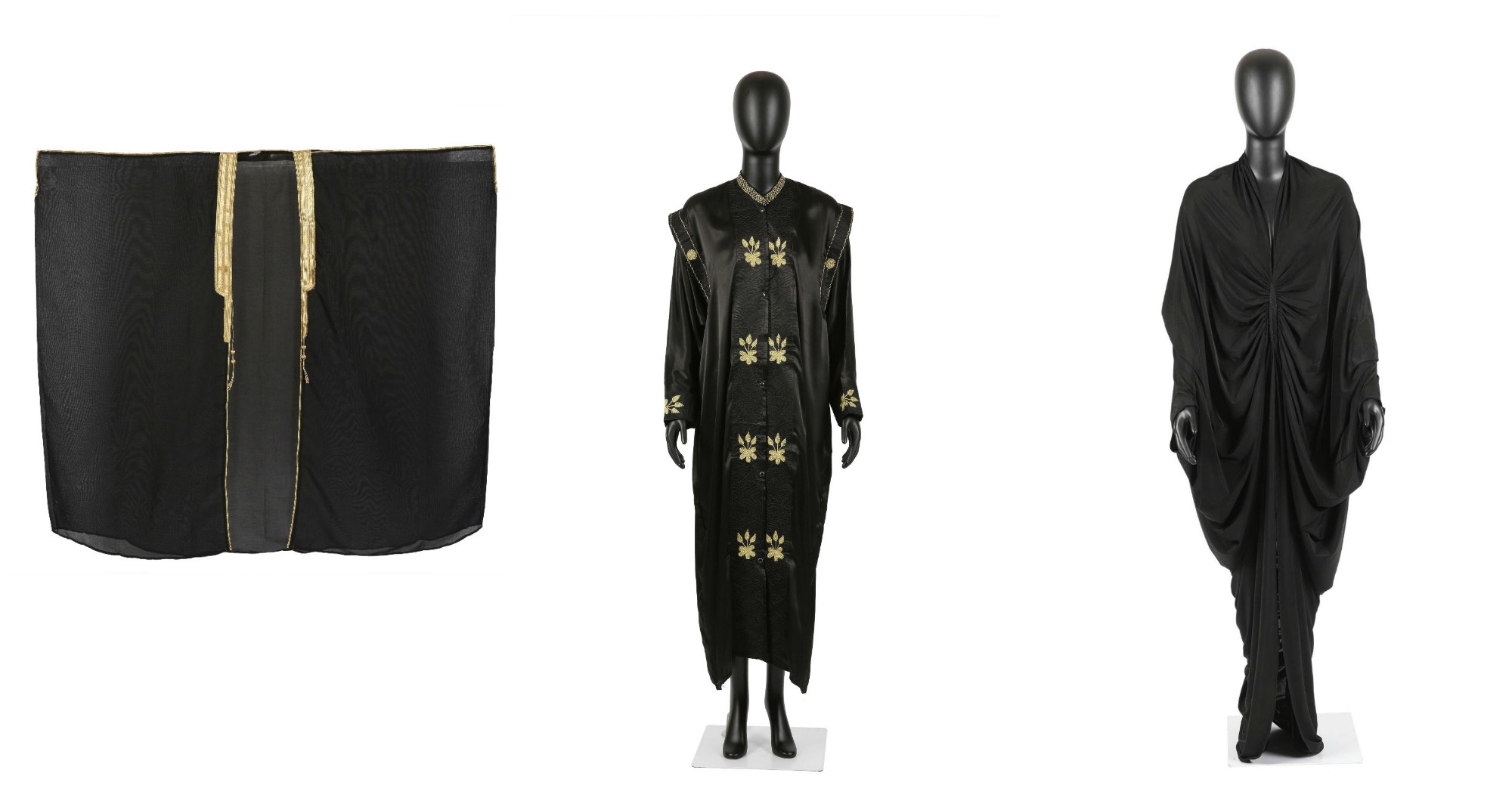 Photo: The evolution of the abaya: The original Sway'iah Abah, that resembles the men's Bisht, circa 1960s; The abaya tapered coat-like attire circa 1990s; Stylised body-hugging robe circa 2000s. Photos from Zay Initiative
"Even the colour and materials have been changing. Many girls from the younger generation are starting to experiment with styles and materials, using synthetics and looking at natural dyes. Just recently, colour has become part and parcel of these variations. Now you can see girls in pinks and whites and other colours, especially when they are out of the Gulf region."
According to the most recent State of the Global Islamic Economy report by DinarStandard, expenditure by Muslims on apparel and footwear was estimated to be worth $283 billion in 2018, up from $260 billion on the previous year.
However, it is difficult to put an actual number on the size of the modest fashion industry itself and DinarStandard's estimate should be taken as an indication of the opportunity size of the market.
Dr. El Mutwalli values the market at $6 billion and says it provides a rapidly expanding niche that is relatively empty on a global scale.
"This is becoming evident in that many international brands are trying to tailor their collections in relation to Muslim religious observation, such as Dolce & Gabbana presenting a collection of abayas two seasons ago," she said.
"We are in this capsule in time whereby there are some Muslim countries with such consumer strength that they can influence the international market. This serves to evolve traditional Arab dress while also adhering to Muslim religious values."
At the same time, Dubai has become a hub for homegrown modest fashion designers and thrusting young couturiers from around the Arab world, according to Rana Salam, a Lebanese designer who was in conversation with Dr. El Mutwalli for a webinar hosted by the Zay Initiative.
It is part of a renaissance that is being seen in the Arab design world that has been melding traditions from across the Gulf and Levant and incorporating elements of Islamic dress.
EXOTIC UNDERWEAR
The author of The Secret Life of Syrian Lingerie, Rana Salam told Salaam Gateway that outer clothing worn by Arab women has been pushing the boundaries of style as more of them gain the means and access to designer brands.
She stresses, though, that the Arab world has always been much more daring "beneath the abaya".
Exotic underwear has undergone a boom in the last 50 years or so, especially in items originating from deeply conservative and religious Syria, where it is part of a popular working-class tradition surrounding marriage for the country's mainly Muslim population.
Today, most married Arab women in the Gulf will own "gaudy and kitsch" lingerie, such as edible, crotchless and even musical underwear, which are invariably bought by their spouses from souks and catalogues, said Salam, who has been researching the subject for nearly 20 years.
Because of the religious distinction between women's outer- and innerwear, often bright and garish "indoor clothing" has a bigger market in the Middle East than clothes worn in public. This provides a counterpoint to the more austere clothing worn outside the home.
"We have found that women in religious families are likely to have more of this sexy lingerie than others," said Salam, pointing out that owning such items is permissible under Islam.
"For Muslims, risqué underwear is something very normal that they accept and enjoy. Muslim women have less freedom on the outside so they compensate by having more freedom on the inside."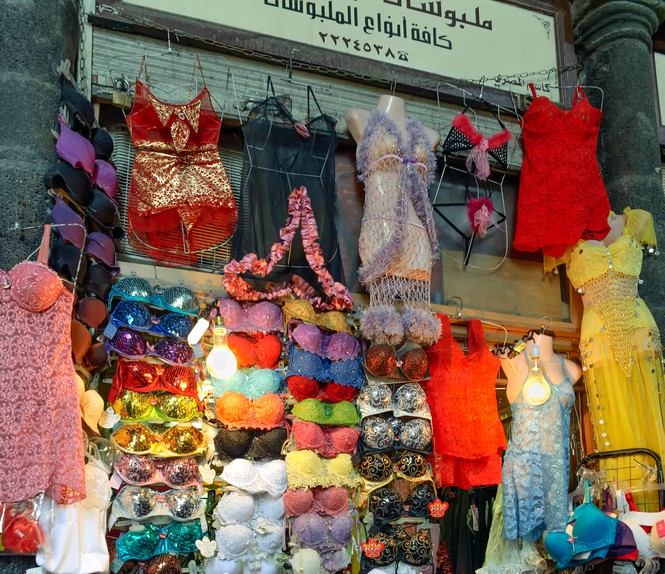 Photo: A shop in Al-Hamidiyah Souq in Damascus selling women's lingerie on November 16, 2012. Oguz Dikbakan/Shutterstock
The Arab world has had a longstanding place in fashion design, with the Western vocabulary littered with terms rooted in Arabic, such as damask, from Damascus, and muslin, from Mosul. Its place on the Silk Road speaks for itself in the historic role these countries played in the fabrics industry.
"Today's global growth of the Islamic consumer sector, due to urban development, increased wealth and global exposure, has forged links between religiosity and fashion," said Dr. El Mutwalli.
"Due to this growth of the Islamic consumer due to increased wealth, it has created a link between religiosity and fashion, whereby Muslims are encouraged to be both covered and fashionable, modest, and beautiful."
(Reporting by Richard Whitehead; Editing by Emmy Abdul Alim [email protected])
© SalaamGateway.com 2020 All Rights Reserved
---