Bahraini-Israeli agreement to establish tourism-focused bilateral forum
---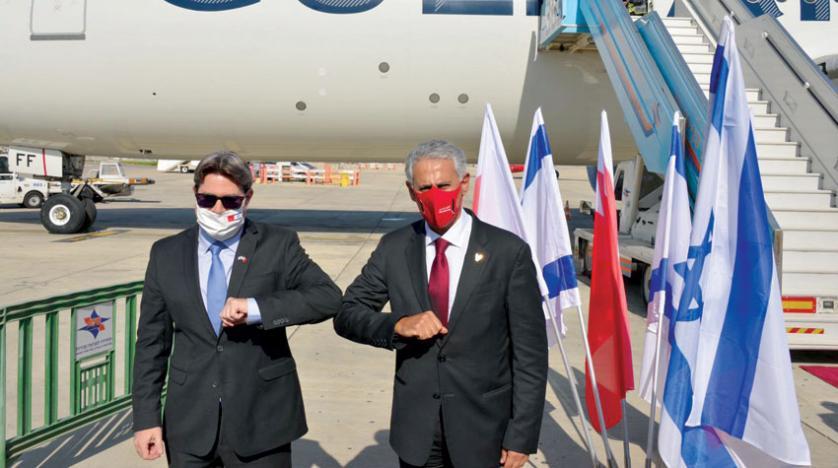 A Bahraini delegation headed by the the Minister of Industry, Trade and Tourism arrives at Ben Gurion Airport on Tuesday, December 1, 2020 (Asharq Al-Awsat)
Published 02 Dec,2020 via Asharq Alawsat (English Edition) - Bahraini and Israeli officials held on Tuesday meetings to discuss boosting cooperation in the fields of tourism, economy and innovation.
A 40-member Bahraini delegation arrived in Israel's Ben Gurion Airport on Tuesday for a two-day visit after both countries normalized relations in September.
The delegation, on its second official visit, was led by Industry, Trade and Tourism Minister Zayed bin Rashid al-Zayani, accompanied by state officials and businessmen.
The Bahraini officials were received by Israeli Economy Minister Amir Peretz, Tourism Minister Orit Farkash-Hacohen, Regional Cooperation Minister Ofir Akunis.
Three Bahraini-Israeli working groups held meetings in which they discussed areas of joint cooperation in the fields of tourism and business, in the presence of a number of officials from both countries.
Farkash-Hacohen issued a statement on Tuesday in which he announced that he will sign with his Bahraini counterpart a bilateral tourism memorandum of understanding (MoU) to establish a tourism-focused bilateral forum.
He said the MoU will enable dozens of tourists who will arrive from Bahrain and the UAE to explore Israel in the best possible way, adding that "movement among countries is the key to peace."
Zayani, for his part, said the visit aims at promoting the principles of "security, stability and prosperity" as Manama is keen to preserve its reputation as a beacon of peace in the region.
"We are keen to work together in various sectors, especially in the economic and tourism sectors in which we seek to establish bilateral partnerships," he said.
Signing of the MoUs helps both sides achieve economic prosperity and ensure more regional stability, Zayani explained.
"Bahrain and Israel will continue bolstering their cooperation to achieve their common interests," he added, noting that "such visits, and others in the future, will contribute to launching many cooperation initiatives in various fields."
On Tuesday, the Kingdom and Israel signed three MoUs and declaration of joint cooperation in the fields of technical cooperation, innovation and transfer of technology, as well as collaboration in environmental systems for small and medium enterprises.
The signing event was held at Waldorf Astoria in Jerusalem and was attended by Peretz.
Zayani expressed pleasure to launch these economic bilateral relations, underlining the importance of exploring business opportunities in light of the great potentials enjoyed by both economies.
Peretz, for his part, highlighted the significance of developing joint business and exchanging experiences in various fields. He called for the formation of working groups to develop economic and commercial cooperation.
Copyright © Saudi Research and Publishing Co. All rights reserved. Provided by SyndiGate Media Inc. (Syndigate.info)
---
DISCLAIMER: This content is provided to us "as is" and unedited by an external third party provider. We cannot attest to or guarantee the accuracy of information provided in this article from the external third party provider. We do not endorse any views or opinions included in this article.
---