Bangladesh start-up Arogga ready to expand healthcare affordability, availability under new CEO
---
In the run-up to International Women's Day on March 8, Salaam Gateway will feature stories about women entrepreneurs and leaders tied to the global Islamic economy. These women have one thing in common – they all #ChooseToChallenge, reflecting IWD's 2021 theme. The International Women's Day celebrates the social, economic, cultural and political achievements of women.
---
Rosina Mazumder is a consummate entrepreneur. The Brit gave up a career in investment banking to set up her own publishing business and now heads a health tech start-up in her family's native Bangladesh.
"I've always wanted to do something that creates a social impact," Mazumder told Salaam Gateway.
She is now CEO of digital pharmacy and healthcare start-up Arogga whose app lets patients manage, order, and track the delivery of medication and healthcare products in and around the Bangladesh capital of Dhaka.
Mazumder can focus on Arogga that her ten-year-old publishing business "sort of runs itself by now". Her Cake Masters Magazine, whose hundredth edition dropped in January, is one of the largest publications in the world in its sector, and has close to a million followers on Facebook and 125,000 on Instagram.
What turned Mazumder's head to the completely different venture was a Harvard University online course about entrepreneurial markets and opportunities in emerging economies that she took during the first COVID-19 lockdown in the UK. The course showed her a number of case studies on India's health tech sector.
"That course changed everything," she said.
Not long after, she joined fledgling start-up Arogga in November and a month later, she and co-founders, her husband Yawar Mehboob, Fahad Hossain, and Shamim Hasan, re-launched the app.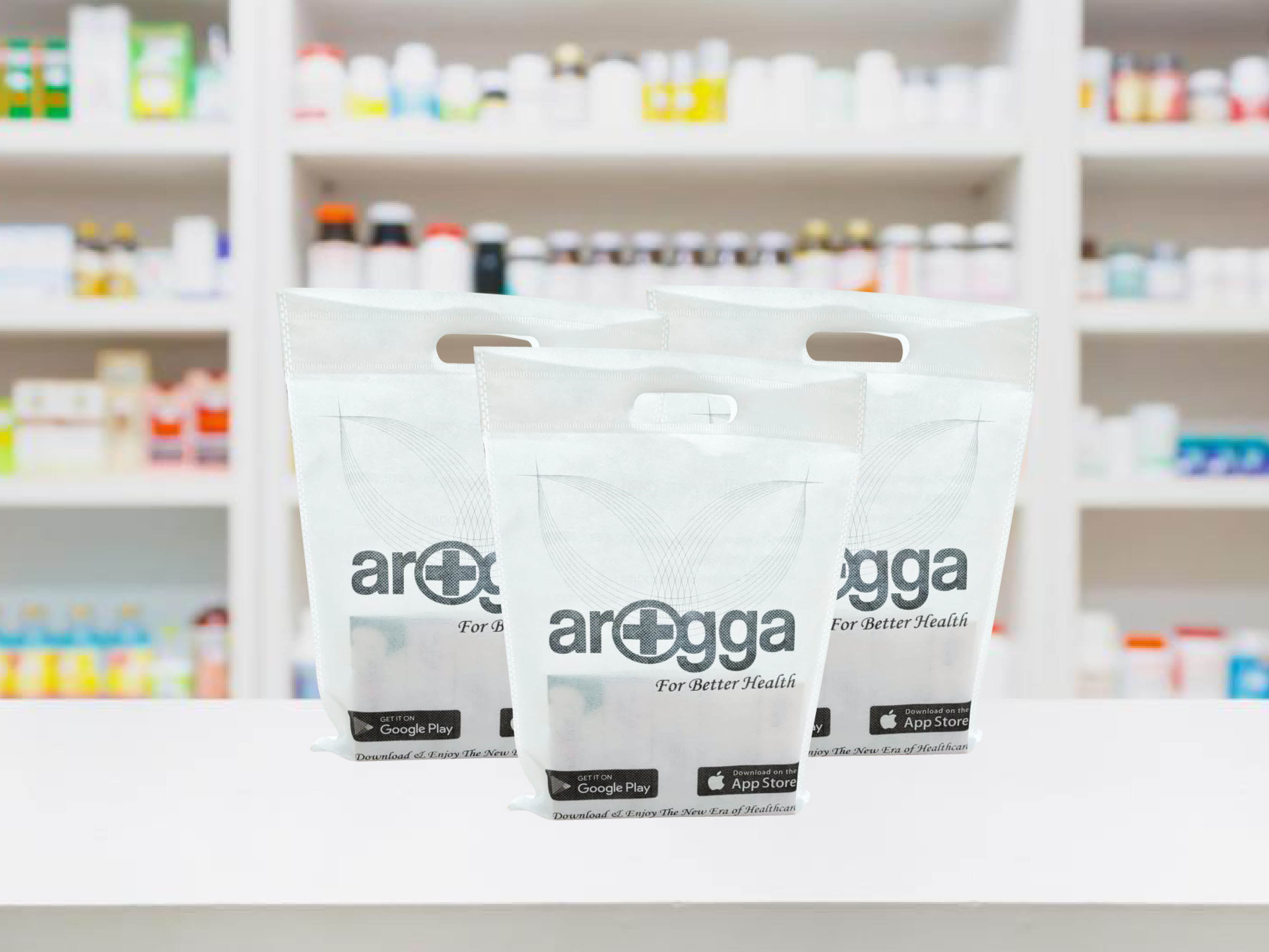 Photo supplied by Arogga
AFFORDABILITY AND AVAILABILITY
According to Mazumder, medicines are expensive in Bangladesh, where the International Monetary Fund estimates income per capita GDP to be $1,888 in 2020.
Bangladesh has a long way to go with regards to public policy on medicines-related issues, including affordability, according to the World Health Organization that estimates nearly 70% of total out-of-pocket spending on healthcare there is on medicines.
Free medicines are available at public facilities but their supplies are limited whereas they have to be paid out-of-pocket at private pharmacies.
Tackling these twin issues of affordability and availability, Arogga, meaning 'cure' in Bangla, buys in bulk, passes on to its clients a percentage of the manufacturer's discount, and sells below the recommended retail price.
But the start-up and its app face more industry issues. According to a July 2020 article in the Bangladesh Pharmaceutical Journal, there are approximately 125,000 pharmacies in the country but many business owners fail to employ at least one diploma pharmacist or pharmacy technician, which is required to set up a drugstore.
To exacerbate matters, the sector has not been fully developed due to improper management of drugs, sale of substandard drugs, and the lack of adequate patient counselling.
"There's a huge problem with fake medicines and expired medicines that are in circulation and sold," Mazumder confirmed the issue. She also points out pharmacies are very independent, but not well stocked.
"Someone with a prescription often has to go to four or five different pharmacies to get all the medicines on that prescription," said the CEO. Patients often resort to different brands of the same or similar medicines if they can't find their prescribed ones.
Enter tech.
DIGITIZING HEALTH
Technology has been identified as a key enabler to improve the accessibility, quality and affordability of Bangladesh's health services, with the Ministry of Health and Family Welfare starting to draft a national digital health strategy back in October 2019. The final strategy has yet to be released.
The country's mobile phone penetration rate allows for an uptake of health tech. In 2019, smartphones accounted for a 40% adoption rate and this is expected to reach 69% by the end of 2025, according to a 2020 mobile economy report by industry association GSMA.
The government and network operators help women access mobile services. For example, the country's second largest mobile network operator Robi Axiata launched a handset financing service that makes smartphones more affordable with preferential rates for female customers. Women are charged 499 takas ($5.90) per month over 15 months, compared to male customers who pay 599 takas ($7.10) per month over 12 months.
These efforts are important as women in Bangladesh face a confusion of healthcare challenges that have been made worse by the COVID-19 pandemic, from gender-based violence and discrimination, to reduced access to sexual and reproductive health supplies, according to the U.N. Development Program.
"Everyone has a smartphone, and everyone is downloading apps," Mazumder said. "This is an exhilarating time for app-creating start-ups, because you're going to be first in any industry that you come into."
Bangladesh's relatively nascent health tech sector is making a perceptible impact. Most of the digital start-ups focus on giving people access to healthcare information and professionals but there are also services similar to Arogga, such as epharma.com and BanglaMeds. Most recently, telehealth platform Maya announced early this month it raised $2.2 million in seed funding. Arogga itself received an undisclosed amount of funding last month from Dubai-based angel investor Falcon Network.
It sounds competitive, but there is definitely room for more health tech solutions in the country of 163 million.
PROVIDING SOLUTIONS
Arogga gives users the ability to upload prescriptions, offers them cashback incentives, and free delivery of medicine.
Sounds easy enough, but the start-up has faced its share of challenges working within the Bangladesh ecosystem.
Initially launched at the beginning of 2020, a constant lack of stock at even the largest local pharmacies caused it to shut down operations as many of the up to 200 orders per day could not be fulfilled.
Addressing this head on, Mazumder changed the business model when she came on board in November. The company now sources medicine directly from manufacturers, runs a temperature-controlled warehouse in Dhaka and employs a team of ten, including a licensed pharmacist.
The business sees a high repeat order rate of chronically-ill and older people suffering from diabetes, heart and blood pressure issues. It follows that Arogga focuses on stocking drugs catering to these segments. "They order their medicine in monthly cycles," Mazumder said. "That's quite positive from a business perspective, too."
While the app offers a payment gateway to settle bills electronically, Mazumder said people still prefer cash on delivery.
The start-up provides support through a team that liaises with customers confirming their medicines ordered and delivery date. "People like to know that the delivery is coming and we, as a business, need to know that they're expecting it and have the cash payment available," Mazumder said.
MOVING FORWARD
For now, Arogga only serves Dhaka, and the delivery service is done in-house, but discussions are already underway to reach more people. "For shipments to areas outside of Dhaka, we are in talks with two companies promising a two to three-day courier service," said Mazumder.
"Access to medicine in remote areas is even more difficult."
The next business development steps will be to add actual healthcare, mother and baby products like nappies and formula.
Arogga is also considering adding sexual health and fem care products such as sanitary towels and tampons.
"Those kinds of products are quite embarrassing to buy for women. Nine times out of ten the little pharmacy they go to ask for these items, will be operated by a man," said Mazumder. "We're thinking of bringing in a subscription model to discreetly deliver these products to a woman's door."
Not shy of ideas, the team runs a list of future verticals to be implemented within the app, including lab tests, doctor consultations, and health insurance.
"We plan to partner with various clinics or hospitals. The idea is to have a trained person come to your house, take the necessary samples and get everything back to our labs and then share the reports," Mazumder explained the idea.
At the moment, a lot of reporting and administration are still paper-based and Arogga can see the benefits of digitizing the information flows and processes.
Changes are also afoot on the family front for Mazumder, who has so far been running the business remotely from London.
While she is a great believer in technology, the entrepreneur knows success requires cultivating relationships, and investors need to see commitment.
"We plan to move to Bangladesh to really make a go of this."
(Reporting by Petra Loho; Editing by Emmy Abdul Alim emmy.abdulalim@salaamgateway.com)
© SalaamGateway.com 2021 All Rights Reserved
---