COVID-19 impact 'will take years to process': Mental health challenges surge for British Muslims
---
COVID-19 lockdown restrictions start easing in England from today, with primary schools re-opening and gatherings of up to six people allowed. Throughout the pandemic, the UK, with the highest number of COVID-19 related deaths in Europe, has seen a rise in calls from young British Muslims seeking mental help support during Ramadan.
---
The Muslim Youth Helpline has had a busy few months. Just before the UK implemented COVID-19 related restrictions in March, there was a spike in calls from young people wanting to talk, particularly about anxiety. As the lockdown took hold, calls increased by 313% and the small team of volunteers at MYH struggled to handle them.
"It has been relentless. Our statistics for April show we dealt with 700 inquiries – that is the most we've had in 19 years," MYH's director, Zohra Khaku, told Salaam Gateway.
Several weeks into the pandemic, anxiety is still one of the biggest issues the helpline deals with. "If you had anxiety disorder before, it is worse, if you didn't, now maybe you do," she said.
As the lockdown continued and Ramadan started, more serious cases started to emerge. In early May, Khaku tweeted: "Last night about half of our calls at Muslim Youth Helpline were about suicidal feelings."
But it was not just that night, she said.
Last night about half of our calls were about suicidal feelings.

At 9.30pm last night, a Helpline Officer called and asked for my opinion on a safeguarding issue. We assessed risk, deciding whether we felt the need was immediate enough to call the Police.

— Zohra Khaku (@zkhaku) May 6, 2020
"What was concerning was that the next day, 40% of calls were about suicidal feelings," said Khaku. "We got such calls before, usually just once a week, so not that often. Now it is at least two, three or four calls a day."
The dual pressures of the COVID-19 pandemic and a stay-at-home Ramadan are considered major contributors to such heightened anxiety and desperation among young British Muslims.
"Ramadan is usually a busier time for us, with people isolated that don't have family. Over Eid it's usually people that are lonely, or can't cope with their families.
"If it was already hard to be alone, it's harder now, or hard to be with your family. Everything is exacerbated because of COVID-19," she said.
British Muslims have also been highly exposed to the pandemic and its ramifications. Black, Asian and Minority Ethnic (BAME) communities have had a death rate from COVID-19 more than 2.5 times that of the white population, according to analysis by the Institute of Fiscal Studies, while the first doctor to die on the frontline of the pandemic was a Muslim. The UK has the highest number of deaths from the pandemic in Europe, at 38,376, and the highest number of cases, which reached 272,830 at the end of May.
"The BAME community has been disproportionally impacted, reflected in COVID-19 deaths in our community," said Myira Khan, Counsellor and Founder of the Muslim Counsellor and Psychotherapist Network (MCAPN) in the UK.
"BAME communities are on the lower socio-economic scale of the spectrum, so this impacts access to treatment, and their jobs are potentially out working and on the frontlines."
In the first few weeks of COVID-19, the MCAPN, which connects patients with Muslim mental health professionals, was fairly quiet, then inquiries increased. "We have a consistent turnover of inquiries every day," said Khan.
She added that while the pandemic has increased and exacerbated traumas and issues, a rise in people seeking counselling over the past two months is also due to more therapists being online.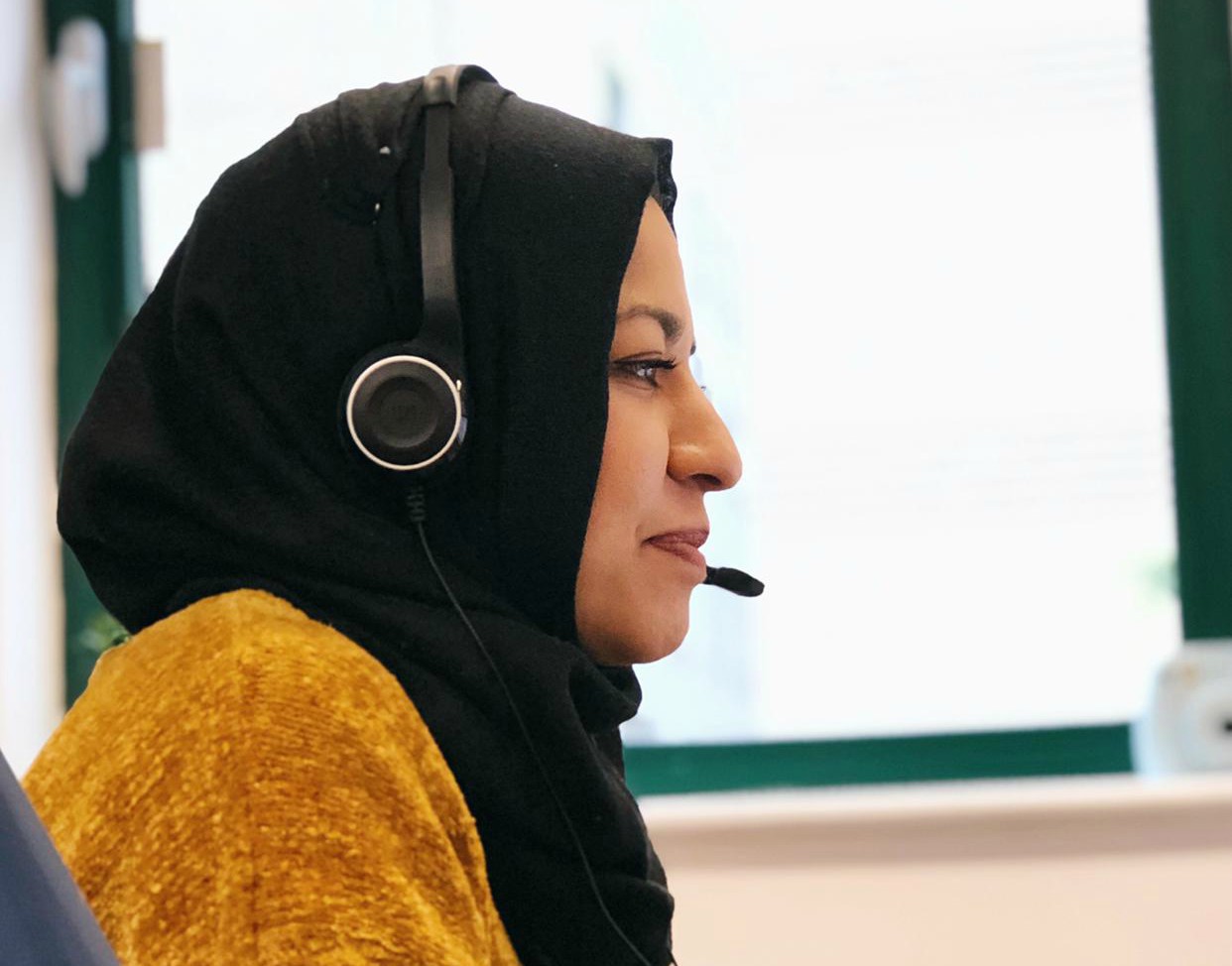 Photo: A counsellor on the Muslim Youth Helpline. Photo courtesy MYH.
However, such virtual therapy is not always feasible due to a lack of privacy at home.
"We are hearing of clients having therapy sessions on their phone in the car as it's the only place they can have privacy, security and confidentiality. But for many people, therapy during lockdown is just not feasible as at home there is family with them 24/7. A number of clients have put therapy on hold," said Khan.
Among Young British Muslims, anxiety levels were already high before COVID-19, with 63% suffering from anxiety and 32% having suffered suicidal thoughts in a 2019 survey by MYH of just over 1,000 Muslims aged 16 to 30. Islamophobia and hate crime are considered contributing factors.
"We know that BAME individuals have elevated mental health issues, elevated issues of negative experiences seeking services, and that there are more barriers for them seeking healthcare," said Dr Sania Shakoor, Lecturer in Mental Health at the Centre for Psychiatry, Wolfson Institute of Preventive Medicine, Queen Mary, University of London.
"There are systemic as well as cultural and socio-economic barriers. Suffering exposure to hate crime and victimisation can lead to suicidal issues. The lockdown for some has had an exasperating effect."
Uncertainty about the future is a further factor, with the Bank of England, the country's central bank, warning in early May that the UK is set to enter its worst economic recession in 300 years.
"From the perspective of a young person, wanting to start a career or go to university, imagine the impact on their sense of well-being," said Shakoor.
Addressing mental health concerns are going to increase as more people need assistance once COVID-19 restrictions are lifted and in-person sessions can start again.
"The impact of this (situation) will take years for people to process," said Khan.
The MCAPN is providing additional support for counsellors, while the Muslim Youth Helpline is seeking to increase the number of its online counsellors to meet demand.
We've seen a 313% increase in calls since lockdown began. We're busier now than we have ever been in our 19 year history.

Help us increase our capacity so we can help more young people in need. Make a donation today: https://t.co/Sb5H8aqV1Z pic.twitter.com/PwU9sVjec3

— Muslim Youth Helpline (MYH) (@muslimyouthhelp) May 26, 2020
(Reporting by Paul Cochrane; Editing by Emmy Abdul Alim emmy.abdulalim@salaamgateway.com)
© SalaamGateway.com 2020 All Rights Reserved
---