Germany Islamic finance 2021: KT Bank targeting more customers, fintech INAIA introducing new products
---
Islamic finance has established a market presence in Germany but its reach and potential remain untapped. Ongoing developments sustain hopes for a wider proliferation against the background of bold moves in other countries in the region, such as the UK.
"The Islamic banking market in Germany is limited as the acceptance among German Muslims is lower," Dr. Matthias Casper told Salaam Gateway. Dr. Casper is Professor at the Institute for Corporate and Capital Markets Law at the University of Münster, with a primary research interest in Islamic banking.
He believes the origin of German Muslims is the reason. "Many emigrated from Turkey when it was still a secular state, and Islamic finance did not yet exist," said Dr. Casper. "The Muslims from the Gulf regions, who like to enquire these products, are not very well represented in Germany."
With its large Turkish immigrant population, it wasn't surprising that Germany's first standalone retail Islamic bank has its roots in Turkey.
KT BANK POSITIVE
KT Bank has never made a profit since it opened in 2015. But it is looking to 2021 with a positive mindset.
"Our priority target is acquiring more customers and expand our business network, not only physical but also via online banking and other alternative channels," Alper Nalbant, KT Bank's Division Head, Treasury & FI, told Salaam Gateway about the bank's near-term strategic plans.
The financial institution is a wholly-owned subsidiary of Istanbul-headquartered Kuveyt Türk Participation Bank, whose parent organization is Kuwait Finance House.
"We have been the pioneers in Germany to introduce Islamic finance and remain the only institution with a solid banking licence from BaFin, Germany's Federal Financial Supervisory Authority," said Nalbant.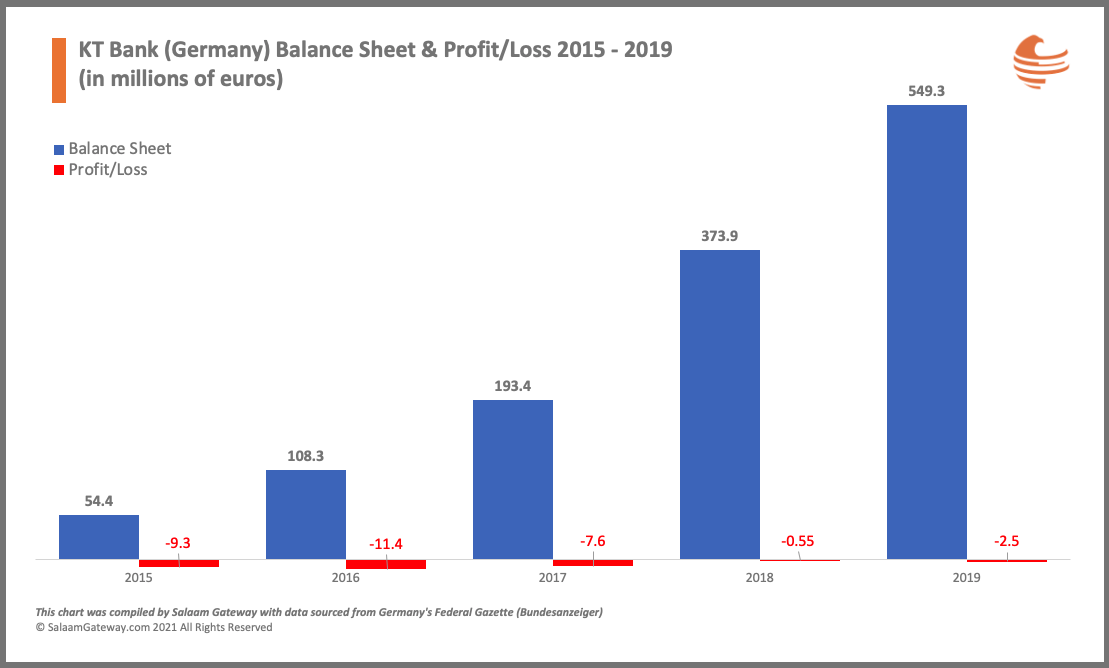 KT Bank deliberately started business operations with a lean product range and its growth has not come easy, partly because the German financial ecosystem is not proactively supportive of Islamic finance, unlike in the UK.
"Our Federal Financial Supervisory Authority advocates that we treat Islamic banks like any other bank," said Dr. Casper, adding that he doesn't see this changing any time soon. "That means they don't get any special rules and they have to meet the requirements every German bank has to meet."
Due to the local authority's missing blueprint of how to set up an Islamic finance institution, it took KT Bank two and a half years from application to finally receiving the banking license to operate a deposit and lending business in March 2015. The Islamic bank started operations with payment transactions in July 2015.
Today, KT Bank offers trade finance, as well as debit and credit cards. In February last year, the institution opened its fifth branch. In addition to Frankfurt, Berlin, Mannheim and Cologne, the bank is now also represented in Munich.
Despite a steadily growing balance sheet year-on-year and almost breaking even in 2018, KT Bank reported a €2.5 million ($3 million) loss in 2019, its most recent full-year available earnings release. The deficit is pieced together by a value adjustment for a Turkish corporate client, increased administrative costs, and lower-income due to the financing volumes achieved later than planned.
"Islamic-compliant financial products are usually a little more expensive because they are cumbersome," said Dr. Casper, adding that Islamic banks are unlikely to be of interest to people other than religious Muslims. "For people who do not want to invest in the arms industry or high-risk investments, there are enough other offers in the area of ​​so-called ethical banking."
INAIA INTRODUCING NEW PRODUCTS
INAIA is Germany's only home-grown Islamic fintech. Its current product range extends from gold saving plans to Shariah-compliant investment products like sukuk funds. This year, it plans to introduce a real estate financing platform and a digital payment solution, INAIA's founder and Co-CEO Emre Akyel told Salaam Gateway.
The payment solution will enable direct payment functions specifically for the INAIA Gold Dinar Account and online payments.
"Mastercard already approved us, and we'll operate under a Belgium-based fintech's legal umbrella," Akyel said.
INAIA started as a consulting firm in 2007. Developing digital products, the team ventured into the fintech sector from 2012. Three years later, the company reached breakeven point and turned cashflow positive. The bootstrapped business banks on equity capital and sustainable growth.
"It is very important to us building INAIA with an Islam-compliant DNA," founder and Co-CEO Bilgehan Akbiyik told Salaam Gateway.
"We have investment capital, but most of it has equity character and is practically provided by customers taking a profit/loss share in the company," Akyel said.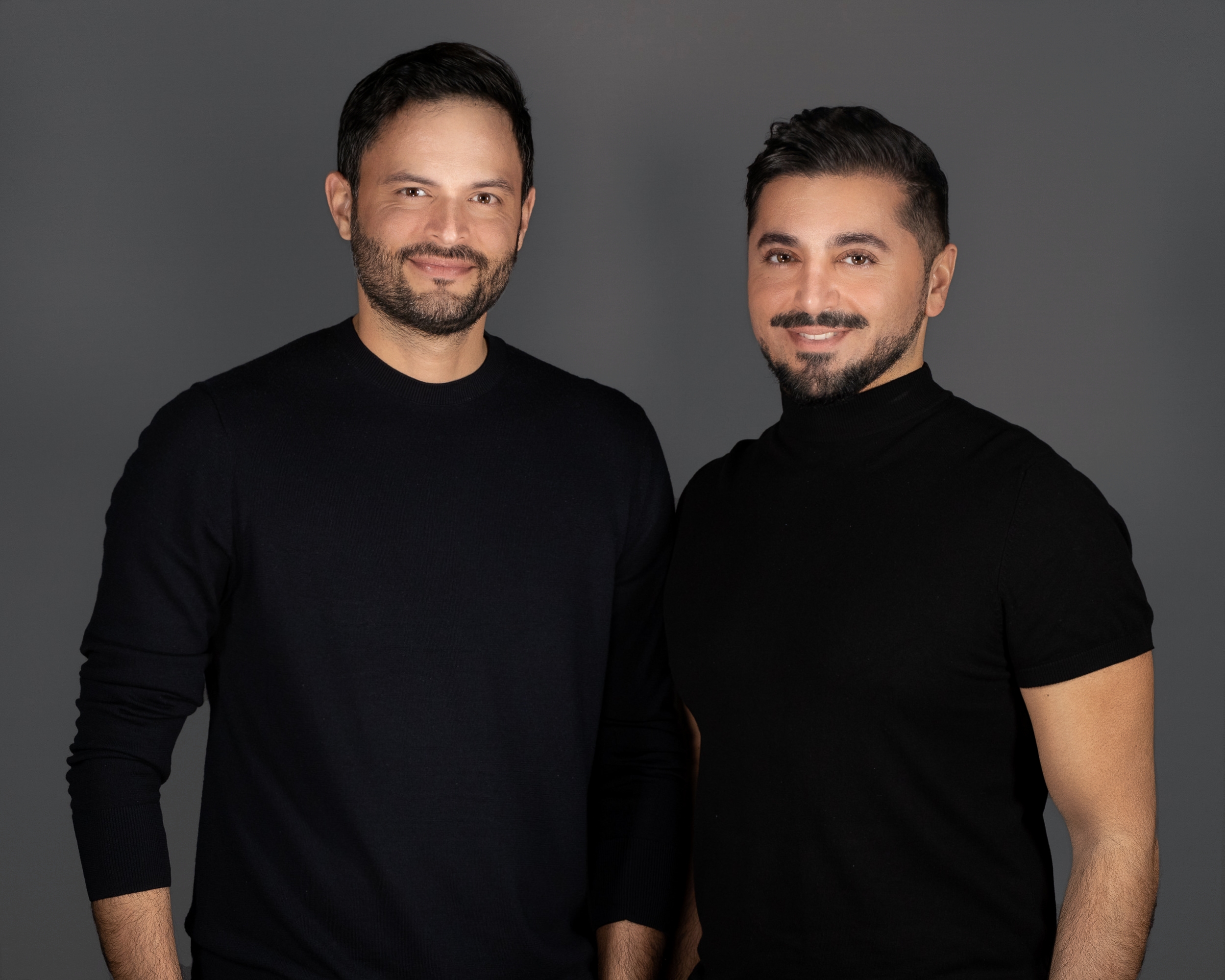 Photo: INAIA Co-CEOs Bilgehan Akbiyik and Emre Akyel. Photo supplied by INAIA
According to INAIA's balance sheet published by the Bundesanzeiger, in 2019, the firm's €1.5 million ($1.8 million) equity, which increased almost fivefold compared to the previous year, outweighs its liabilities amounting to just over €500,000 ($607,000).
"INAIA pursues a constant, conscientious and demand-oriented direction," Akbiyik, whose co-authored book "Islamic Banking Und Islamic Finance" was published in 2017. "We focus on stable and sustainable growth, maintaining our quality standards."
The success proves them right: according to Akyel, the fintech doubled sales in 2020 compared to the previous year, despite the pandemic.
Following the consumer demand philosophy, the firm consistently checks market requirements, particularly in Germany, and in Europe.
INAIA's co-founders are the children of Turkish migrant workers. Immigration from Turkey to Germany began in the early 1960s as labor migration with an unrestricted time horizon. Many of these migrants stayed for good and started their families in Germany.
"The second, third generations of immigrants are integrated [in Germany's society], educated and more successful. They are now able to build wealth," Akbiyik said.
One of this community's biggest aspirations is home ownership. The INAIA founders confirm seeing a greater demand for Shariah-compliant real estate financing among young German Muslims.
On that account, the fintech's planned real estate financing platform will feature a digital review and application process.
"We have been working on it for a very long time and have come a long way," Akbiyik said, adding that INAIA already received Islamic conformity for the new product.
Real estate financing under Islamic rules in Germany is challenging because of the land transfer taxation regulations. Strategies to avoid double taxation have to be put in place.
Akyel and Akbiyik possess both the local and deep Islamic finance knowledge to pull the challenge off. They are both certified under AAOIFI's Chartered Sharia Advisor and Auditor (CSAA) program.
(Reporting by Petra Loho; Editing by Emmy Abdul Alim emmy.abdulalim@salaamgateway.com)
© SalaamGateway.com 2021 All Rights Reserved
---