Germany's growing Muslim population is now more diverse, says new study
---
Muslim life in Germany has become significantly more diverse in recent years and the number of Muslims has grown.
In its third edition, the result of the current study Muslim Life in Germany 2020 by the Research Center of the Federal Office for Migration and Refugees reveals, among other things, an extrapolation of Muslims with a migration background. It also presents extensive findings on the integration, and social and religious life of Muslims in Germany.
HOW MANY MUSLIMS IN GERMANY?
Since the last edition released in 2016, the number of Muslims has increased by around 900,000.
"An important goal was to update the number of Muslims with a migration background living in Germany," said Dr. Axel Kreienbrink, the group leader at the BAMF research center, about the 240-page study.
"The comprehensive database makes the study unique and a standard work on this topic," he added.
According to the researchers' projection, there are currently between 5.3 and 5.6 million Muslims living in Germany. Their share in the total population is between 6.4% and 6.7%, up from 5.4% and 5.7% compared to the 2015 micro census.
Islam represents Germany's second largest faith community.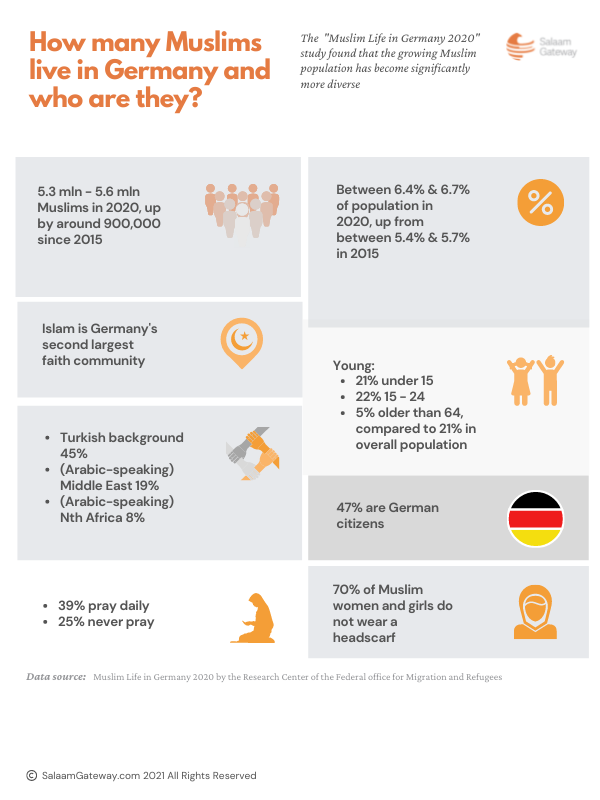 YOUNG AND DIVERSE
The Muslim population in Germany has become more diverse in recent years in connection with immigration from Muslim countries in the Near and Middle East.
Muslims with a migration background from Turkey continue to form the largest group of origin with 2.5 million, but they no longer make up the absolute majority with a share of 45%.
Almost 1.5 million Muslims (27%) have a migration background from an Arabic-speaking country in the Middle East (19%) or North Africa (8%). The dominant country of origin is Syria with around 730,000 people.
Germany's Muslims are a young demographic, with only 5% older than 64 years. A fifth (21%) are children or adolescents under the age of 15. Another 22% are between 15 and 24 years old.
The Federal Republic's overall population is older, with the proportion of over 64-year-olds more than four times as high at 21%.
Another important finding with regard to the social structure is that almost half of Muslims in Germany, or 47%, are German citizens.
PRACTICING RELIGION
According to the study, among Christians without a migration background, the proportion of strongly or more religious people is 55%. In contrast, 82% of Muslims and people from the respective countries of origin who belong to a different religion say their faith is strong or that they are rather religious.
Religious rules are integrated into everyday life in different ways: 39% of Muslims pray every day, 25% never pray.
"All in all, it also shows with regard to everyday religious practice that Muslim life in Germany has many facets and a generalization is neither possible nor sensible," finds Katrin Pfündel, co-author of the research report.
RELIGION'S INFLUENCE ON INTEGRATION
With regard to school education, Muslims still have some catching up to do compared to people without a migration background.
(Note: According to the definition in the microcensus, a person has a migration background if they themselves or at least one parent does not have German citizenship by birth (Federal Statistical Office 2020d: 4.) The concept and term has been perceived as non-inclusive and discussions are ongoing about a new definition and terminology.)
The proportion of people over 16 without a school leaving certificate is higher (16% compared to 3%), and the employment rate is lower, especially for women.
If, however, people from Islamic countries who are not Muslims are used as a comparison group, the tendencies are similar to those of the Muslim population group. For example, German language skills, education and employment involvement are very similar in both groups.
With these findings, the role of religion in integration is put into perspective.
The analyses illustrate the strong influence of migration biographical factors on many aspects of integration, such as the length of stay or reasons for immigration.
ABOUT THE STUDY
Between July 2019 and March 2020, a nationwide representative survey was carried out among immigrants from 23 different Muslim regions of origin and their descendants born in Germany.
A total of around 4,600 men and women from Turkey, Southeast Europe, North Africa and the Near and Middle East were interviewed personally on the basis of a standardized questionnaire.
In addition, around 600 German nationals without a migration background were interviewed as a comparison group.
The study was carried out on behalf of the German Islam Conference.
Previous editions were published in 2008 and 2016. The Federal Ministry of the Interior, Building and Community launched the German Islam Conference on September 27, 2006, creating the first forum for dialogue between federal, state and local authorities and Muslims in Germany.
© SalaamGateway.com 2021 All Rights Reserved
---