How much was Turkey's tourism impacted by COVID-19 Jan to Jun 2020?
---
Turkey is the member country of the Organisation of Islamic Cooperation (OIC) that attracts the highest number of international arrivals every year. Last year it welcomed a record 51.75 million international arrivals.
Like all countries, its travel and tourism sector has been hard hit by lockdowns and restrictions caused by the COVID-19 pandemic.
For the first half of 2020, Turkey suffered a 75% drop in international arrivals, according to Salaam Gateway calculation of official data.
The year started well, with higher numbers in January and February than for the same months in 2019:
1,787,435 for Jan 2020 versus 1,539,496 for Jan 2019, and
1,733,112 for Jan 2020 versus 1,670,238 for Jan 2019
Then in March, the WHO declared COVID-19 a pandemic and countries started closing their borders. International arrivals into Turkey plunged to 24,238 in April, the month when global tourism almost came to a halt. The UNWTO reported that international arrivals fell 97% in April, reflecting travel restrictions in 217 destinations.
For the first half of 2020, international arrivals into Turkey was 4,507,479 compared to 18,076,506 for the same period last year, according to our calculation of data from the Ministry of Culture and Tourism.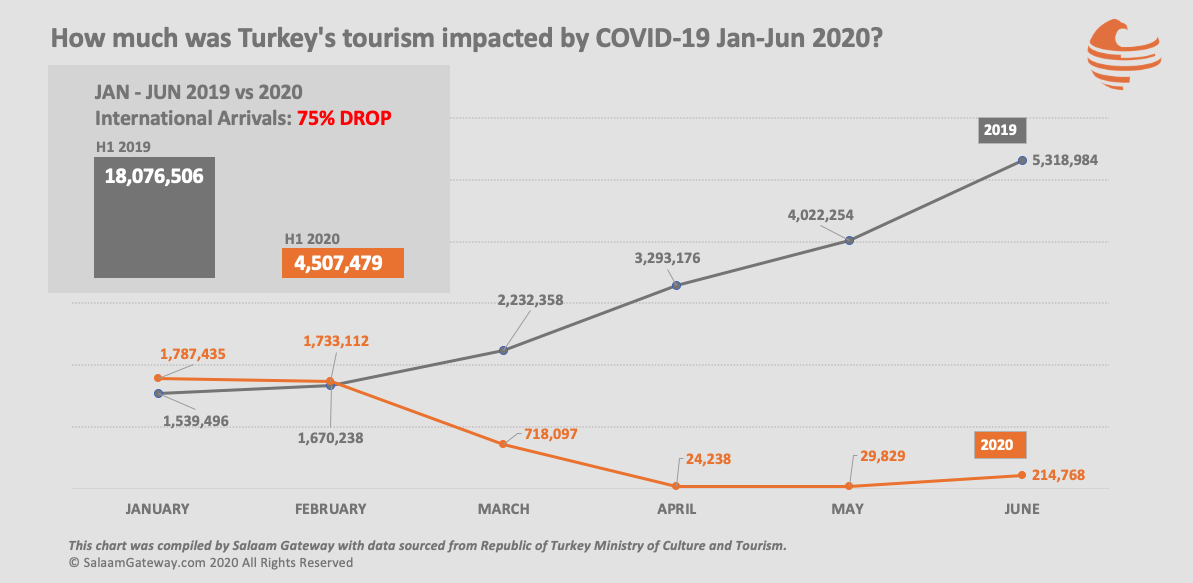 For the first three months of the year, Turkey's tourism revenues were $4.1 billion. Last year it earned $34.52 billion, up from $29.51 billion in 2018. It is not likely that Turkey will surpass last year's tourism receipts.
The country has been taking steps to re-open its tourism sector, even as its confirmed novel coronavirus cases has surpassed 236,000. It started welcoming back tourists around mid-June. Some of the measures it has taken:
At the end of July, German tourism professionals were invited to spend a week in the Aegean province of Izmir and resort town of Kuşadası. They gave safety measures and their visit a clean bill of health.
The Culture and Tourism Ministry issued a "Safe Tourism Certificate". Towards the end of July, around 727 hotels and about 900 restaurants had applied for the certificate.
The Turkish government also introduced a health insurance system for foreign travellers.
© SalaamGateway.com 2020 All Rights Reserved
---