'I lost my income and was in survival mode': Malaysian women turn to entrepreneurship during pandemic
---
KUALA LUMPUR - Women in Malaysia are better equipped than their men to capitalise on business opportunities brought about by the pandemic, but for many, the opportunity to get their ventures up and running is thwarted by issues of liquidity and access to finance made worse by miles of government red tape.
These are the views of a number of female entrepreneurs who spoke to Salaam Gateway about how lockdowns and changes forced by the pandemic have been affecting them. This is as Malaysia's latest round of movement restrictions—its fourth since March 14 last year—was recently extended by another two weeks until at least the end of June.
More than anything, a belief in the ability of women to pivot when the chips are down shines through among these women. So too does the frustration that comes from fighting to secure access to the resources they need, despite government incentives, to build businesses to support their families amid an uncertain environment.
Nooreen Firdaus strongly believes in the ability of women to show flexibility and ingenuity, having herself been forced to pivot after the first lockdown last year devastated her boutique selling abayas in Shah Alam, on the outskirts of Kuala Lumpur.
"At that moment, I was in survival mode. I knew that anything at all I could sell and make money from, I would sell it. So I thought, let's start selling kerepek, without thinking too much about it. It was an overnight decision," she recalled of her new business Kerepek Ori JDT.
Kerepek are deep-friend snacks made from nuts, pulses and fruits often sold at roadside stalls.
Nooreen's decision to market kerepek sourced by her cousin, who already had a distribution business in the southern state of Johor, has not only helped her cover rent and salaries for her struggling abaya shop, which has stayed open, it also supports the women in Johor who make the snacks but cannot sell them because of reduced highway traffic for their stalls.
"I was very happy with my business, Anggun Chitra, which I started in 2016. I had a very clear margin and was able to expand the business from online to quite a beautiful, big boutique that I'm proud of," she said.
"But in the first lockdown, I lost my income. Nobody was going out wearing abayas anymore. So kerepek was my saviour and I haven't had to retrench my staff."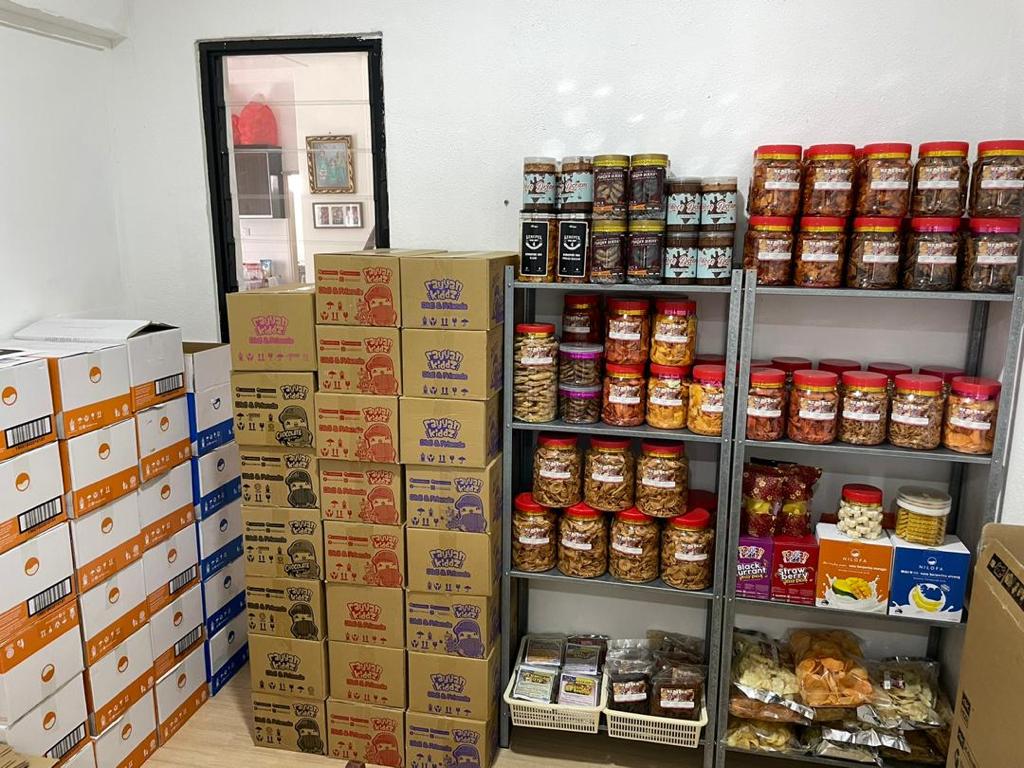 Nooreen Firdaus keeps her stock of kerepek in the spare room at home. Photo courtesy Nooreen Firdaus
'NATURAL MULTITASKERS'
Nooreen is not alone as a woman entrepreneur who found a safe harbour in the food business, having arrived there from a completely unaligned industry. Over the last year, the newspapers have been full of stories of women taking to baking and frying and selling their goods online.
Many responded to calls by the minister for women, Rina Mohd Harun, in the second week of the first lockdown, to "generate the economy on top of playing their roles as housewives by operating online businesses to gain income".
"I urge all women to get themselves involved in entrepreneurship especially when many have lost their jobs during this COVID-19 pandemic," the minister said last March while promising economic support.
"A lot of women go into the food business because we know how to budget for food and cook it for the family. A lot of women have also gone into online tuition because they have been part of their children's education," said Nooreen.
"It's doing what you know best, particularly when these things are the basic necessities. We are all living in a very simple way now and needs aren't as fancy."
Andal Krishnan of the National Association of Women Entrepreneurs of Malaysia (NAWEM) concurs, saying many members have taken this route to running their own businesses.
"Many women have turned to entrepreneurship because they lost their jobs and they don't know what else to do," she said.
"Human beings are survivors and women in particular are very good at adapting. So they immediately think about things they are very good at and apply them to business."
The age-old stereotype of women being natural multitaskers with the ability to juggle the roles of mother, wife and breadwinner has never been in such high demand, according to to Saliza Abdullah, the managing director of BG Capital, a female-owned and managed company in Selangor that supplies security guards across Malaysia.
"What makes the difference is women's ability to look for opportunities, take calculated risks and pivot to do something, even if it is different and they have never done it before," said Saliza.
"You cannot expect anyone to come to you with the solution; you have to be hungry enough to go out there and find solutions."
At the same time, women are also more likely to accept advice and support from others and willing to share their frustrations, she said.
It is also more probable that female entrepreneurs will take a longer-term approach to managing the support and incentives offered by the government over the last year to help small businesses navigate the pandemic.
In this way, Saliza says the economic relief, loan moratorium, salary subsidy scheme and incentives to train newly-hired staff to help the retrenched has kept her company stay afloat during periods when customers have not needed security guards. But many other businesses, she says, have squandered these benefits.
"It's up to SMEs to plan their finances better. Those who are now saying they want more grants, I would say they probably took it too easy earlier on; they got too complacent and were not willing to pivot. Now they are waiting for a time to die out. It's quite unfortunate," she said.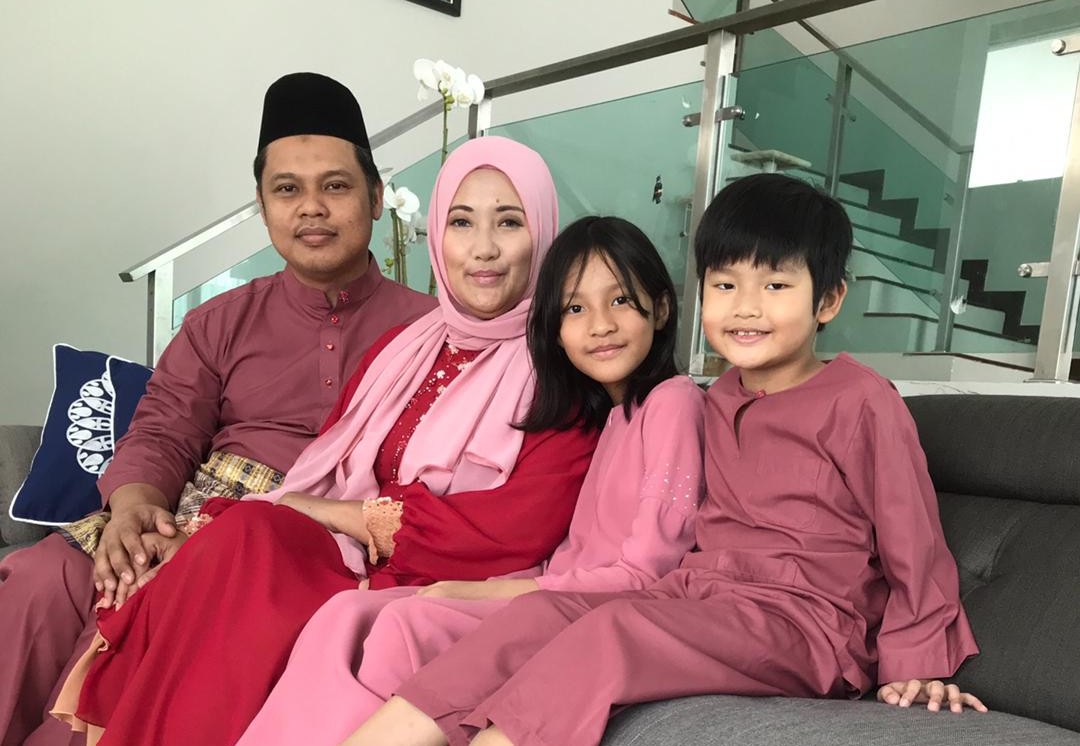 Saliza Abdullah and her husband Roslee Mohd Sabri, and their children Qaireesya and Qaireez, at home. Photo courtesy Saliza Abdullah
MIDDLE INCOME
According to NAWEM, women entrepreneurs fall into three socioeconomic categories, each of which has been affected differently by the pandemic.
At the tip of the pyramid, there are the so-called T20 top earners who have probably not been affected substantially and have enough wealth to weather the situation.
Beneath them is the M40 group of middle income-earners who account for 40% of Malaysia's income. Entrepreneurs in this group often trade products and services for export and many receive government support, especially through the state's furlough policy for paying staff salaries.
Among these, Fadzilah Yusof, founder of Ouch Music Academy in Kuala Lumpur, has tailored her business to suit the environment over the last year.
"As a music school, it has come to a point when it becomes no different for us as each lockdown comes along. After the first, we lost 50% of our students. But over the last year we adjusted to it and have even gained some with online classes," she said.
"But are we growing as a business? No we aren't. Still, we are trying to use whatever support there is and we fall in the creative category so there are various grants for us that help."
NAWEM's Andal said that by and large, this group has been trying to do the right thing by their employees. "Because they are better organised, they have a bit more cushion to manage this situation," she said.
LOWER INCOME
Then there is the B40 group occupying the lower 40% of the economy who have been very badly impacted by the pandemic. Often the (male) main breadwinner of B40 families will have lost their income, forcing their wives to go into business.
Beyond selling baked goods through Facebook or Instagram, it is very difficult for women in this category to expand their businesses, no matter how successful they have become, due to bureaucracy and lack of access to finance.
"How can you expect a housewife to provide three years of audited financial returns? She just cannot do this!" exclaimed Savina Kaharudin, who is also a NAWEM executive. "So these women just ignore applying for grants because there's so much red tape."
Savina, who has a growing halal cosmetics manufacturing business, VNI Scientific, saw this first-hand when she tried to apply for a grant herself.
"I found that out of 15 applicants, I was the only Bumiputra applicant who was successful," she said, referring to the official term for indigenous, mostly Muslim, Malaysians who account for the highest share of the B40 category.
"One of the weaknesses of the B40 is being able to provide good quality documentation for any sort of application. For me, I'm able to do that because of my previous background, which was in a procurement department.
"For the B40s who don't have that experience, they are not aware about how to go for grants, so they miss out on opportunities for incentives given by the government."
STRUGGLING TO GET ACCESS TO FINANCE
Savina has struggled to get finance to expand her start-up. She found it hard to come by, even from SME Bank, a government-backed bank that provides financial assistance for small- and medium-sized businesses.
VNI Scientific started in 2016 and had a particularly good first year of the pandemic, but bank officials were only interested in how the start-up performed in its earlier years, when it was just getting started.
"This is not realistic. We have all these incentives offered by the government but the problem is liquidity and access to finance," said Savina, who speculated that the rejection rate for bank loans over the last year stands at over 80%—a claim backed up by finance officials at a NAWEM webinar.
"The only way for us to get finance is of course to borrow from friends or family or sometimes from loan sharks, who sometimes charge very high interest."
Better training is needed for women to deal with applications for loans and grants, not least so that small businesses are in good shape once the pandemic has run its course, she believes.
"Frankly speaking, I think 70% of the women entrepreneurs I know have been losing hope. I just hope that these women will not go into depression or anxiety or despair," Savina said.
MANAGING WORK AND FAMILY
With her kerepek business taking the fore while her abaya boutique treads water, Nooreen Firdaus is now in a stable economic position, even as she has to juggle her work life around her responsibilities at home with three children, aged from 10 to 14, who have spent much of the last year being schooled from home.
"Sometimes I put my children ahead of my work so there is some lag in orders or answering customer enquiries. Because my children are bigger, they can look after themselves," she said.
Saliza, meanwhile, says she has thrived on the new working conditions of the last year, but it is her husband who has had a harder time adjusting to lockdowns than her. It took some time for the couple to get the balance right with her husband, who is an engineer at another company.
"At first he expected me to do all the work in the house as well as look after the children, so I merajuk with him and told him, you can't expect me to do everything because both of us are working from home now," she said, using the Malay work for sulk.
Only by discussing the situation together can couples set the ground rules to make the best of a new life in the pandemic, she believes.
"Different people experience this pandemic differently. For me, I'm truly blessed and grateful because I feel that the lockdowns have given me the opportunity to bond with my children."
© SalaamGateway.com 2021 All Rights Reserved
---