In a modest fashion: Refugee women stitch together humanity, design, and sustainability with help of German social enterprise
---
In the run-up to International Women's Day (IWD) on March 8, Salaam Gateway will feature stories about women entrepreneurs and leaders tied to the global Islamic economy. These women have one thing in common – they all #ChoosetoChallenge, reflecting IWD's 2021 theme. The International Women's Day celebrates the social, economic, cultural and political achievements of women.
---
Five years ago, Amira Ibrahim was a nameless statistic among Germany's refugees and asylum seekers. Today, she is once again making use of her skills and contributes to her family's livelihood by working as a seamstress at a tailor's workshop.
"At the moment I'm sewing a patchwork blouson with hessnatur [a German bio fashion label] for an international, very well-known fashion magazine," Ibrahim told Salaam Gateway in German, adding that she can't reveal the publication.
When she first arrived in Germany, Ibrahim could not understand anything. "The language, and all that paper - we couldn't read or write and had to fill out so many papers."
Back in Syria, she was an haute couture embroiderer whose credentials include creating a black dress with sequins and pearls for the popular singer Shakira, a one-off job for her former employer.
Now in Germany, a social enterprise has given her the opportunity to once again put her skills to use, easing her challenge of starting from scratch in a foreign country.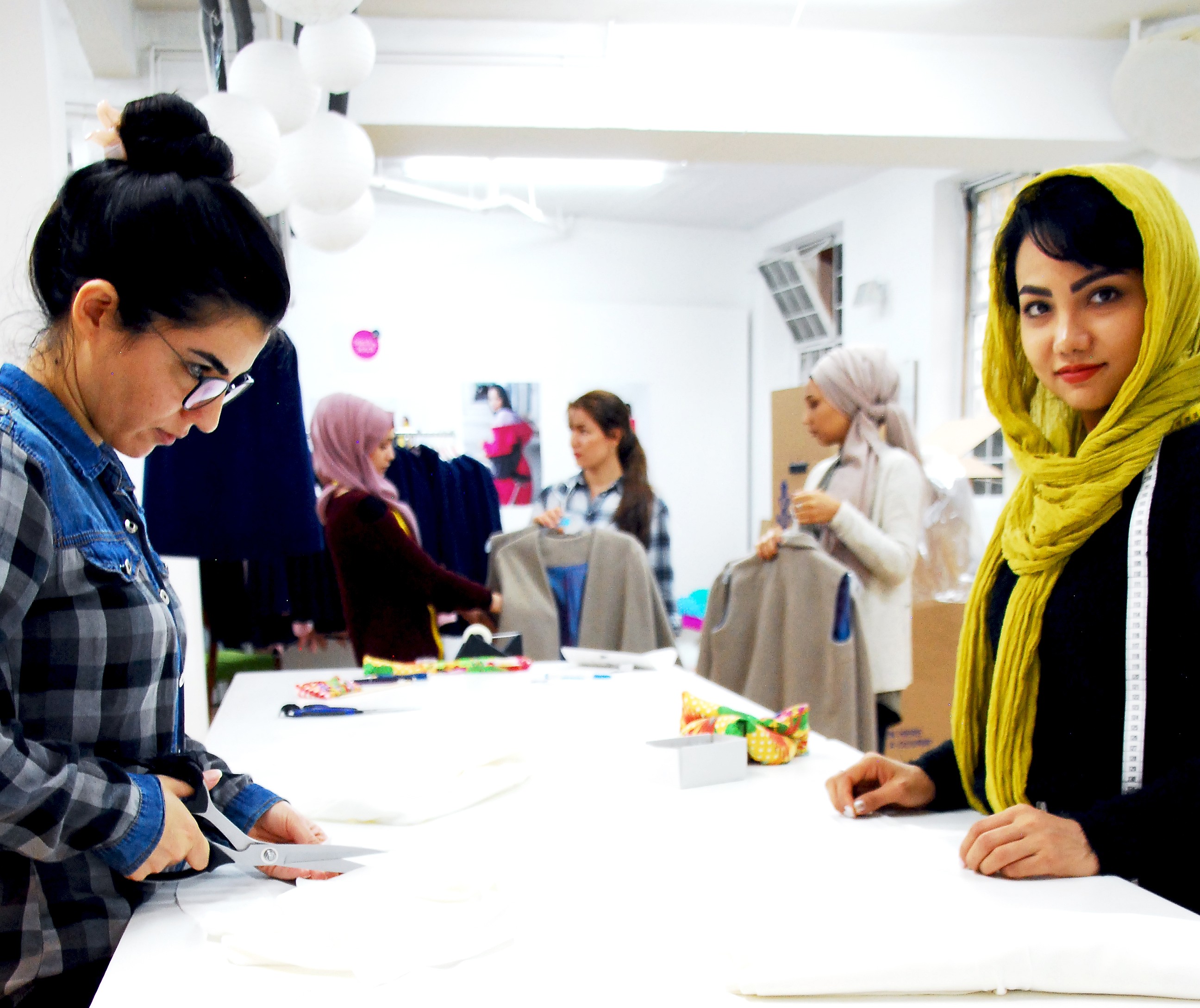 Photo: Amira Ibrahim (left) from Syria, with Mansoureh Kazemi from Afghanistan, working together at Stitch by Stitch. Photo by Nicole von Alvensleben
STITCH BY STITCH
Frankfurt-based Stitch by Stitch opened in 2016, which was the tail-end of the two-year period when Germany took in an estimated 1.2 million asylum seekers. Due to the asylum procedure and migrant participation in early integration activities that include learning German, the arrivals from 2015/16 only started to enter the job market in 2017. In the early part of that year, about 9% of all registered job seekers were refugees and asylum seekers, with Syrians accounting for more than half of them.
"We wanted to create a place where migrant women can reflect on themselves and work together, without cultural interferences," Nicole von Alvensleben, Stitch by Stitch co-founder and communications designer told Salaam Gateway.
Vocational training, leading to a recognized certificate within 36 months, forms the basis. On-site German lessons, tutoring for the apprentices, childminders or literacy courses with integrated childcare are the cherry on top.
Von Alvensleben left a successful career in the communications field in New York to study social entrepreneurship as she looked for more meaning in her professional life. She started the B2B tailor's workshop with her business partner Claudia Frick, who is a fashion designer and bespoke tailor.
"We work with two Afghan women who never went to school. In addition to German, they learned to read and write at Stitch by Stitch," said Frick, adding that, like Amira Ibrahim, all their employees are incredibly skilled in their craftsmanship.
"The art of sewing is passed on in families. Something that has simply been lost here in Germany," Frick said.
CONTRIBUTING TO ECONOMY
There is a ready market for the women's work. According to the General Association of the German Textile and Fashion Industry report, the Federal Republic's textile and clothing industry employs around 135,000 people. With sales of around 32 billion euros in 2019, it's Germany's second largest consumer goods industry after food.
Stitch by Stitch takes on commissioned work for fashion labels, offering small production series and sample parts of five to 250 pieces.
Working with the company, fashion designers get their brand manufactured regionally, in a fair and transparent way.
German modest fashion label Mizaan, which presented its fall/winter 2018/19 collection on the Dubai Modest Fashion Week runway, appears on the client list.
"Particularly young designers, who want to hit the ground running on a small, but high-quality scale, found the local production idea great," von Alvensleben said. "For ethical reasons, it was out of the question for them to produce outside of Europe."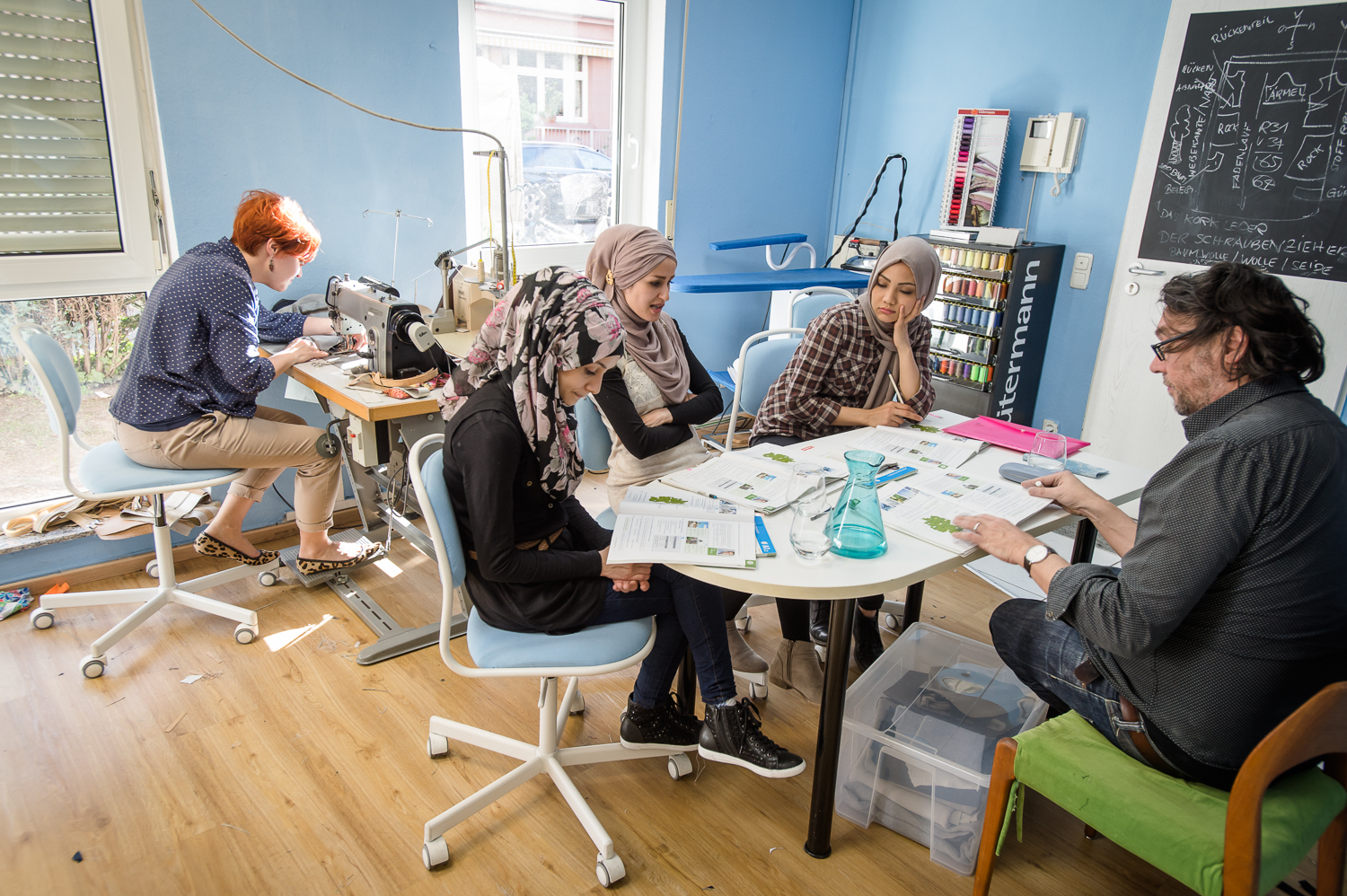 Photo: German language class in September 2016 when Stitch by Stitch just opened. Photo by Bernd Hartung.
HURDLES
Getting funding for Stitch by Stitch proved challenging, but dealing with administrative issues and paperwork on behalf of their team became even tougher and time-consuming.
"The first five to seven years are just tough years, especially in the fashion industry," von Alvensleben said about starting up a business. "I believe only the adamant ones will make it. Those who stick with it and just don't let themselves get down."
When von Alvensleben and Frick opened shop five years ago, they both took out personal liability loans which have just been paid off. The entrepreneurs also approached the city council for grants to help with expenses.
At the social enterprise, living integration every day also supports many mundane questions and deals with the "arriving in Germany" aspects such as opening bank accounts and getting the women social security cards.
The company helps the migrant women cope with the piles of paperwork required by the social welfare office and the health insurance companies.
"The letters and forms in officialese are often difficult to understand even for us native speakers, let alone immigrants who are not yet able to speak the language very well," Frick said. "At first, this cost us much time."
But sorting out the minutiae of red-tape and bureaucracy helped get them all on track to doing the actual work.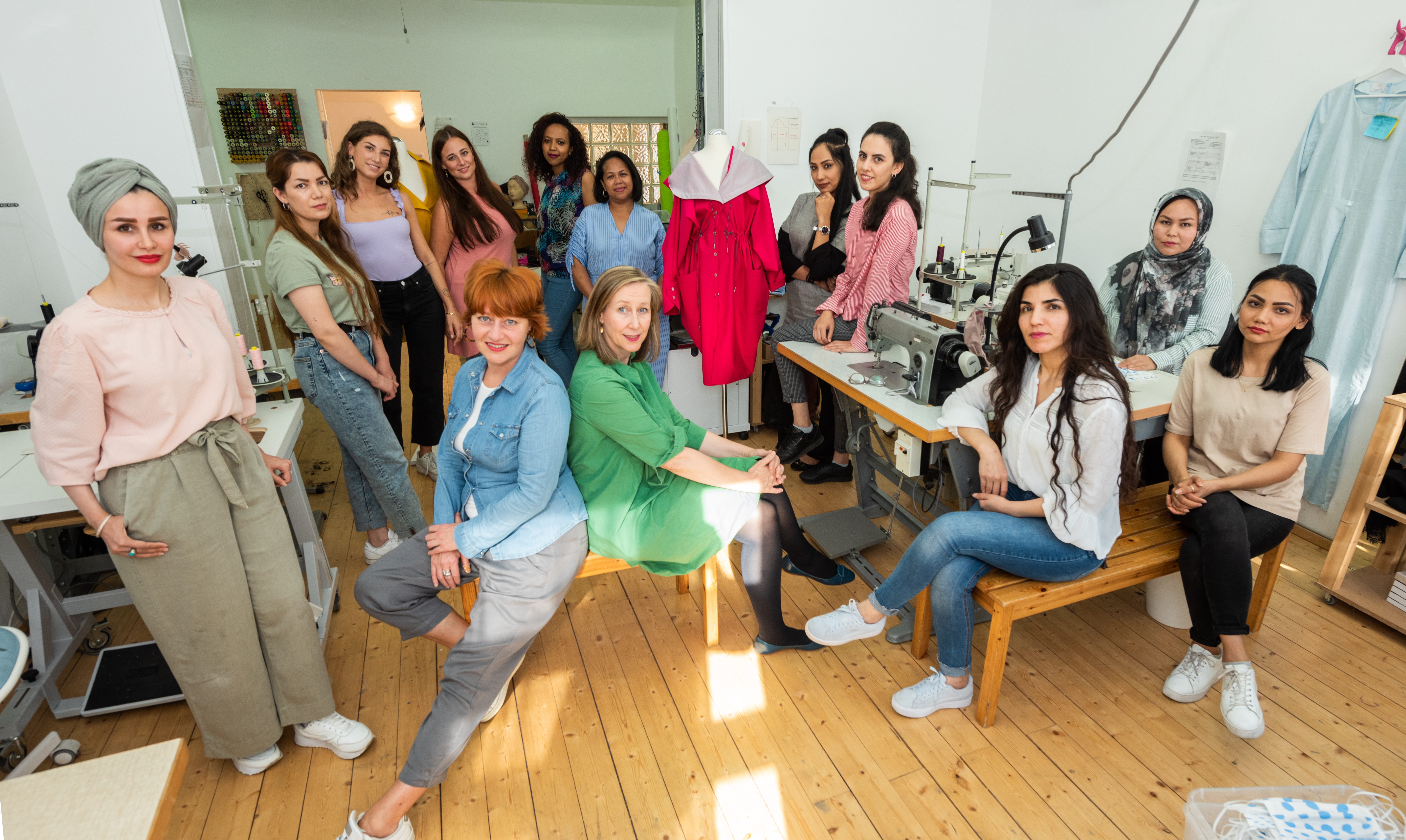 Photo: The team at Stitch by Stitch. Claudia Frick (left) and Nicole von Alvensleben (right) sit in the middle. Photo by Jochen Müller.
ACHIEVEMENTS
For the migrant women, finishing their vocational education is a requisite to securing a job, resident status and social security.
"Mastering the German language in such a way that the women can finish their training is arduous for them," Frick said.
"We were both in tears when our first cohort received their certificate of apprenticeship," she added. "It's such a giant step."
When all necessary paperwork and vocational training certificates are in place, the women move closer to being able to rent their own apartments.
"At the camp, we all had to live together in a small room - five people. We weren't used to it, didn't know it from home," said Amira Ibrahim.
The journey to renting their own homes typically takes four, five years from when they first arrived in Germany.
The little moments in-between are worth celebrating, too: noticing that a team member reached another milestone, realizing that the women have worked something out by themselves.
At Stitch by Stitch, seven dressmakers are currently training to become bespoke tailors. Two have just successfully passed their examinations and the company took them both on.
OWN LABEL
In summer 2019, Stitch by Stitch launched its own, cross-cultural label, bringing out the team's design skills and melding various craft techniques from their distinctive countries of origin.
The label only uses organically-certified and sustainable materials. For example, the range includes water and wind repellent Afghan raincoats made from 100% PET bottles. Shirt dresses, worn as a dress or coat, with individually embroidered collars and hand-made scarves with tassels are made of 100% organic cotton.
"Modest fashion is, of course, a great concept," von Alvensleben said, confessing that she loves how layers are used to create a distinct style. "However, we don't want to squeeze our label into a category, that's not the issue."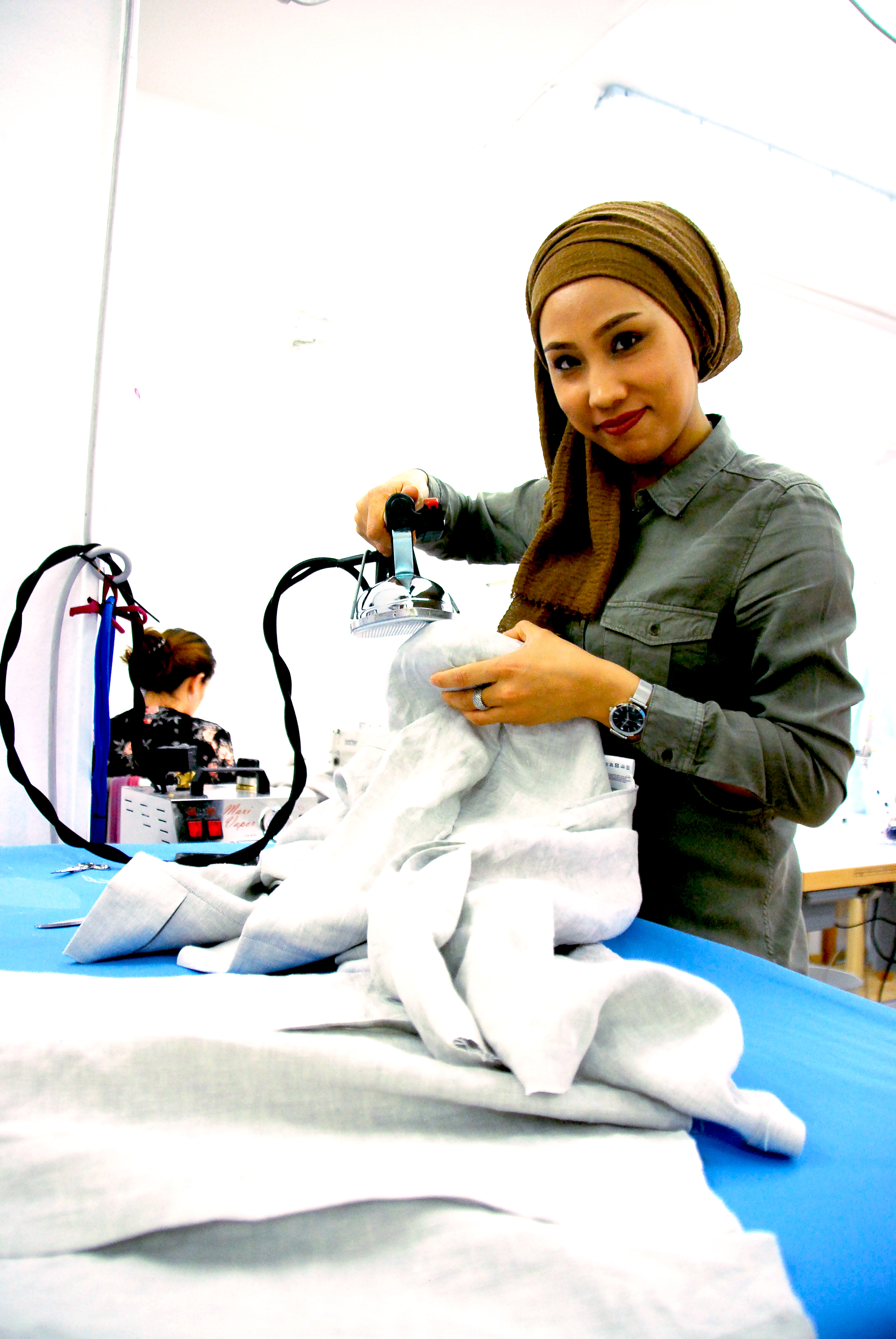 Photo: Neda Kazimi, originally from Afghanistan, at the Stitch by Stitch workshop. Photo by Nicole von Alvensleben.
FUTURE
Modest or not, the family, friends and customers' encouragement about the concept and the success so far spurred the two social entrepreneurs to continue.
"We want to grow," von Alvensleben said about Stitch by Stitch's near-term goals to expand the team to 20 from the current 15.
Banking on the growth prospects following the economic recovery post-COVID-19, the team will concentrate on building their label and corporate gifts made from textiles as revenue pillars.
(Reporting by Petra Loho; Editing by Emmy Abdul Alim emmy.abdulalim@salaamgateway.com)
© SalaamGateway.com 2021 All Rights Reserved
---