India's halal restaurants did brisk business during Ramadan
---
Indian cities were once again full of festivities for the holy month following two years of COVID-19 induced lockdowns.
Indian halal restaurants witnessed brisk business during Ramadan following two years of COVID-19 shutdowns with Hyderabad's unique delicacy haleem being simply one example of how a post-pandemic Islamic society celebrated the holy month in 2022.
Citizens of the southern Indian city relish the popular meat and wheat dish. Haleem is Hyderabad's unique dish now regarded as an international delicacy and prepared by skilled chefs at a low temperature. Originally an Arabic dish, local traditional spices helped develop the Hyderbadi stew composed of meat, lentils and pounded wheat made into a thick paste.
Haleem is synonymous with Ramadan and the dish has made a comeback to the iftar (meal consumed after sunset to end the fast) menu this year. The slow-cooked mutton stew and other Hyderabadi delights are available in almost all the city eateries during Ramadan.
Pista House, a restaurant chain claiming to be the world's largest haleem maker, has 30 outlets across Hyderabad and Secunderabad. Owner Mohammed Abdul Majeed told Salaam Gateway, "This time business is better than even pre-COVID days. People are coming. This time we have made haleem available in Hyderabad at a distance of every 5km. We have done this because the temperatures are high and there is a risk of food getting spoiled."
Majeed said simultaneously prices have escalated, yet people are visiting food outlets to relish the dishes of their choice. Recently, the prices of almost every food and drink item in India have increased.
Apart from Pista House, other famous Hyderabadi eateries include Shah Ghouse, Bawarchi, Café Bahar, Paradise Food Court and Shadab where a wide range of dishes are available from chicken kebab to mutton biryani, apart from the famous haleem, for people savour till the early hours.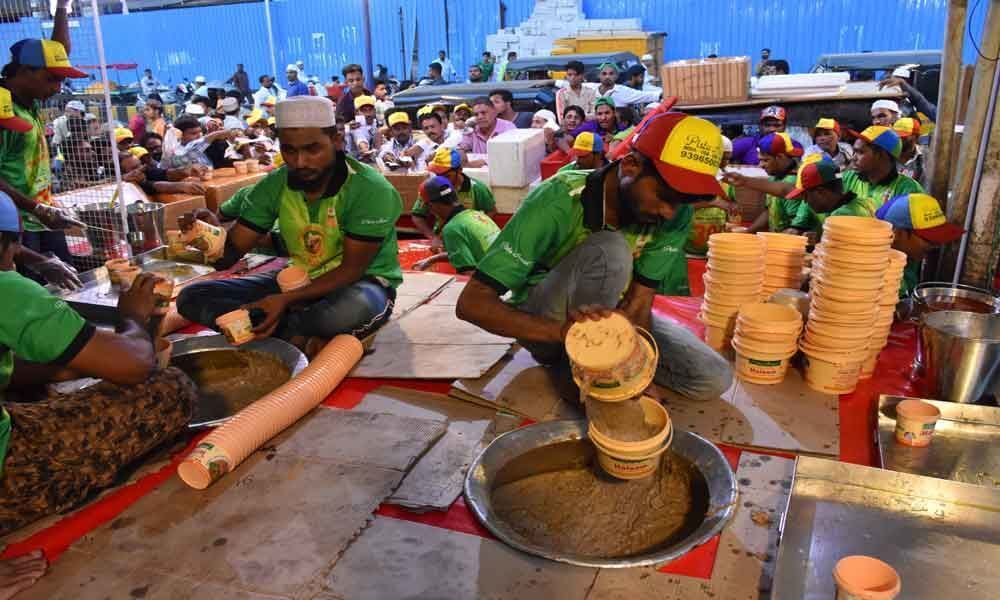 Restaurant chain Pista House claims to be the world's largest haleem maker (Shuriah Niazi).
During Ramadan, about 700 eateries throughout Hyderabad sell not just haleem, but also other popular dishes. As the day-long dawn-to-dusk fasting ends Hyderabad's popular eateries present a scene similar to a food festival. Appetising aromas waft through the air as hordes of people, Muslims and non-Muslims alike, feast on the delectable dishes.
Mohammad Sarwar, who works at a popular Hyderabad eatery, said the grandeur of the city's Ramadan markets has returned after two years of Coronavirus-induced lockdown.
"The city's food joints have registered a huge footfall and the business is peaking as Eid is drawing closer," he told Salaam Gateway.
Hyderabad resident Anas Khan said they were witnessing a rush after two years of lockdown and now everyone wants to enjoy this Ramadan.
"The city's famous eateries get packed to the brim for a taste of haleem and other dishes after the roza (day-long fasting) end," said Anas.
Festivities return to other Indian cities
Festivities have returned to other Indian cities including Delhi, Mumbai and Lucknow. In the capital, the busy streets of Old Delhi are brimming with flavours during this time of the year.
Al-Jawahar, the famous halal restaurant named after former Indian Prime Minister Jawahar Nehru, has witnessed a sharp rise in customer footfall this year. Al-Jawahar owner Akram Qureshi said, "The market is open in Ramzan after two years and people are coming, but in the last few days, the cases of corona have increased and the government has imposed restrictions. This led to a decline in the number of customers."
Last week, the Delhi government made mask wearing in public places mandatory and imposed a fine of Rs 500 ($6.50) for any violation as Coronavirus cases again increase.
Akram told Salaam Gateway, "People like everything here. There is a big demand for both non-veg items as well as Indian sweets – chicken tikka, biryani and nihari.
Nihari is a stew consisting of slow-cooked meat and chicken along with bone marrow.
Aslam Khan, a resident of the city's Jama Masjid area, said the food joints and restaurants in Old Delhi offer unique cuisine. "Mutton stew, lamb paya (trotters) and chicken burra are some of the lip-smacking dishes people relish with tandoori rotis (bread) at food outlets."
He told Salaam Gateway there were multiple options available for foodies at food outlets including several varieties of kebabs made of mutton and the other popular dishes including fried chicken, butter chicken and kheema golis (minced meat rounds).
"This gives a festive feel to the night. These delicacies entice people at every restaurant or makeshift stall during Ramadan," he said.
The city localities turn into a culinary treasure-house as aromatic aromas emanate from huge cauldrons filled with biryani and wisps of smoke arise from barbecues or tandoors.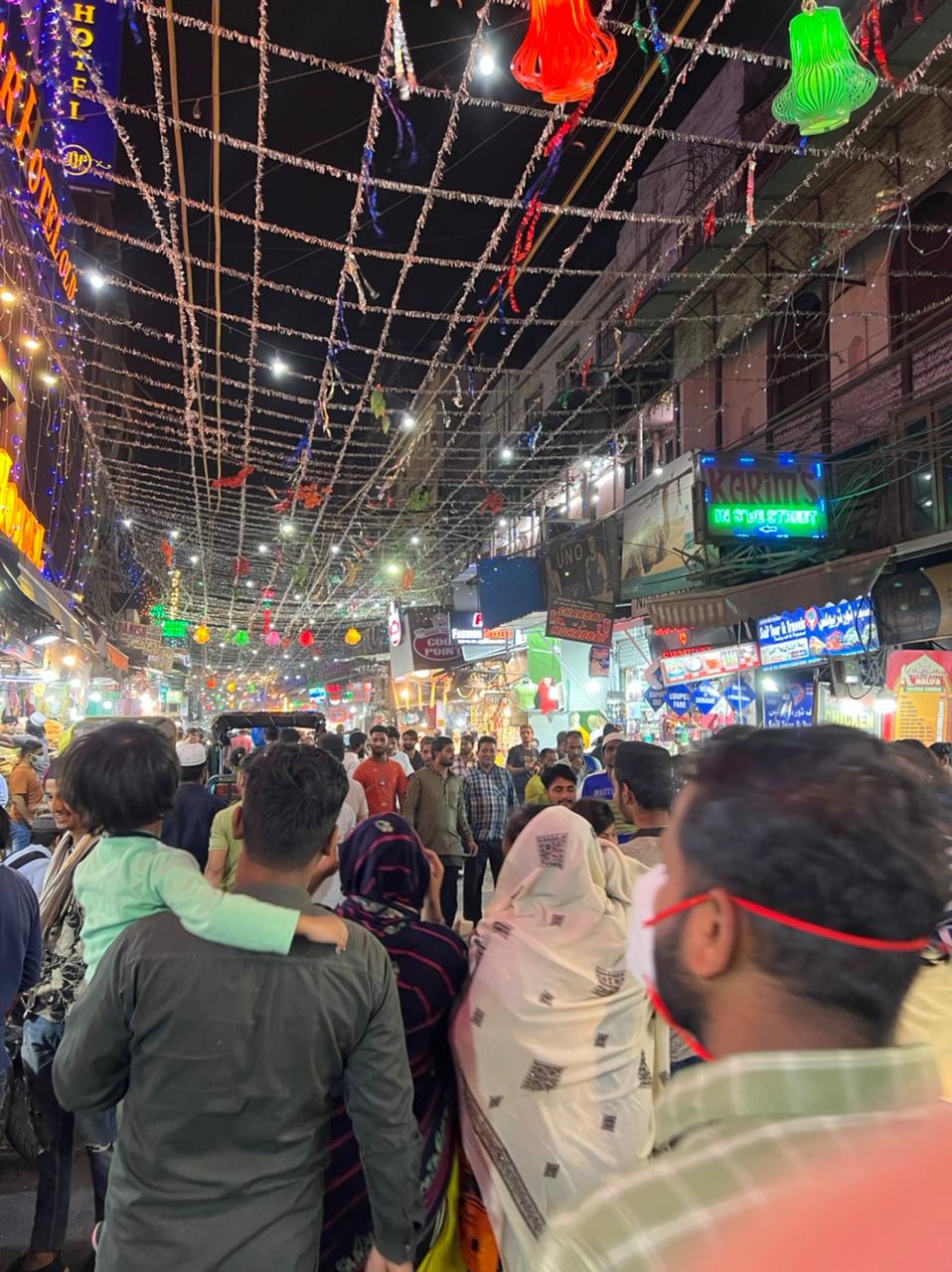 Ramadan festivities are in full swing this year (Shuriah Niazi).
Ramadan markets have sprung to life in Lucknow
In the northern city of Lucknow, the Ramadan markets have sprung to life during the holy month as people throng the city's popular food joints. These transform into gastronomic delights to relish mouth-watering dishes like nihari kulcha, sheermal kabab, Kashmiri chai (tea) and shahi kheer (a type of wet pudding made of milk).
Sultan Khan, a resident of the city's old area, said he missed the food and enjoyment during the last two years as people stayed indoors and shops and eateries remained closed during the COVID-19 lockdown.
"My family and friends are happy things have returned to normalcy and the buzz and celebrations are back. There is hustle and bustle in the markets till late in the night and some eateries remain open till wee hours."
Pervez Khan, who runs a small food joint, said not only he, but all other restaurants and outlets, had been doing good business during Ramadan. He told Salaam Gateway, "We are satisfied with our business this year. Some of the eateries have hired more cooks and staff to meet the increased demand during the holy month".
Eateries in India's commercial capital Mumbai are witnessing a surge in business and city localities like Mohammed Ali Road, Bhendi Bazaar and Dongri present a food festival spectacle as they come alive with the smells and sounds of flavours.
The city's bustling Mohammad Ali Road attracts the devout seeking to break their fast with the iftar feast as delicious savoury and sweet treats are also available at the street stalls and restaurants, along with the hugely popular and tasty non-vegetarian items.
"I often visit Mohammed Ali Road to break the fast and taste some of the unique dishes available in eateries here," said Faizan Mustafa, a college student in Mumbai.
"We have missed all these festivities in the last two years. People are enjoying food as well as freedom to visit the market after two years during Ramadan," said Faizan to Salaam Gateway.
© SalaamGateway.com 2022. All Rights Reserved
---