Indofood set to strengthen instant noodles business in key African, Middle Eastern markets after Pinehill acquisition
---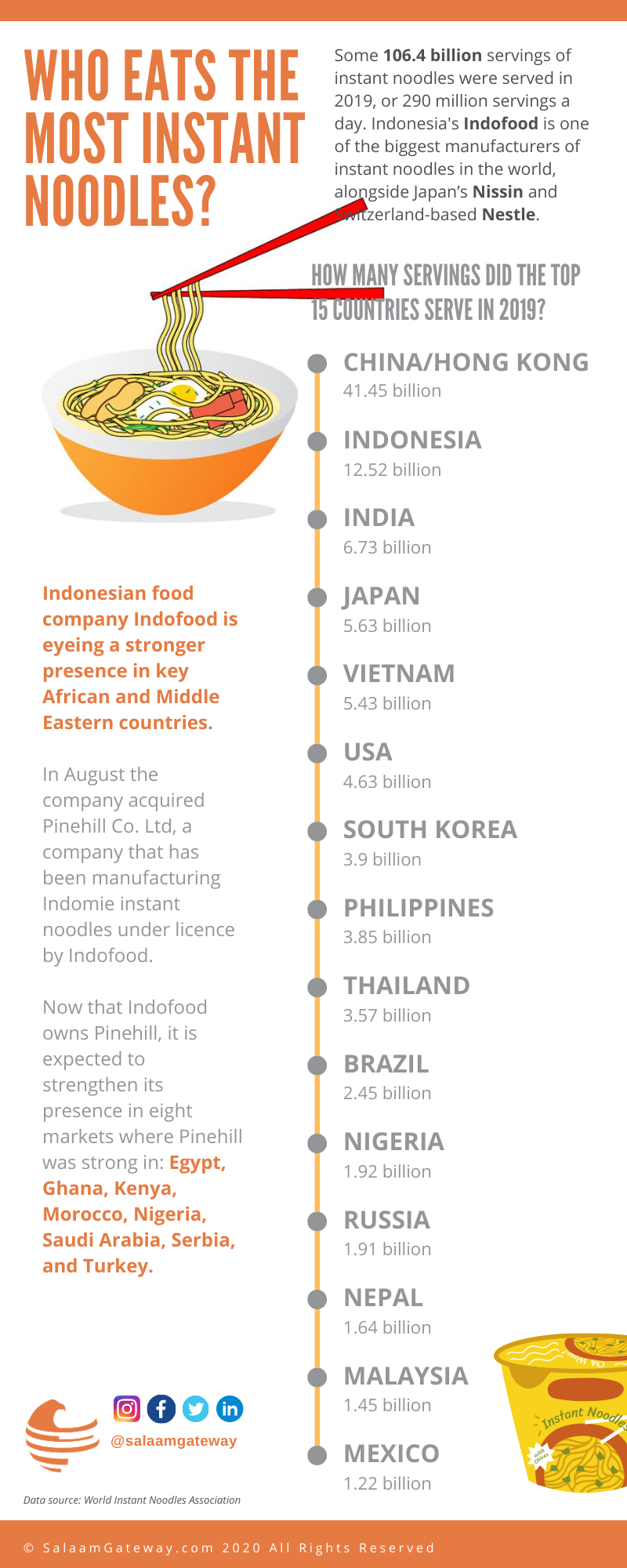 On August 3, Indofood CBP received shareholder approval to acquire its associate Pinehill Co. Ltd. for $2.99 billion, setting the Indonesian company on a path to strengthen its presence in key consumer markets in Africa and the Middle East.
When Indofood CBP announced its intention to acquire the British Virgin Islands-registered company in June, valuation and advisory firm KJPP Rengganis, Hamid and Partners said it expects the purchase to improve the Indonesian company's market position in the eight countries where Pinehill has a strong market presence: Egypt, Ghana, Kenya, Morocco, Nigeria, Saudi Arabia, Serbia, and Turkey.
The acquisition is also expected to drive Indofood CBP's revenue and profit growth up by around 20% per year.
Pinehill manufactures Indomie instant noodles, under a licensing agreement with Indofood CBP's parent company Indofood Sukses Makmur. Pinehill has 12 production facilities with a total capacity of 10 billion packs of instant noodles per year. It also has a distribution network in 33 countries with a total population of 885 million.
Indofood CBP's business lines include instant noodles, dairy, snacks, food seasonings, nutritional and special foods, and beverages.
It is also vertically integrated, and manufactures the cardboard packaging that it requires for its food business.
The company has more than 60 factories in Indonesia and exports to more than 60 countries.
Indofood is one of the biggest manufacturers of instant noodles in the world, alongside Japan's Nissin and Switzerland-based Nestle.
It feeds the substantial demand for instant noodles in Indonesia, which is the second largest demand market behind China and Hong Kong. In 2019, Indonesians consumed an estimated 12.52 billion servings of instant noodles, according to the World Instant Noodles Association.
For the first six months of 2020, Indofood CBP's sales reached 23.05 trillion rupiah ($1.56 billion), a growth of 4% from the same period in 2019.
Its profit increased 21% to 3.16 trillion rupiah ($213.73 million) compared to 2.62 trillion rupiah last year.
© SalaamGateway.com 2020 All Rights Reserved
---