INTERVIEW: UK's Al Rayan Bank navigating crisis with a new CEO in a time of pandemic
---
Major British banks made provisions against losses of more than £7.5 billion in the first quarter in the face of the pandemic, nearly 6x the amount in the same period last year, said credit rating agency S&P in May. Islamic bank Al Rayan is not a "major" UK bank but the COVID-19 crisis will most certainly test its resilience.
---
Peter Horton did not have a normal start to his new job as the chief executive of the UK's oldest fully-fledged retail Islamic bank.
The former CEO of Commonwealth Trade Bank joined Al Rayan on April 6, right smack in the midst of the COVID-19 pandemic lockdown in the UK. In keeping with government guidelines, Al Rayan reduced opening hours at some of its branches to help employees avoid the busiest peak periods on public transport, and a "substantial part" of its workforce started working from home, according to Horton.
The bank also partnered with Vonage Contact Center to start its 'key workers' hotline' to allow customers working with the National Health Service (NHS), as well as those in other key worker roles, to have their calls answered as a priority by agents.
"Other measures include redeploying some of our colleagues to our contact centre, to manage unprecedented call volumes," said Horton, who had to hit the ground running. "This has significantly reduced wait times so that we're able to answer customers' calls as quickly and efficiently as possible."
If the pandemic wasn't enough to keep the new chief busy, his first day on the job was also just after the bank transitioned its online banking services to a mobile app.
Horton must be sighing with relief, though. The app, whose plans were unveiled last summer, kicked in before the lockdown started on March 23, which gave customers a digital channel to do their banking while most had to stay home.
The app now complements Al Rayan's existing branch, telephone and postal banking services, and was designed in response to customer demand for more convenient and mobile-led banking, as well as Payment Services Directive (PSD 2) requirements for secure double factor verification, said Horton.
"A complex project on the scale of the launch of a new banking system can often encounter teething problems and I appreciate that some customers had issues registering for the new system," he said.
Most of those problems have been resolved, and according to the new CEO, more than 13,000 personal customers are now using the app for their banking needs.
As that settled, Al Rayan and Horton then had to respond to the needs of some of their more than 90,000 customers who started facing financial challenges as the pandemic disrupted businesses and affected jobs. The bank has responded by saying it will consider all requests for payment holidays.
This includes for home and property financing, although during this uncertain time it is too early to determine the full-scale of the impact on the housing market, said Horton.
"We're encouraging customers to get in touch if they are experiencing financial difficulties to discuss options such as payment holidays," he said.
"We are also ensuring that customers who choose to take a payment holiday on their home or property finance are provided with ample opportunities to make additional acquisition payments in the future to either reduce their finance amount or term."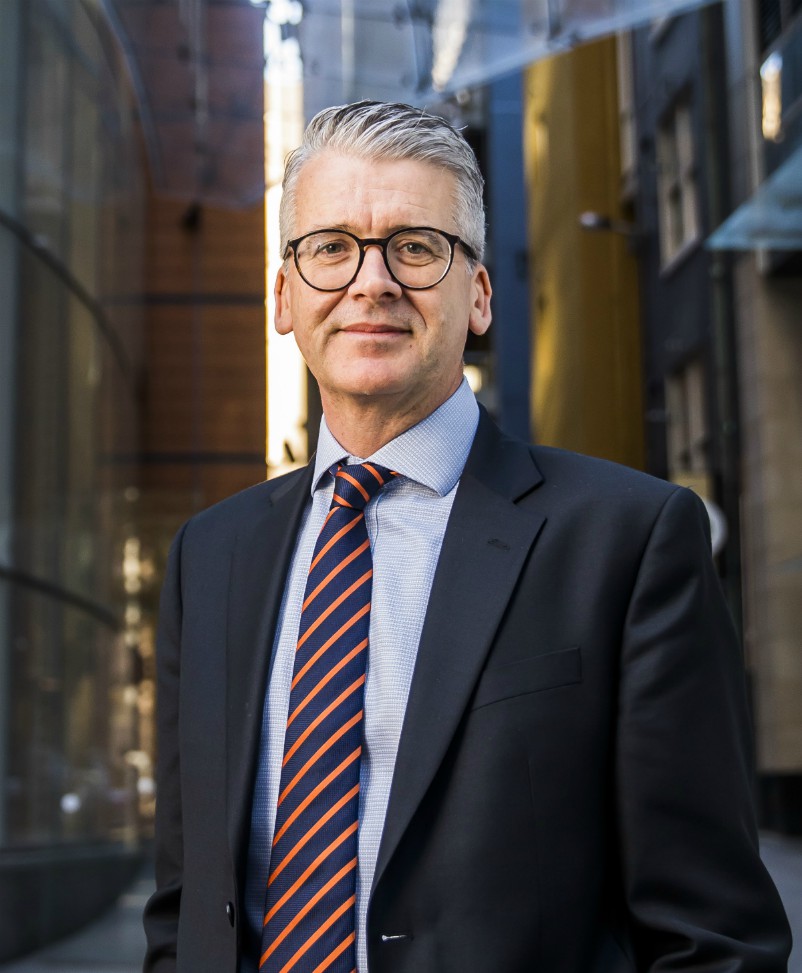 Photo: Peter Horton, CEO of Al Rayan Bank. Photo supplied by Al Rayan Bank.
In this business segment, Al Rayan Bank reported home purchase plan assets of £1.18 billion in 2019 compared to £1.15 billion the previous year, a rise of around 2.6%. This growth, it said in its 2019 financial report, was what drove overall increase in financing assets, which constitute 74% of its asset base last year.
The CEO noted that the housing market will be hit and the extent of this will ultimately be shaped by the wider economic impact of the lockdown and how long restrictions continue to be in place.
"[But] it is important to remember that the UK housing market is very resilient, and we expect to see a full recovery in time," said the new chief.
While that may be true for the housing market, recovery for businesses, especially SMEs, may be more painful, and Al Rayan cannot take advantage of the government's Coronavirus Business Interruption Loan Scheme (CIBLS) to offer help because the scheme isn't Shariah-compliant.
(Islamic economy businesses can still access the scheme if they wish to and if they meet all criteria, as HalalBooking did in early May when it secured £1.6 million through HSBC.)
"Like many businesses, Al Rayan Bank's supplier network is diverse and ranges from large multinationals to local sole traders," said Horton.
"Small businesses have been particularly affected by cash flow issues due to coronavirus-related disruption, so we are committed to doing all we can to speed up payments to mitigate any negative impact."
In 2019, Al Rayan's income from Islamic financing and treasury reached £71.49 million, up by 13.37% from 2018. Retail financing made up the lion's share, 44%, but commercial financing wasn't too far off at 31%. Pre COVID-19, the bank said in its 2019 report: "At the end of the year, the net additional funding from deposits and structured funding was £269.1m, providing the Bank with a strong base from which to grow its financing asset book during 2020."
This "strong base" will no doubt be significantly challenged by the economic downturn caused by the novel coronavirus pandemic. The bank finds itself unable to leverage financing schemes such as CIBLS to help its customers, and at the same time Horton has to keep Al Rayan on a positive growth trajectory in the face of the rise of digital challengers.
The UK is fast opening up to digital challenger banks and other types of fintech. In the Shariah-compliant space, Niyah launched earlier this year, and Rizq is also eyeing market entry, while U.S. investment robo-advisor Wahed is due to get its UK license soon. Others, such as ethical and interest-free payments and wealth management platform Kestrl and gold trading platform Minted are both planning launches this year.
Nevertheless, Horton says he welcomes digital challenger banks and other fintech players.
"Our goal is to see a larger Shariah finance sector in this country," said the CEO of the country's oldest brick-and-mortar Islamic bank.
"We passionately believe that competition and innovation are good for the growth of the sector, Al Rayan Bank's continued success and growth, and ultimately an enhanced customer choice and experience," he told Salaam Gateway.
The rapid development of Islamic fintech in the UK has in large part been driven by a younger generation demanding more ethical products and processes that mainstream Islamic banking has been criticised for not embracing quickly enough.
The positive perception of Al Rayan was challenged when a local news report last year said the bank was being investigated over money-laundering controls. Al Rayan says the allegations are untrue and is the subject of an ongoing legal complaint. Following discussions with the Financial Conduct Authority, the bank voluntarily agreed to "place a temporary restriction on new deposit accounts for individuals it classifies as 'high risk' or 'politically exposed'."
The bank has been mindful of presenting its positive credentials.
Last year it conducted a survey with YouGov that revealed two thirds of British adults (66%) consider it important for companies providing them financial services to operate ethically. Indeed, its own research showed that 37% of all British adults believe that choosing an ethical financial service provider is as important as issues such as recycling, said Horton.
People are more conscious of leading ethical lifestyles than they've ever been before, he added.
Horton says that in accordance with its Shariah governance values, the bank's 2020 ethical roadmap forms "a huge part" of its commitment to responsible banking.
As part of this, it has committed to specific sustainability goals. "We've pledged to remove all single-use plastic, only use renewable energy, and reduce paper usage by at least 25% by the end this year," said Horton.
While the bank serves customers in all four countries of the United Kingdom, areas such as London, the Midlands, North West England and West Yorkshire have traditionally been important regions because of the strong Muslim communities living in those locations. However, an increasing number of Al Rayan's customers are believed to come from outside the Muslim faith and this means that the geographic spread of the customer base is shifting over time.
"I believe the bank's role in a post COVID-19 environment is to ensure we are doing all we can for people up and down the country," said Horton.
(Reporting by Hassan Jivraj; Editing by Emmy Abdul Alim emmy.abdulalim@salaamgateway.com)
---
*Correction: A correction was made in the Para starting: "The postivie perception of Al Rayan was challenged when a local news report...". A line was inserted to clarify that Al Rayan Bank says the allegations made in the "local news report" are untrue and that they are subject to an ongoing legal complaint.
© SalaamGateway.com 2020 All Rights Reserved
---