Investments in Islamic economy dropped 13% through July, Indonesia still top destination
---
Investments in the Islamic economy dropped 13% to $11.8 billion from August 2019 through July 2020 compared to the same 12 months in 2018-19.
The fall is largely due to the economic downturn as a result of the COVID-19 pandemic, according to the State of the Global Islamic Economy 2020/21 report from DinarStandard.
"2020 began on an optimistic note, with low inflation, low unemployment, and steady economic growth. COVID-19 began to spread towards the end of January but the pandemic's impact was not fully felt until the second quarter, with global M&A deal volume nearly halving in the second quarter, falling from 4,308 deals to 2,630," said the growth strategy research and advisory firm.
Halal food attracted the highest investments in the Islamic economy, followed by Islamic finance, travel, halal pharma, halal cosmetics, media, and modest fashion.
The bulk of the investments across the seven sectors are mergers and acquisitions.
"At $11.8 billion, investments in the Islamic economy sectors are merely 0.3% of the total global M&A, private equity and venture capital investments in consumer, financial services, media, luxury, and pharma— estimated at $3.4 trillion. This is despite the Islamic economy contributing to more than 15% of the world's GDP in PPP," said DinarStandard, the parent company of Salaam Gateway.
The top five countries in terms of number of investment deals stayed the same as 2018-19, with Indonesia continuing to attract a large share of investments.
"Indonesia ranked ahead of all countries with 38 transactions, with close to 25% of all recorded transactions, higher than the 21% it held last year. Malaysia is second, followed by the UAE, Egypt, and Kuwait," said the report.
DinarStandard said the investment environment remains highly uncertain as businesses struggle to function amid multiple disruptions.
The report breaks down the top investment deals across each sector, including the $3 billion buyover of Pinehill Company by Indonesia's Indofood and the $250 million that Indonesian OTA Traveloka received from the Qatar Investment Authority and Singapore's GIC.
Here are key stats from the report, which you can DOWNLOAD HERE: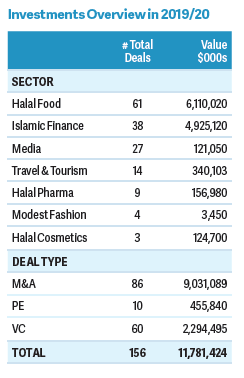 Source: State of the Global Islamic Economy 2020/21 report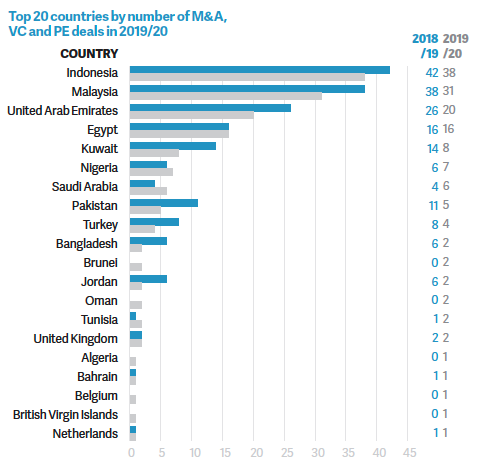 Source: State of the Global Islamic Economy 2020/21 report
© SalaamGateway.com 2020 All Rights Reserved
---