Japan wants more Middle East tourists but is it ready to cater to Muslim travelers from the region?
---
DUBAI - Japan is actively working on attracting more visitors from the Arab world in anticipation of the reopening of its borders to international tourists.
Visitors from the Arabian Gulf countries, especially, are known as big-spenders and they are a lucrative demographic for destinations worldwide. In the last five years Gulf visitors to Japan doubled to 28,222 in 2019, according to the Japan National Tourism Organization (JNTO), but this is less than one percent of the 31.9 million international tourists that visited in the same year.
So Japan is upping its game, with plans to open an office in Dubai in the second half of 2021. This will be JNTO's first office in the Middle East and will support the country's efforts to draw more tourists from the wider region.
"The Japanese government is targeting 60 million visitors and 60 trillion yen in foreign tourist spending by 2030," Tomoko Kikuchi, executive director at JNTO's Preparation Office for Dubai, told Salaam Gateway.
The decision to open in Dubai was based on the UAE's strategic location in the region and the presence of many media companies in the country, she said.
"[Pre-pandemic], most international tourists, about 70%, were from neighboring East Asian countries. We would like to welcome more tourists from different regions, including Europe, the Americas, Oceania and the Middle East," said Kikuchi.
THE BIG PICTURE
Japan has been transforming its services and facilities over the past decade to cater to the large number of Muslim tourists from Southeast Asia as well as its own Muslim population.
Though small, Japan's Muslim population has doubled in the past decade, from 110,000 in 2010, to 230,00 in 2019.
Today, the country boasts more than 110 mosques, compared to just 24 in 2001, the Economist recently reported. The oldest mosque, Kobe Masjid, opened in 1935, and the newest, FujiKawaguchiko Masjid, opened in 2020 near Mount Fuji.
Finding a place to pray while on the move is also easy. All major airports as well as some railway stations and expressway service areas have prayer rooms.
When it comes to food, there are more options than ever before. Dozens of halal restaurants have sprung up across Japan's cities over the last decade, serving everything from Turkish and Indian cuisine to hand-pulled ramen and local Japanese dishes.
As of April 2021, around 500 businesses in Japan were certified by different halal certification agencies, according to Nippon Asia Halal Association (NAHA), one of seven local bodies recognized by the Department of Islamic Development Malaysia (JAKIM). Of these businesses, around 200 were certified by NAHA.
Restaurants are increasingly transitioning to alcohol-free soya sauce as more than 10 brands are now halal-certified in Japan, according to NAHA.
Similarly, Otafuku Foods, Japan's biggest seasoning sauce manufacturer, has launched halal-certified sauces for Okonomiyaki, a savoury version of Japanese pancake, and Yakisoba, a classic stir-fried noodles dish. These sauces typically contain alcohol or pork-derived ingredients.
For accommodation, a few hotels in Tokyo offer women-only floors, such as Shinjuku Kuyakushomae Capsule Hotel, while some are exclusively for female guests, such as Nadeshiko Hotel Shibuya, and Akihabara Bay Hotel.
These hotels are particularly popular with Muslim female travelers, according to Sébastien Duval, Community Development Director at JapanTravel.com, the country's biggest platform for inbound tourism.
Additionally, hot spring baths are segregated by gender and there is a growing number of ryokans, or Japanese-style inns, that offer private hot spring baths, making them suitable for families that like their privacy.
DEDICATED CONTENT
Alongside the private sector's efforts, Japan's government has taken many initiatives to promote the country as a Muslim-friendly tourism destination to attract vacationers from the Middle East.
JNTO recently revamped its Arabic website for the Middle East market and launched a website for Muslim travellers.
"Attracting tourists is key to Japan's economic development due to its ageing population. The national and local governments mostly invested in the creation of information in different languages - online, in brochures, and onsite," Duval told Salaam Gateway.
"They hoped to reach new markets during the 2020 Olympic and Paralympic Games, notably vegans and Muslims. A few products were launched in 2020/2021, and products on hold should be launched when the borders reopen to international visitors," he said.
JapanTravel.com, supported by a community of more than 20,000 volunteers, has also been helping local governments create content for Muslim tourists. The platform has just added a halal dietary marker to its restaurant listings and a prayer-room amenity marker to malls and stations. These features are highlighted to government officials when discussing new projects, according to Duval.
Prefectures such as Kanagawa, home to the ancient samurai capital Kamakura city, and Miyagi, known for its seafood and scenic views over the Pacific Ocean, are also making efforts to attract Muslim travellers and they have created a list of halal or Muslim-friendly restaurants on their official websites.
Elsewhere, the mountain-ringed city of Hida Takayama in Gifu Prefecture, already popular with Muslim visitors, has compiled a list of halal or Muslim-friendly restaurants, while less touristy prefectures like Fukushima are trying to get attention by adding a halal label to their dining options.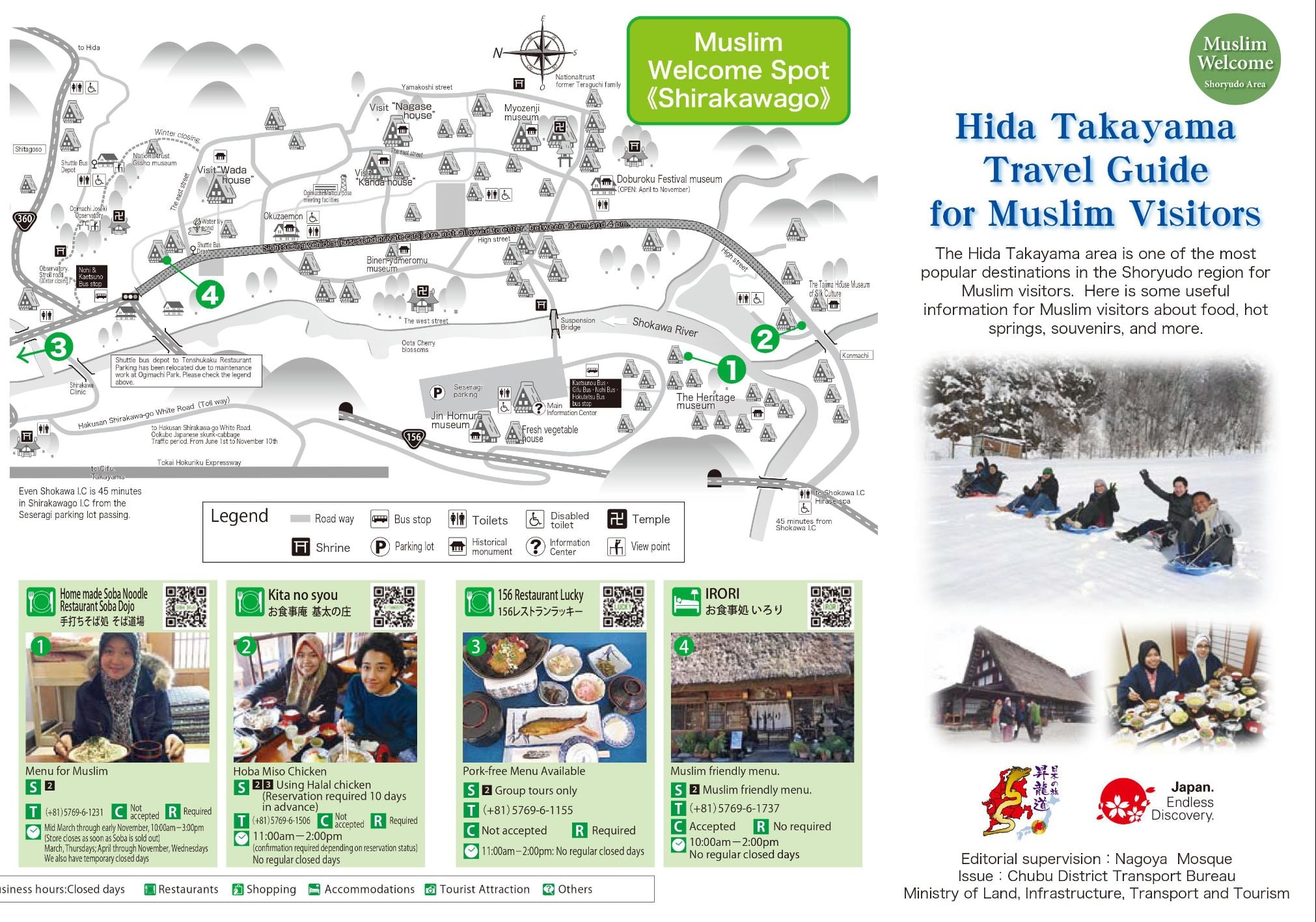 Graphic: Muslim travel guide for Hida Takayama in Gifu Prefecture
SURVIVING THE CRISIS
With the pandemic canceling international tourism since early 2020 and the government barring foreign spectators from the Summer Olympics this year, the future of Japan's halal restaurants is in jeopardy.
"Muslim-friendly restaurants increased in 2018 and 2019. The problem is that we have very few Muslims in Japan, and Japanese people often feel that a restaurant is not for them when they see 'halal' or 'vegan' so getting local clients is difficult. That means that the shops had to focus on tourists," said Duval.
"These restaurants understand halal requirements well and usually speak English. On the dark side, many of them closed due to a lack of clients during the pandemic," said Duval.
Those that have closed over the last year include Origami Asakusa, which opened in 2018 to serve halal-certified Japanese food, curry chain CoCoICHI, which closed two of its halal-certified branches, and Halal Ramen Ouka, which shuttered after five years of operation.
Hotels, too, have been impacted. Syariah Hotel Fujisan, Japan's first Muslim-friendly hotel, has temporarily closed due to the pandemic, but plans to reopen when foreign visitors return, the hotel confirmed to Salaam Gateway.
Situated at the foot of Mount Fuji, the hotel opened in 2016 to cater to the lucrative Muslim travel segment. But despite its strategic location near Lake Kawaguchi and Shimobe Hot Spring, the two-star establishment could not sustain itself without international tourists.
One of the few new halal businesses to open recently is curry restaurant Chabuya Kakudo. Since April 2021, the restaurant in in Kagoshima Prefecture has been offering a 'one table' concept where food can be enjoyed by everyone.
AMBIGUITY ABOUT HALAL, MUSLIM-FRIENDLY
Meanwhile, an issue that remains among Japan's halal eateries is the ambiguity surrounding the terms 'halal' and 'Muslim-friendly'.
"In Japan, 'Muslim-friendly' typically implies that some dishes are available without pork. If the restaurant serves some non-halal dishes too, the preparation is usually done in the same kitchen, on the same cooking space and possibly with the same utensils," said Duval, a French expatriate who has lived in Japan for 15 years and previously worked with Chiba Prefecture as a food advisor.
He explained that 'halal' in Japan may have the same meaning as 'Muslim-friendly' for less knowledgeable Japanese chefs or owners. It may also mean that some meat is certified halal but cooked on the same kitchen space as non-halal meat. Or it could mean that everything is halal.
"Many restaurants in Japan are very small; there's no space to separately prepare halal and non-halal dishes, and a lot of restaurants serve alcohol to attract Japanese clients in the evenings," said Duval.
"Restaurants typically do not change to cater to Muslims. They cook the way they have always cooked, with ingredients they have always used. Opportunities are thus mostly with new restaurants targeting tourists. Still, many restaurants have added drawings that clarify ingredients, such as pork," he said.
RISKY BUSINESS
Operating a halal restaurant or hotel in Japan comes with challenges as Japanese customers generally like to drink alcohol. For hotels to be entirely halal, this means removing all alcohol from the property and that cuts a lot of the profit, according to Duval.
In addition, halal ingredients can be expensive in Japan, and locally manufactured halal products are often not as tasty as exported versions, Abdul Qudir Kato, chairman of Japan Halal Certification Promotion Organization, told Salaam Gateway.
"Nevertheless, I think having halal-friendly restaurants is a positive trend because it means businesses are becoming more conscious of Muslims' dietary needs. A small step gets bigger," said Kato.
Outside the major cities, finding halal food, groceries, and cosmetics is almost impossible. Muslim travelers exploring rural Japan would typically go to Indian restaurants, which are easy to find in the countryside, according to Duval.
"Things are easier in Kansai region [where vegan restaurants are plentiful due to the Buddhist culture], and even vegan Buddhist temple food is an option in most of Japan's countryside if Muslims are fine with visiting a non-Muslim religious site," he said.
With its famous cherry blossoms in spring, marine activities in summer, crimson-maple trees in autumn, and snow in winter, Japan is confident it can attract tourists from the Middle East year-round. And with a culture that is both traditional and modern, the country prides itself for being unique.
"In Japan, you can see a sumo wrestler in the train station, and if you walk in Kyoto, you can see geishas in traditional kimonos with their cell phones," said Duval.
Japan ranked in the top five non-Islamic destinations in the Mastercard-CrescentRating Global Muslim Travel Index 2019, scoring high on safety, freedom to practice faith, and digital presence, but low on ease of communication.
The country remains closed to tourists and has not specified a reopening date.
© SalaamGateway.com 2021 All Rights Reserved
---