Jordanian women turn elections into celebration of hard-earned voting rights
---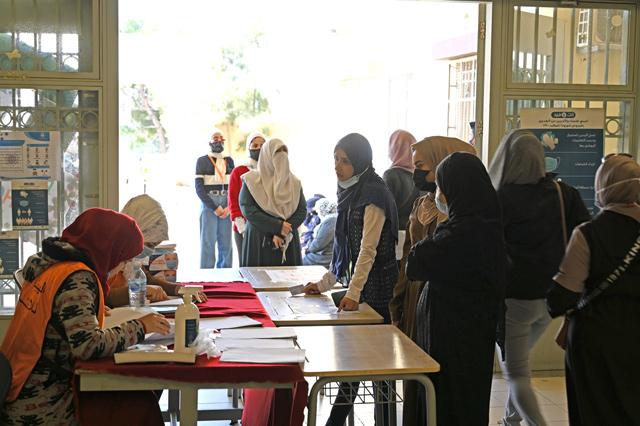 Photo: A woman registers to vote at a polling station in Amman on Tuesday (Photo via The Jordan Times, by Amjad Ghsoun)
Published 11 Nov,2020 via The Jordan Times AMMAN — From centenarian women to those who recently turned 18, women headed to the polling stations Tuesday to exercise their right to vote in parliamentary elections with their old and new demands awaiting to be voiced by their potential representatives.
Um Najeh Sawi, a 106-year-old woman from Jerash, became an Internet sensation on election day when a photo of her wearing a mask on her way to the polling station was posted online.
Muath Salem, who is married to Sawi's granddaughter, said in remarks to The Jordan Times that Sawi "was granted the right to vote when she was 60", after Jordan gave women the right to vote in 1974.
"Sawi vowed that she would use that right till the last, as she had to wait 60 years for it," added Salem.
Centenarian women were not the only ones who took part in elections. Linda Fuqaha, a high school student who just turned 18, told The Jordan Times that she "cannot wait to participate, even if it is just one vote in the formation of the Kingdom's parliament".
Fuqaha told The Jordan Times over the phone that she and her friends would "love to see women make up 50 per cent of parliament, just like the parliaments that most developed countries have".
The 18-year-old said that "sometimes women are the only ones fit enough to change laws that have to do with women, as they have experienced or are aware of the probability of experiencing the injustice of these laws".
The law that bars a female citizen to pass her nationality to her children if she marries a foreigner, laws related to punishments for so-called honour crimes and sexual harassment were cited as examples of issues that women parliamentary representatives probably "feel more inclined to change," Fuqaha noted.
However, according to Raya Shouni, a university student, sometimes the reason to vote is to "stop a candidate, who is sometimes a woman, from winning a seat, as that candidate's views could be very destructive to the young female generation's hopes for change".
Shouni added that she had decided to vote "for the sole purpose of preventing representatives... hindering women's rights and progressive laws".
Whether voting for a candidate or attempting to block one from winning, "women of all ages hope, during every parliamentary election, that they can be adequately represented in parliament," according to Reem Louzi, a lawyer and a member of a female candidate's campaign team in Amman.
Louzi told The Jordan Times that "despite slow change, women in politics still receive abundant hate and bullying, as evident by a study that showed that one out of three candidates in Jordan was the target of cyberbullying".
"On our campaign's social media pages, there were ample comments attacking our candidate based solely on her looks, which is the exact reason women need to get out there and vote. We need to be taken seriously and be judged based on our qualifications, not on misogynistic views," added Louzi.
Some women chose to vote because they wanted to see change in all areas of politics, not just feminist issues.
"As important as having female representatives is, and as important as it is to bring about change regarding issues of domestic violence, sexual harassment and gender equality, I have concerns regarding all social justice issues," said Nuha Remoni, a school principal.
"I think it is very important for us women, specifically young women, to vote because these are tough times and democracy is our only way out. If the new generation gives up on voting, then years of hard work to earn this right will go down the drain," added Remoni.
She also said that "women are, after all, people", noting that "women need to vote for the best representative that can help the people, specifically the most vulnerable, in these challenging times".
© Copyright The Jordan Times. All rights reserved. Provided by SyndiGate Media Inc. (Syndigate.info)
---
DISCLAIMER: This content is provided to us "as is" and unedited by an external third party provider. We cannot attest to or guarantee the accuracy of information provided in this article from the external third party provider. We do not endorse any views or opinions included in this article.
---