Malaysia's scandal of imported frozen meats with fake halal logos: Who's in the wrong?
---
This article was written by Mohd Amri Abdullah @Ustaz Amri Halal. He is a National Halal Industry Expert Panel member and a halal researcher at the University of Malaya Halal Research Centre (UMHRC). His original article, in Bahasa Malaysia, was first published on Dec 25 in the daily Utusan Malaysia. It has been translated into English with permission from the author for publication on Salaam Gateway.
---
Malaysian media are reporting news alleging that a large network has for decades been importing frozen meat bearing fake halal logos for distribution in the country. The widespread coverage followed an exposé that was published last week after a raid conducted by Malaysian authorities on a meat-smuggling cartel that seized 1,500 tonnes of frozen meat worth RM30 million, earlier this month.
The issue is currently hotly debated, in newspapers, tv, radio, online news, WhatsApp and other mediums. Various public judgments are being passed.
The Director-General of the Malaysian Quarantine and Inspection Services Department (MAQIS), Saiful Yazan Alwi, disclosed in a local TV interview on Monday (Dec 28) that about 122,000 tonnes of frozen halal meat was legitimately imported into the country between January and November this year. The Minister in the Prime Minister's Department (Religious Affairs), Zulkifli Mohamad Al-Bakri, on Monday announced that the government is committed to address the issue as soon as possible, including considering the setting up of a Royal Commission of Inquiry (RCI).
Still, the question remains: Who is guilty and where did things go wrong? It has been reported that these meat cartels have been operating for 40 years. Are the existing laws insufficient? Are the procedures not robust enough? Or is it the human soul that needs to be cleansed?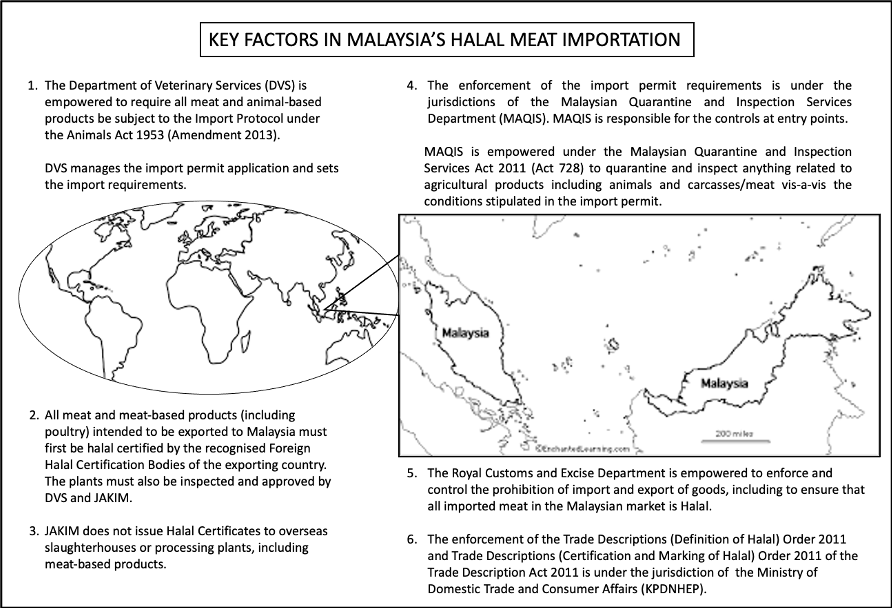 REQUIREMENTS FOR IMPORTING MEAT INTO MALAYSIA
We are lucky because the Malaysian government stipulates that all meat and meat-based products (including poultry) intended to be exported to Malaysia must first be halal-certified by recognised Foreign Halal Certification Bodies of the exporting country. The plants must also be inspected and approved by the Department of Veterinary Services (DVS) and JAKIM in compliance with the Malaysian Protocol for Halal Meat and Poultry Productions and MS 1500: 2009. This is a government policy set under the jurisdiction of DVS.
DVS requires all meat and animal-based products be subject to the Import Protocol under the Animals Act 1953 (Amendment 2013). (The Protocol involves implementation of inspections services at foreign abattoirs and processing plants of export of meat and products of animal origin to Malaysia.) This protocol states that DVS and JAKIM are responsible for conducting the inspections. It is a condition set by DVS to the exporting country to enable animal products, including meat, be allowed into Malaysia. These terms have been agreed between the two countries through joint negotiations.
Inspection by DVS is divided into inspecting the country's sanitary and phytosanitary (SPS) requirements for export applications and inspection of the abattoirs and processing plants. In this regard, DVS's assessments focus on SPS, implementation of Good Manufacturing Practices (GMP) and food safety assurance programs such as HACCP (Hazard Analysis Critical Control Points). In certain circumstances the Ministry of Health Malaysia (MOH) is also involved. JAKIM checks for halal compliance based on the Malaysian Protocol for the Halal Meat and Poultry Productions and MS1500: 2009 as mentioned earlier. JAKIM does not issue halal certificates to overseas slaughterhouses or processing plants, including meat-based products.
Thus, the Halal Malaysia logo cannot be used for imported meats. Any slaughterhouse seeking to obtain DVS's approval must first be certified halal and use the halal logo from the Halal Certification Body (HCB) recognised by JAKIM in that exporting country. Under this regulation, JAKIM is only involved in assisting DVS to confirm the halal status without issuing any Halal Malaysia certificate before the meat is imported.
DVS manages the import permit application. It sets the import requirements, while the enforcement of these requirements is under the jurisdiction of MAQIS, which is responsible for the controls at entry points. It is empowered under the Malaysian Quarantine and Inspection Services Act 2011 (Act 728) to quarantine and inspect anything related to agricultural products including animals and carcasses/meat vis-à-vis the conditions stipulated in the import permit. Failure to comply with the import permit is an offence liable to a fine not exceeding RM100,000 or to imprisonment for a term not exceeding six years, or to both.
Item 1, Part 1 of the Third Schedule of the Customs (Prohibition of Imports) Order 2017, clearly stipulates the prohibition of importing any animal sources including meat which requires an import permit or license from MAQIS in Peninsular Malaysia and Labuan, and DVS in Sabah and Sarawak. If convicted, offenders can be fined not less than 10 times the value of customs duty or RM50,000 whichever is greater and not exceeding 20 times the value of customs duty or RM500,000, whichever is greater, or imprisonment not exceeding five years, or both. For the second or subsequent offence, those found guilty will be fined not less than 20 times the value of customs duty or RM100,000, whichever is greater and not exceeding 40 times the value of customs duty, or RM1,000,000, whichever is greater, or imprisonment not exceeding seven years, or both. Any trade entry must be inspected and approved by MAQIS and DVS during the importation process.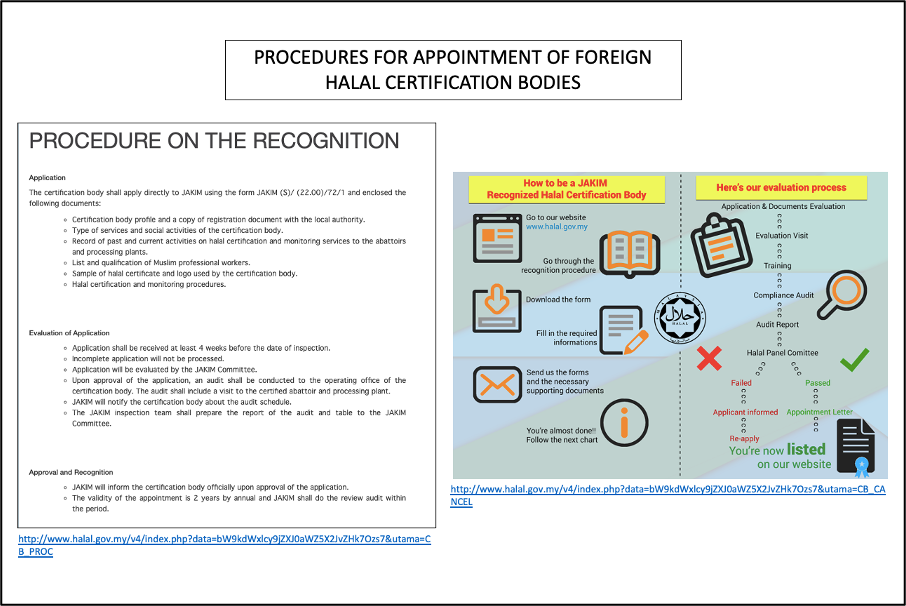 This clearly shows that the existing laws are sufficient to control the halal meat import at the point of entry.
Based on these laws, MAQIS and CUSTOMS are among the key determinants to ensure that all imported meat in the Malaysian market is halal including those being used as ingredients for products made in Malaysia which are halal-certified by the Malaysian competent authority.
Another enforcement issue that the public needs to be aware of is the validation of the slaughtered meat. If non-halal imported meat enters the market, it is difficult to determine whether it is slaughtered or not according to Islamic law.
Until now, no laboratory can determine whether the cuts of meat or carcass are from animals slaughtered accordingly or not. If such meat uses the halal logo on its packaging, it is not easy to verify the claim. Although under the Trade Descriptions (Definition of Halal) Order 2011 of the Trade Description Act 2011 (enforced by the Ministry of Domestic Trade and Consumer Affairs (KPDNHEP)) provides for a fine of up to RM5 million, it is challenging to bring the matter to court because it is hard to obtain the admissible proof. Hence, the ministry's typical cases to date are the illegal use of halal logo or the phrase halal which are regulated under the Trade Descriptions (Certification and Marking of Halal) Order 2011 of the Trade Description Act 2011 where those found guilty can be fined up to RM200,000.
The laws already exist, so what is needed now is awareness on the responsibilities of DVS, JAKIM, MAQIS, CUSTOMS, and also us, as consumers.
Should we let it be since it has been ongoing for a long time? What about opportunities for local meat entrepreneurs? Are these entrepreneurs willing to change and comply with halal standards, and be the alternatives to meet the market needs for halal meat? Is the power of waqf (endowment) to develop the ecosystem the answer?
Solutions should be sought, while at the same time laws should be established for regulating and exerting control of lawmakers and law enforcement officers.
The elements of spiritual blessings associated with the blessings of rizq (sustenance) need to be strengthened in all these halal meat value chains. Every ministry or department needs to enhance their respective Islamic Affairs Units that are responsible as the reference on religious matters and to carry out religious activities, so that these values become embedded as the guiding factor for the actions and decisions taken by their workforce when performing their duties.
We should leave it to the authorities to complete their investigations. We believe there is a blessing in disguise, a lot of wisdom and benefits behind every test and misfortune.
(Translated from Bahasa Malaysia by Rozi Osman, Editing by Emmy Abdul Alim [email protected])
SalaamGateway.com 2020
---