Mentors are a must for entrepreneurs. Dubai's FinTech Hive has been giving them free advice throughout Ramadan
---
When Apple's Steve Jobs died in 2011 Mark Zuckerberg wrote: "Steve, thank you for being a mentor and a friend. Thanks for showing that what you build can change the world. I will miss you." The Facebook co-founder later said he consulted Jobs, in the early years of the social network, when the company hit a rough patch and he was weighing acquisition offers.
Of course, we know Zuckerberg didn't sell but instead raised $16 billion in an initial public offering (IPO) in 2012. Jobs himself paid tribute to the young entrepreneur when he said he admired Zuckerberg "for not selling out".
Fast forward nine years and tech has further advanced (hello, Alexa, and foldable smartphones) but one fundamental has not changed: Mentors are a must for tech entrepreneurs. At the Dubai International Financial Centre (DIFC) FinTech Hive, experienced execs have been giving free advice throughout Ramadan.
DIFC FinTech Hive's Executive VP Raja Al Mazrouei, herself a techie (she started as a coder), told Salaam Gateway the main objective of the accelerator's 1:1 mentorship sessions is to help FinTech Hive grow and scale start-ups. It was also their "giving back initiative" in Ramadan.
"This was an open call, any entrepreneurs could reach out for a mentorship session, they can be across all fields, not necessarily FinTech only and they don't necessarily have to be associated with the DIFC FinTech Hive in any way," said Raja.
So far, she and senior manager Shereen Abdulla have held twelve 30-minute video conferencing sessions between them, and the meets are still ongoing.
Working from home throughout Dubai's COVID-19 movement restrictions, the two took on questions related to regulations, accelerating in the Middle East, setting up start-ups at the DIFC, how to expand to serve more people, how to gain exposure, and accelerate access to funding.
These are all matters Raja and Shereen take on easily, after working with hundreds of start-ups since 2017.
After three years, DIFC FinTech Hive recently in early March tripled in physical size to accommodate more start-ups and host more events and workshops. Unfortunately, the opening of the bigger premises coincided closely with COVID-19 lockdown that sent everyone home to work. FinTech Hive, which houses a co-working space, and hosts accelerator programmes and a start-up bootcamp, responded with a stimulus initiative. They include a full waiver of annual licensing fees for new clients, a 50% reduction on license renewal fees, and deferred leases from April 1 to June 30.
(It also launched a new programme - "social distancing challenge" - for products or solutions to enable convenience and enhance efficiencies in social distancing. Look out for that virtual demo day on June 2!)
The growth of DIFC FinTech Hive has certainly caught the attention of more entrepreneurs, one of whom is Amir Fardghassemi who started neo bank super app Jingle Pay. Dubai-based Amir had never worked with FinTech Hive before and wanted to get on its 1:1 session to find out about its accelerator programmes.
Did the session help? "It was useful," said Amir, who is finalising Jingle's MVP, or minimum viable product. Amir's mentor was Raja but he also spoke to Shereen prior to the 1:1 with the Executive VP.
"Their network and knowledge is valuable and having their support is a blessing," he said, adding that he would want more mentorship sessions.
Another Dubai resident, Anuscha Iqbal, has also never worked with FinTech Hive and wanted to better understand regulations and how to navigate the fintech start-up ecosystem.
The co-founder of the very recently-launched 'shop now, pay later' platform Spotii told Salaam Gateway Raja provided her with the right guidance through a certain programme run by DIFC's regulator, the Dubai Financial Services Authority (DFSA).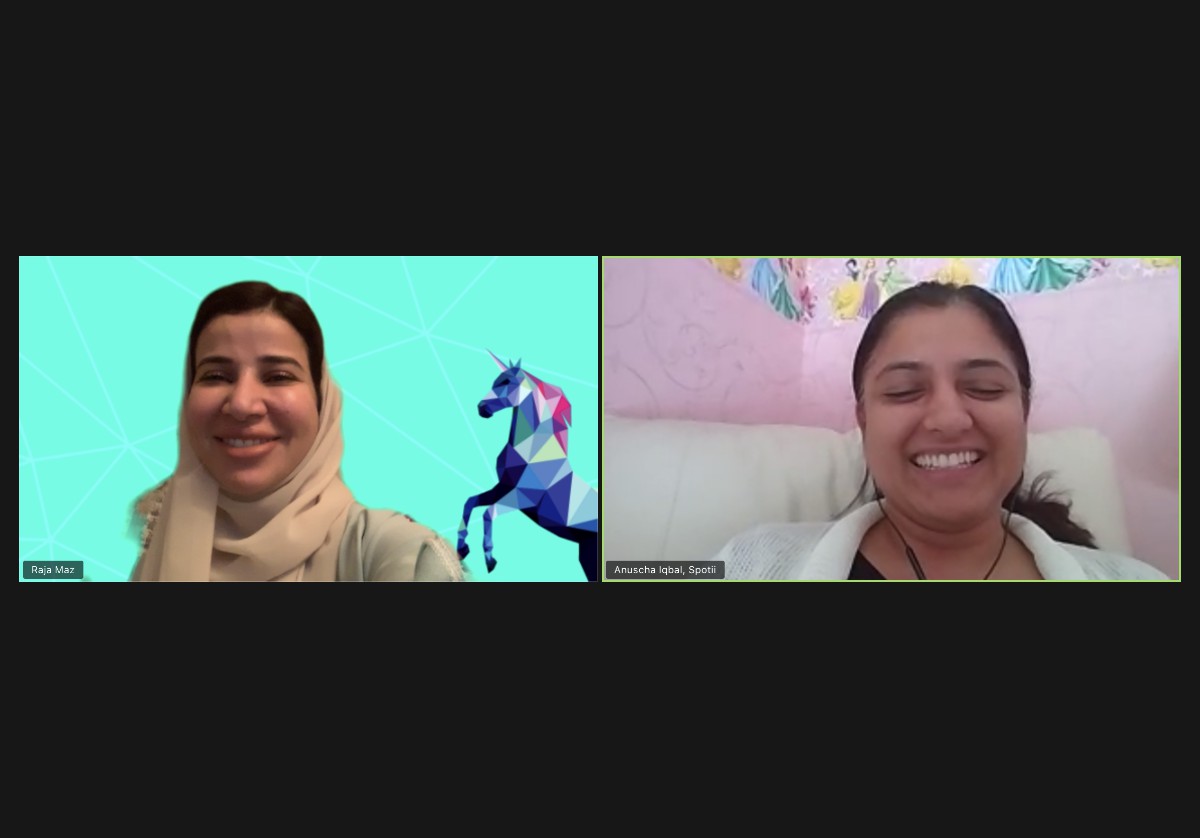 Photo: DIFC FinTech Hive's Executive VP Raja Al Mazrouei during the 1:1 session with Anuscha Iqbal of Spotii
Not all the entrepreneurs signed up for the 1:1 sessions are based in Dubai.
Larbi Meddoun in Morocco signed up after seeing the initiative advertised in a FinTech Hive newsletter. He is co-founder of personal finance help app and start-up FinKeys, which would like to be a part of FinTech Hive's programmes and has its sights on expanding abroad.
"Being a part of this programme will undoubtedly allow me to tackle an additional market, namely Islamic banks and their customers," he said from Rabat.
Shereen's answers were really helpful in addressing his concerns, by providing him with fresh ideas to grow his project, said Larbi.
"Based on my experience, it's not easy to find such 1:1 sessions, especially that I, as an entrepreneur, I am not a member of any of their programmes. I really appreciate this initiative because in these difficult times, receiving advice and support matters to any entrepreneur."
The good news for Larbi, Amir, and Anuscha is that DIFC FinTech Hive intends to follow up with them after Ramadan.
"Definitely as we will connect these entrepreneurs within our ecosystem to support them with their requests and we will follow up on their progress," said Raja.
What's better news for the fintech ecosystem is that Raja and Shereen plan to continue with the 1:1s beyond Ramadan.
In the meantime, Raja has a piece of advice for entrepreneurs and start-ups that are struggling at this stage in the COVID-19 crisis:
"My advice is to reassess the business model and the technology offering and make sure it is aligned with the economic shift resulting from COVID-19, think long-term and budget financial resources strategically to sustain growth."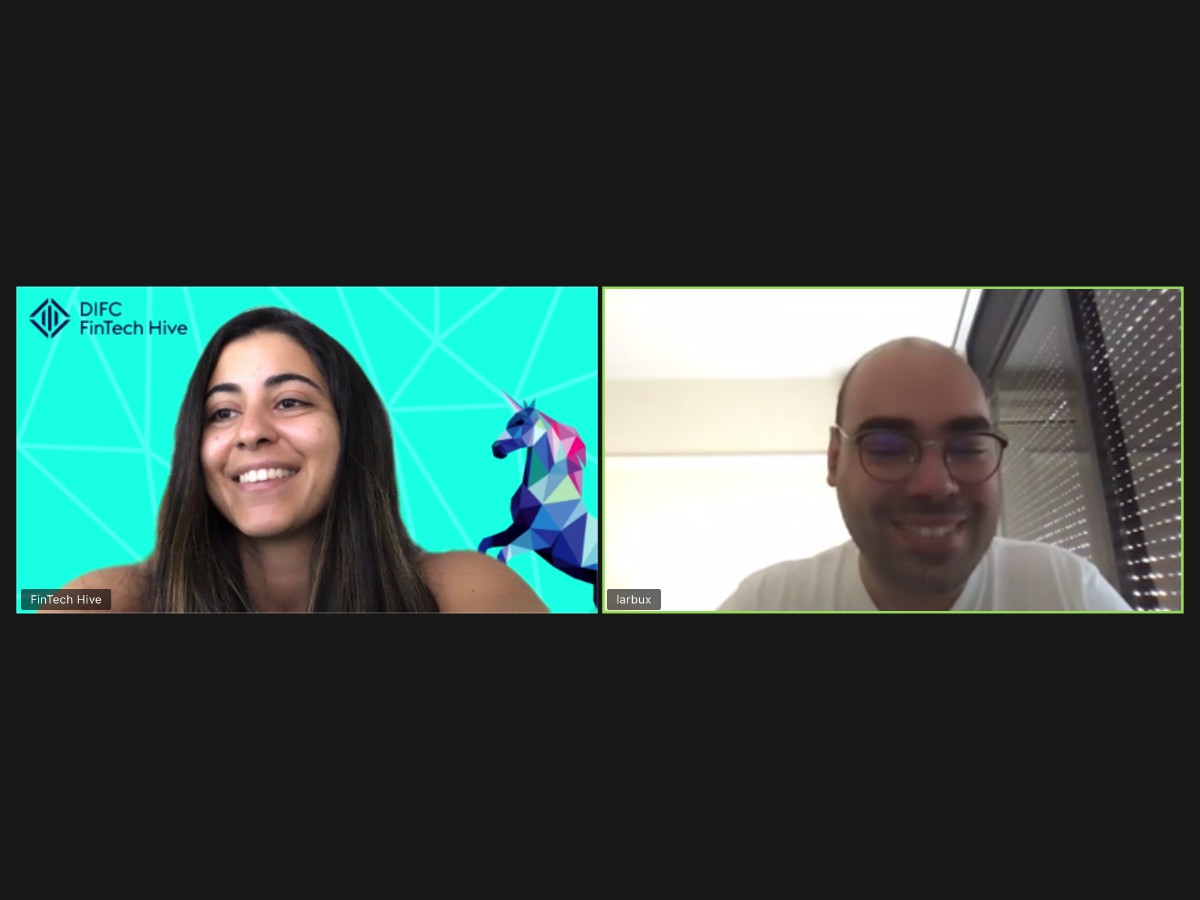 Photo: DIFC FinTech Hive's Senior Manager Shereen Abdulla on the 1:1 session with Larbi Meddoun of FinKeys
© SalaamGateway.com 2020 All Rights Reserved
---