Modest clothing witnessing a revolution in India
---
Women of multiple faiths are embracing modest dress wear.
Mumbai: The Indian modest fashion industry is booming with independent apparel brands opening new outlets and selling online as an increasing number of women experiment with wearing less revealing clothing.
The rise in this sector means Muslim women can express their personal styles and preferences based on their physical appearances while not disregarding their religious rulings. They may choose a hijab to cover their heads as guided in Islam, but modest fashion is not only for Muslim women – women of other religions are selecting modest clothing often because it is more comfortable and does not accentuate the body shape.
"We have more than 70% non-Muslim clients in India. More and more people are now trying modest fashion; these are people not averse to modest clothing," said Nighat Ahmad, founder of the international luxury fashion brand House of THL.
Ahmad launched her brand in the northern Indian city of Kanpur at a time when modest clothing brands had only recently raised a profile in the country. The store was later rechristened House of THL based on her three daughters' initials, but the orthodox Muslim society did not welcome the modest fashion brand as it felt hijab and fashion could not be combined.
However, Nighat fought the fallacies and misconstructions to bust stereotypes relating to Muslim fashion options. She changed people's fashion perceptions to provide women with choices to dress according to preference without compromising modesty.
Essentially, it was Nighat's determined efforts, alongside those of like-minded entrepreneurs, that have transformed the hijab from a symbol of suppression of Muslim women into the growing fashion segment deemed modest fashion.
"I experimented with my clothes and gave the option with colours and style that are not against religion, but at the same time, are modest to wear," Nighat told Salaam Gateway.
According to her, modest clothing is something that covers the body to limit skin exposure. Nighat has been selling her products in India as well as to a large United Arab Emirates (UAE)-based clientele. She is one of five Indian designers to be on-board the Middle Eastern luxury giant website Ounass.ae and Store 1422.
The DinarStandard State of the Global Islamic Economy Report 2022 reflected modest fashion had been performing well before the COVID-19 global pandemic, but akin to the rest of the fashion industry, saw a decline during its height. However, last year the industry saw recovery as it accepted the changes required. The report estimates Muslims spend on fashion increased 5.7% in 2021 to $295 billion; should touch $313 billion this year and achieve a 6.1% four-year compound annual growth rate to $375 billion by 2025.
Mumtaz Khan, a fashion designer based in Bhopal in central India and experimenting with the traditional handicraft Bagh print, told Salaam Gateway people wanted to wear modest dresses and the rising demand translated into an equal increase in manufacturing.
"In the present market, manufacturers and sellers want satisfied clients … (thus) they keep the market of modest clothes in mind as well," said Khan.
Khan makes women's gowns, sherwanis and kaftans that are both fashionable and modest. He says demand was coming from two elements – people who do not want to expose their deep neck or body as it will tan or change the skin colour and those who do not want to show off their body for religious reasons.
"The modest fashion in India is important for Muslim women as they can look stylish and attractive and keep up with trends without forsaking their cultural roots," added Khan.
Mushkiya, a Delhi-based brand caters to the modest clothing market, has the tagline "modern, modest and elegant". Founder Zeeshan Arfeen told Salaam Gateway the company was working on providing high-quality designer products that were "modern as well as modest".
The company has stores in Delhi, Mumbai, Aligarh and Srinagar with expansion plans on the cards.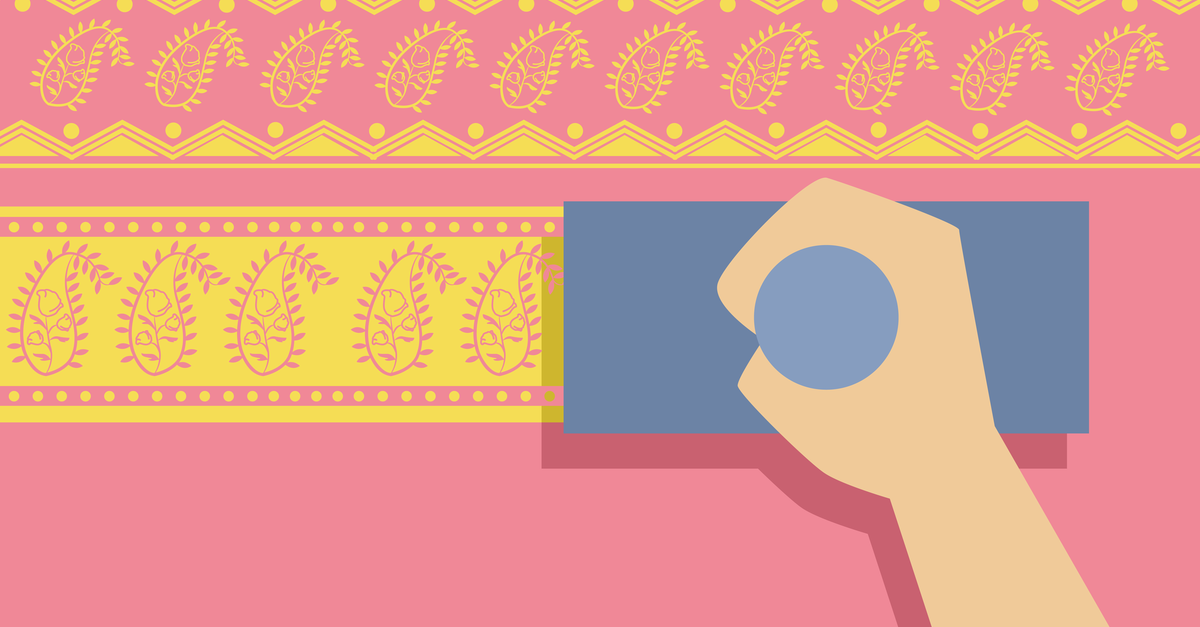 Bagh hand-printing (Shutterstock).
Globally, social media is playing a role in promoting and popularising modest fashion, prompting various fashion giants to include modest dress options for not only Muslim customers. Italian fashion house Dolce & Gabbana launched a line of hijabs and burkas in 2016.
Within the social media space, a large number of modest fashion bloggers and promoters, typically Muslim women seeking to express their fashion preferences without compromising on their modesty, are flourishing. Mumbai-based modest fashion influencer Anah Shaikh has 1 million Instagram followers, having been successfully creating her place over the past two years.
Personalities like Maryam Asadullah and Sobia Masood have inspired various modest wearers as they create trends by posting tips and tutorials on styling modest clothing to secure their large social media followings.
Muslim Subuhi Wajid loves to wear modest clothing and said modest fashion should not be considered bland or boring, but was becoming an essential part of daily lives.
With 180 million Muslims, India has the third-largest Muslim population in the world after Indonesia and Pakistan and thus a huge potential for modest clothing or fashion.
© SalaamGateway.com 2022. All Rights Reserved
---