Muslim dating, marriage app Muzmatch expands ethnicity filters in response to calls for more diversity and representation
---
In the wake of the Black Lives Matter movement in the United States that sparked protests over racism in other countries as well, several dating and matrimonial platforms pledged to remove their ethnicity filters in a bid to fight discrimination.
One of them is Indian matrimony website Shaadi.com. The company ditched its skin tone filter in June 2020 following an online backlash against colourism inspired by protests. The site previously asked users to declare the colour of their skin using options such as "fair", "wheatish", and "dark", and allowed them to search for potential partners based on their skin color.
Other companies have defended their continued use of ethnicity filters, such as Match, the world's largest online dating company. The group, which owns more than 40 brands, said in an interview with Bloomberg that "it's important to give people the ability to find others who have similar values, cultural upbringings and experiences that can enhance their dating experience."
Muslim dating and marriage app Muzmatch responded in a different way.
The UK-based company removed all its colour-focused groups, such as Black/African and White/Caucasian and broadened its culture filters by adding choices such as European or West African. It has also included more diverse faces across its advertisements.
By doubling the number of ethnic groups for users to describe themselves, Muzmatch now caters to as many minority Muslim groups as possible.
In a blog post on its website on September 16, Muzmatch said that many of its users reached out to say that its range of ethnicity filters were not diverse enough, and that they didn't feel represented on the platform. "This feedback increased with the Black Lives Matter movement, and with other minorities wanting to be represented," wrote Muzmatch.
"The great thing about the Muslim community is that it's an incredibly diverse melting pot of cultures and backgrounds. But even within these diverse communities, is a shared thread of values where family is at the core of the decision making, particularly when it comes to marriage," Sara Shah, Muzmatch PR, Comms and Marketing Manager, told Salaam Gateway.
After surveying its users, whose number reached three million in July, Muzmatch found that most of them thought the app's ethnic groups were useful, but that they were far too broad.
"We analysed the ethnic makeup of our existing and sizable user base and determined the key large ethnicities as well as regional and cultural groups that our users wished to search by. As a result, we found that many of our users are part of minority groups and are inclined to search for partners within that same group, but find that difficult to do when the filters are too broad."
According to Muzmatch, nearly 52% of matches on the app are between members of different ethnicities. Some members also choose not to show their ethnicity at all, which seems to work in their favour as they are 38% more likely to find a match if they don't use ethnicity filters.
Other Muslim dating or marriage websites have mixed opinions over ethnicity filters.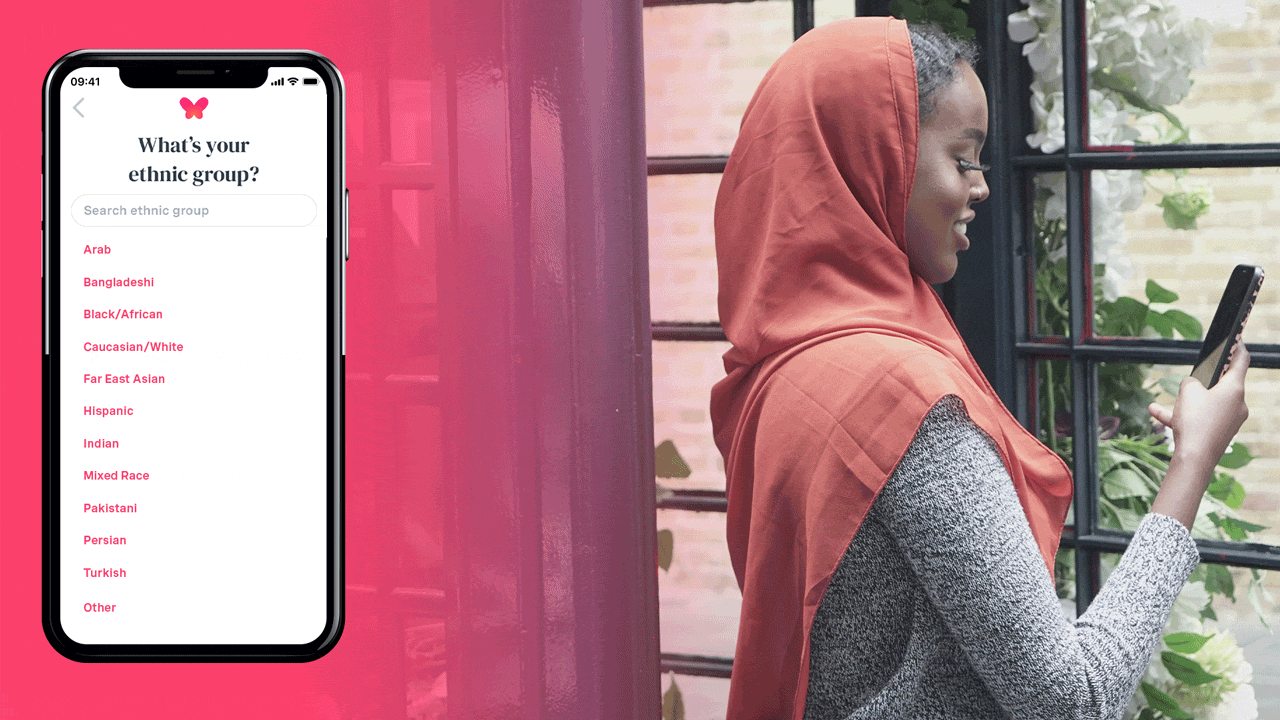 SINGLEMUSLIM
SingleMuslim.com, which is celebrating its twentieth anniversary this year, has never used ethnicity filters and doesn't plan on incorporating such an option in the future.
"From the outset, we have never included ethnicity filters within our platform. We aim to be an inclusive service, open to all Muslims regardless of ethnicity or background. We feel that adding such filters can lead to prejudice and discrimination," Adeem Younis, founder of SingleMuslim.com, told Salaam Gateway.
He said that as a Muslim service, the website aims to follow Muslim traditions as much as possible.
"Our faith teaches us that we should not discriminate on the grounds of ethnicity, race, background or origin, when it comes to finding a marriage partner, with the only prerequisite being you are Muslim," said Adeem, who is also the founder of Islamic charitable organisation Penny Appeal.
SingleMuslim.com currently has more than three million members, of which nearly half a million have downloaded and used their iOS and Android Apps and another 2.5 million use the mobile version of the website.
"We are constantly in touch with our members regarding improvements, new features and developments and these filters are not something that they have asked us to include," said Adeem.
Instead, the UK-based website is focusing on developing other features, such as virtual dating, face-matching algorithms, personality-based compatibility, and a VIP search assist-service and headhunting for the more discerning clients.
VEIL
The founders of UAE-based Muslim matchmaking app Veil say they believe that choosing a partner on Muslim matrimonial apps should not be dependent on ethnicity.
Veil's ethnicity options currently include African, Arab, Asian, Bangladeshi, Caucasian, Far Eastern, Hispanic, Indian, and Pakistani, Persian and Turkish, as well as Mixed and Other.
"Profiles could voluntarily display languages spoken and family origin, but there's no pressure to limit a profile's visibility by labelling it into a very specific ethnicity filter," Adam Ward, co-founder of Veil, told Salaam Gateway.
He explained that the app's twelve ethnicity/nationality search list options are based on Veil's user feedback and common search data.
"We will soon implement an option to search by ethnicity and languages spoken. We have found these to be key match criteria rather than nationalities. This further improves people's chances of finding a compatible match outside a specific target group."
Ward said that the app's members, which today exceed 10,000, have been happy with the filters and sorting algorithms, so the company does not plan on making any changes to those areas.
Veil, which was introduced in 2019 by Ward and Olid Waleed Uddin, offers a different way for Muslims to find partners online by putting up a 'digital veil' to emphasise connections and downplay profile pictures.
MUZMATCH
For Muzmatch, the expanded range of cultural filters has been received positively. For example, the app's users in Africa can now narrow down their ethnicity by the region they live in. They have the option of selecting Central, East, West, South, North African, Nigerian, Somali, Sudanese, and Berber – which enables them to be in much more control of their search.
Some users took to social media to thank the app for giving them the choice to represent themselves as they see fit.
"We understand that the desire to stop classifying people simply by ethnicity is part of combating racism around the world. But within the context of our app, when you have users of particular minority cultures who are searching for a spouse of the same or similar culture, language and tradition as themselves, for us to remove those options would be a disservice to them," said Muzmatch's Shah.
"These changes are a result of listening to our users and providing them the features they need, as opposed to acting on their behalf on a sensitive topic," she said.
(Reporting by Heba Hashem; Editing by Emmy Abdul Alim emmy.abdulalim@salaamgateway.com)
© SalaamGateway.com 2020 All Rights Reserved
---