Newswrap: Islamic finance
---
Bursa Malaysia to develop first Sharia-compliant carbon credit product, Digital Gold Dinar; Islamic Development Bank to boost support for Kazakhstan and Malaysia; ADIB profits up 30%; Bahrain Islamic Bank supports fintech initiative.
Bursa Malaysia to develop first Sharia-compliant carbon credit product, Digital Gold Dinar
Malaysia's Islamic Capital Market's (ICM) Bursa Digital Research announced that it will "proactively build new markets to serve as fresh growth avenues or solutions for our stakeholders," including new products such as asset-backed securities and tokenised assets.
The Islamic Capital Market update noted that there are "exciting initiatives in the pipeline," including work "on establishing a Voluntary Carbon Market with the first Sharia-compliant carbon credit product as well as the commercialisation of a Digital Gold Dinar solution." These new offerings are being "developed and designed to fulfil the needs of the real market and drive the sustainability agenda in the capital market." The ICM accounts for more than 60% of the Malaysian capital market.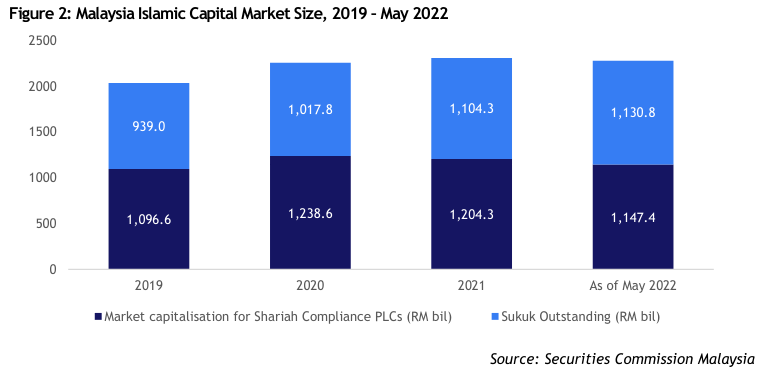 Islamic Development Bank to boost support for Kazakhstan and Malaysia
During meetings with leaders of Kazakhstan and Malaysia by the Islamic Development Bank (IsDB) President and Group Chairman, Muhammad Al Jasser, the bank discussed ways to further enhance cooperation.
Malaysia hosts the IsDB's Centre of Excellence in Kuala Lumpur, which is facilitating access for the exchange of Malaysia's knowledge and experience in various sectors such as the halal industry, technology transfer, Islamic Social Finance, and Awqaf sector amongst others, noted the press release.
Malaysia's IsDB capital subscription stands at ID 823.1 million (1.63% of IsDB total subscribed capital). To date, the IsDB has undertaken more than 140 projects valued at over $1 billion in Malaysia.
A meeting in Jeddah between Al Jasser and Kazakh President Kassym-Jomart Tokayev, discussed ways to bolster ISDB's funding in the Central Asian country, which stands at $1.6 billion. That amount includes $625.5 million in project financing, $172 million approved by ICD, $810 million trade operations by ITFC, and $37.9 million by other IsDB Group funds and operations. In addition, ICIEC has provided $2.2 billion as business insured and $1.8 billion as new insurance commitments.
ADIB profits up 30%
Abu Dhabi Islamic Bank (ADIB) reported year-on-year growth in net profit of 30% for the first half of 2022 to AED 1.4 billion from AED 1.1 billion in H1 2021, resulting from solid top-line growth, continued optimisation of the cost base and lower impairments, according to a press release.
Revenue for H1 2022 improved 7% to AED 2,838 million compared to AED 2,644 million last year. This arose from an 11% year-on-year increase in non-funded income to AED 1,169 million driven by 26% increase in fees and commissions and 5% growth in funded income to AED 1,669 million, achieved from the growth in customer financing.
Total assets increased 9% year-on-year to reach AED 142 billion, driven by 10% growth in gross financing and 30% in investments. Customer deposits rose 10% year-on-year to AED 115 billion from strong Current and Savings Accounts (CASA). ADIB maintained a robust capital position with a common equity tier 1 ratio of 12.8% and a total capital adequacy ratio of 18.0%. Further, the bank's liquidity position was healthy and comfortably within regulatory requirements, with the advances to a stable funding ratio at 85.1% and the eligible liquid asset ratio at 17.4%.
"A particularly important development was the publication of ADIB's first ESG report which underlines our commitment to embed both Islamic finance and sustainability principles in everything we do, and with commitments to governance and integrity, the environment, society, and diversity. This renewed focus on sustainability comes as the UAE prepares to host COP28 next year and builds on ADIB being globally recognised as 'Islamic Bank of the Year 2022' by The Banker magazine, part of the Financial Times group," ADIB said in a statement.
Bahrain Islamic Bank supports fintech initiative
Bahrain Islamic Bank (BisB) has partnered with the University of Bahrain in support of the Central Bank of Bahrain's (CBB) FinTech and Innovation initiative, reported Trade Arabia. The programme "enables students seeking a Master's degree in Financial Technology (fintech) with access to the CBB's digital lab, FinHub973, where they have been provided with the opportunity to apply their acquired skills and knowledge practically, as part of their graduation projects. The digital lab will help students put their skills to test and enable participating financial institutions to learn about innovative ideas for future generations."
---