Nigeria Halal Markets Report 2023 launched in Abuja
---
The report, launched on 27th April 2023 at the Transcorp Hilton in Abuja, provides a comprehensive national halal markets framework focusing on 16 strategies to achieve this goal. Dr. Mansur Muhtar, Vice President of the Islamic Development Bank (IsDB), provided the keynote address. Goodwill messages were provided by honorable ministers, distinguished senators and honorable guests:
His Royal Highness, Alhaji Aminu Ado Bayero, Emir of Kano; His Royal Highness, Alhaji Najib Hussaini Adamu, Emir of Kazaure; His Royal Highness, Alhaji Ahmed Nuhu Bamalli, Emir of Zazzau; His Eminence Muhammadu Sa'ad Abubakar, The Sultan of Sokoto; His Royal Highness, Alhaji Nasiru Ado Bayero, Emir of Bichi; H.E. Zainab Shamsuna Ahmed, Minister of Finance, Budget and National Planning; Representative of Dr. Mohammed Mahmood Abubakar: Minister, Ministry of Agriculture; Amb. Mariam Yalwaji Katagum: Hon. Minister of State for Industry, Trade and Investment, Federal Ministry of Industry, Trade and Investment; Ambassadors of Gambia, Saudi, Qatar, Morocco, Tunisia and France; H.E. Mr. Yerlan Baidaulet, Director General, Islamic Organisation for Food Security (IOFS); H.E. Mrs. Latifa El Bouuabdellaoui, Director General, Islamic Center for Development of Trade.
The report indicates that incremental export and import substitution alone can boost the country's GDP by US$1.49 billion. Nigeria's exports currently represent only 5.7% of Africa's US$4.2 billion halal products exports to OIC countries. If Nigeria increases its share of exports to the OIC from 2% to 6% (mid-scenario) in the next four years, its exports to the OIC will increase from US$240 million to US$788 million, boosting Nigeria's GDP by US$548 million. Some key products Nigeria should prioritize for exports include cocoa preparations, meat and edible meat offal, sugar and confectionery, live animals, and medicaments.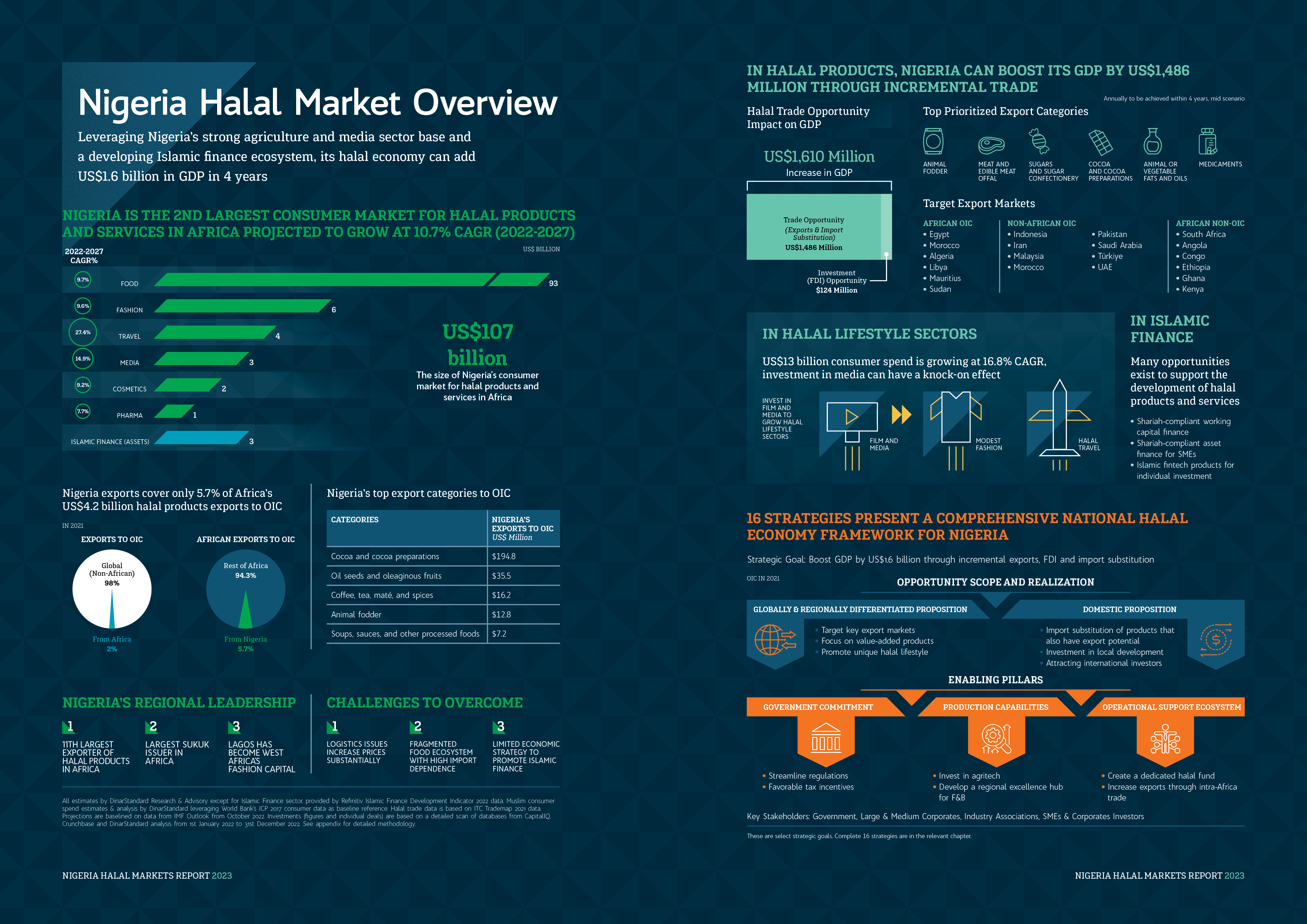 Nigeria currently heavily relies on imports, accounting for 70-80% of its goods consumed. It exports raw materials, but imports finished goods. Nigeria is a net importer of halal products (food, pharma, and cosmetics traded to and from the world), with net imports totaling US$5,393 million in 2021. Through decisive import substitution strategies, if Nigeria can reduce its imports of halal products by 15% (mid-scenario), it will increase the GDP by US$938 million in the next four years.
In terms of investment opportunity, Nigeria generated US$448 million in investment in the halal economy in 2022. By increasing its share of global investments in the halal economy from 3% to 7.5% (mid-scenario), its investments in the halal economy can increase to US$1,178 million. An additional US$124 million can be achieved in foreign direct investment (FDI) opportunity.
Nigeria is the second largest consumer market for halal products and services in Africa, worth US$107 billion and projected to grow at 10.7% CAGR (2022-2027). Consumer spending in the halal lifestyle sectors, such as modest fashion and halal travel, are growing at 16.8% CAGR.
In terms of Islamic Finance many opportunities exist to support the development of halal products and services including shariah-compliant working capital finance, shariah-compliant asset finance for SMEs, Islamic fintech products for individual investment.
The "Nigeria Halal Markets Report 2023" provides 16 strategies as part of a national halal economy framework for Nigeria to achieve the goal of boosting GDP by US$ 1.6 billion by 2027.
"The halal industry has immense potential to drive economic diversification and enhance Nigeria's competitiveness in the global market. Our goal in releasing the 'Nigeria Halal Markets Report 2023', is to provide a comprehensive roadmap for stakeholders to capitalize on the significant untapped opportunities in the halal industry. We look forward to continuing to engage with policymakers, investors, and industry leaders to shape the future of Nigeria's halal markets and position Nigeria as a leading player in the global halal market," stated Mr. Muhammadu Dikko Ladan, CEO of Dar Al Halal Nigeria.
"The halal economy is increasingly being targeted by multinationals, startups, governments, and investors as a high-growth opportunity across multiple sectors. Simplifying trade regulations, enhancing production competitiveness, increasing consumer awareness, and fostering partnerships are some strategies that can help Nigeria develop and grow its halal economy," said Rafi-uddin Shikoh, CEO and Managing Partner of DinarStandard.
The full Nigeria Halal Markets Report 2023 is available for download
---