Ukraine conflict: OIC countries face the spectre of hunger
---
The Ukraine-Russia conflict stretches far beyond the countries' borders as it affects individual economies, particularly in the Middle East and Africa.
As essential food prices soar due to the Ukraine-Russia conflict, Middle East and North African countries in particular may struggle to be food secure.
The conflict has driven up essential food prices including wheat and sunflower oil, as well as key inputs like fertiliser and energy. Wheat prices have surged 60% since early February and, with exports from Ukraine and Russia at a near halt, they have reached their highest point since 2008.
Russia and Ukraine account for marginally short of 30% of global wheat exports with their main markets being the Middle East and North Africa (MENA).
Meanwhile, oil prices have surged on the back of the US banning Russian oil imports last week, meaning the barrel price now nudges $140, the highest since 2008. This comes on top of world food prices hitting a record high in February, increasing 20.7% year-on-year, according to the United Nation's (UN) Food and Agricultural Organisation (FAO).
"The situation is dramatically worse than during the COVID-19 pandemic in terms of impact," said Mohamed Ali, partner at consulting firm DinarStandard (parent company of Salaam Gateway). "The issue then was the impact on the logistics supply chain. Now the problem is demand and supply."
As the pandemic eased globally over the past several months, food production was rebounding and with it demand for raw materials and energy.
"The Ukraine-Russia crisis is seriously impacting (on) the energy sector and, in the food sector, there will be a lot of disruption. The impact will be five times stronger than COVID-19's," he said, indicating wheat-based food items from bread and baked goods to pasta will be the hardest hit.
"The impact is in two directions; firstly the rise in wheat prices and secondly, the availability of food products. Factories will not have the raw materials to make pasta or bread," he added.
Edible oil prices are also surging given Ukraine and Russia produced 7.3 million tonnes and 5.8 million tonnes respectively in 2020 – or 73% of global exports.
"There are five essential raw materials people need: cereals in general (wheat, rice, millet); vegetable oils (particularly sunflower and palm oils) sugar, dairy products and meat. The Ukraine-Russia crisis impacts mainly two, wheat and vegetable oil. The other is poultry as Ukraine is a very big supplier to the MENA," said Ali.
Russia is also a major agricultural exporter to the Gulf Cooperation Council (GCC) region. Saudi Arabia is one of the largest buyers at 77% of the regional total in 2021, followed by the UAE (12%), according to Interfax. Main exports are barley (32%), wheat (25%), sunflower oil (12%), poultry meat (11%), chocolate confectionery products (7%) and beef (3%). Russian halal exports to the GCC were $180 million in 2021 with poultry meat accounting for $96 million and chocolate confectionery and beef $56 million and $26 million respectively.
Unequal impact
However, the food price hikes will not be equally felt across the OIC, partly due to different import consumption needs and income levels. The wealthy GCC countries are not expected to be as adversely affected as lower-income Middle Eastern countries, while East Asian OIC members rely more on rice and palm oil as food staples than wheat and sunflower oil.
"The MENA and Africa will feel it the most. Sub-Saharan Africa does not consume a lot of wheat and there are alternatives – sorghum, millet and rice. But for the MENA, they eat a lot of wheat … The GCC has enough finances to acquire from alternative sources, like wheat from Australia, Argentina, Canada, the US and Europe, but for Egypt or Tunisia, they don't have enough money, so there could be starvation," Ali said.
Egypt has some four months of wheat supplies, Tunisia three months and Lebanon just one month. Egypt is highly dependent on both Russia and Ukraine for wheat, accounting for 50% and 30% of imports respectively. Last year the country imported 11.6 million tonnes of wheat and produced 9.8 million tonnes, according to FAO.
The Egyptian and Tunisian governments have stated they have sufficient wheat until the May/June harvests with national harvesting then able to cover some six months of needs. However, the uncertainty around securing wheat imports will hit the private sector.
"Manufacturers of pasta, biscuits and confectionery will be impacted very hard, because Ukraine is one of the cheapest suppliers of sunflower oil, wheat and eggs," said Ali.
Lebanon faces major food shortages
Lebanon is still reeling from the 2019 financial crisis that saw the currency depreciate more than 90%, while multidimensional poverty levels doubled from 42% in 2019 to 82% in 2021, according to UNESCWA. Food insecurity has also risen. The country's dire financial situation will hinder both the public and private sectors ability to import food.
Some 66% of wheat is imported from Ukraine and 12% from Russia. The remainder is durum wheat locally grown, but is not used for making staples like bread, noted Triangle research paper 'Russian Roulette: Ukraine exposes Lebanon's dangerous food security game'.
Lebanon's wheat storage capacity was seriously impacted by the destruction of the Beirut port silos – that stored up to 120,000 tonnes – during the devastating 4 August 2020 explosion.
"Most food items are imported, there are no substitutes and changing diets will take a long time. Food prices are going up, there is a financial crisis and the country is approaching a national election," said Sami Halabi, Director of Knowledge at Beirut-based think tank Triangle.
"The Lebanese have been quite resilient in a way, accepting that things need to move on, but they can't with a food security problem, and there could be a starvation problem."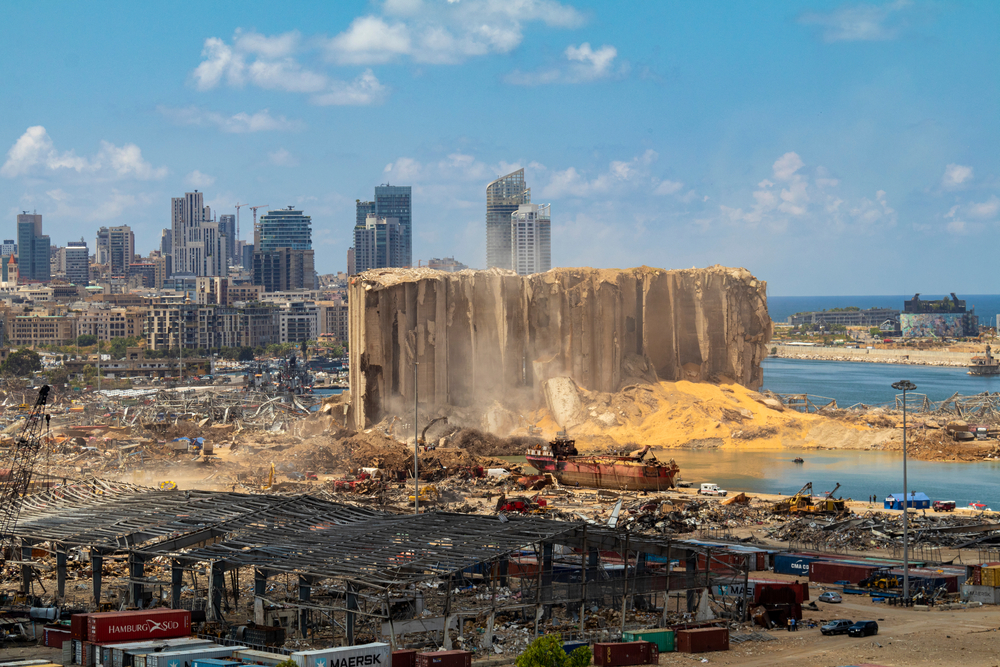 Beirut port's silos were destroyed in the 4 August 2020 explosion (Ali Chehade/Shutterstock).
Hunger hotspots
The current crisis is expected to exacerbate already existing problems in OIC countries. As Salaam Gateway reported in January, a number of OIC countries are expecting a tough year ahead amid rising inflation, climatic disruptions and political instability.
In late January the UN's World Food Programme (WFP) and FAO released its Hunger Hotspots Report of 20 countries at particular risk. Ethiopia, Nigeria, South Sudan, Yemen and Afghanistan are the countries of highest concern with people experiencing, or projected to experience, starvation and death – Stage 5 of the Integrated Food Security Phase Classification.
In Yemen, 11 million people are consuming less calories than the body requires for existence, while the cost of a food basket in government-controlled areas has more than doubled. The FAO also states around 22.8 million Afghans face acute food insecurity.
"The outlook is not good in general for OIC countries," said Ali.
Even if the Ukraine-Russia conflict is diffused soon and food and oil prices drop, it will take a long time for normality to return, he added. "There is also a lot of speculation as well in the commodities markets," he said.
No OIC countries are major producers of essential food commodities, apart from Indonesia and Malaysia in palm oil. While Kazakhstan produces 20 million tonnes of wheat, its exports are primarily to Russia.
"Kazakhstan could supply the whole Muslim world when it comes to wheat cereals," said Ali.
For OIC countries, there is an even more pressing need than just a month ago to double-down on food security policies.
"There is a real need for OIC food security strategies, not from a long-term perspective, but immediately, to manage the existing stocks of essential commodities. Governments should interfere strongly to manage this crisis," Ali said.
© SalaamGateway.com 2022. All Rights Reserved
---