PROFILE: Germany, the largest exporter of pharma to Islamic countries
---
Germany is the largest exporter of pharmaceuticals to the 57 countries of the Organisation of Islamic Cooperation (OIC).
The European Union's biggest economy sold some $5.2 billion worth of pharma to OIC nations in 2019, according to the State of the Global Islamic Economy 2020/21 report from DinarStandard. This constitutes around 13.5% of all pharma exports to the OIC in 2019.
Germany's prowess in pharma was recently acknowledged by a leading Islamic economy. In October, around 5.6% of Evotec shares were acquired by UAE's investment company Mubadala for 200 million euros ($241 million). The German drug development company will use the funds for the global scale-up of biologics strategy, data-driven precision medicine processes, and drug discovery platforms.
"We have been impressed by the unique role they play in the rapidly growing universe of pharmaceutical and biotech R&D – an area whose importance is acutely highlighted in the current environment," said Camilla Macapili Languille, Head of Pharma & Medtech at Mubadala.
Evotec reported a 12% group revenue increase for the first nine months in 2020 to 360.4 million euros ($431.3 million), compared to the same period the year before.
Following this deal involving Abu Dhabi's investment firm, the world turned to Germany's pharma industry in early November when Mainz-based Biopharmaceutical New Technologies (BioNTech) and American drug company Pfizer announced their vaccine candidate against COVID-19.
On December 2 the two parties said the Medicines & Healthcare Products Regulatory Agency (MHRA) in the U.K. granted a temporary authorization for emergency use for their mRNA vaccine (BNT162b2) against COVID-19.
The companies previously agreed to supply 40 million doses to the U.K. with delivery in 2020 and 2021. U.S. Food and Drug Administration and the European Medicines Agency's decisions on authorization are expected this month.
"We intend to continue to work with regulatory agencies worldwide to enable the rapid distribution of our vaccine globally," said BioNTech's CEO Uğur Şahin.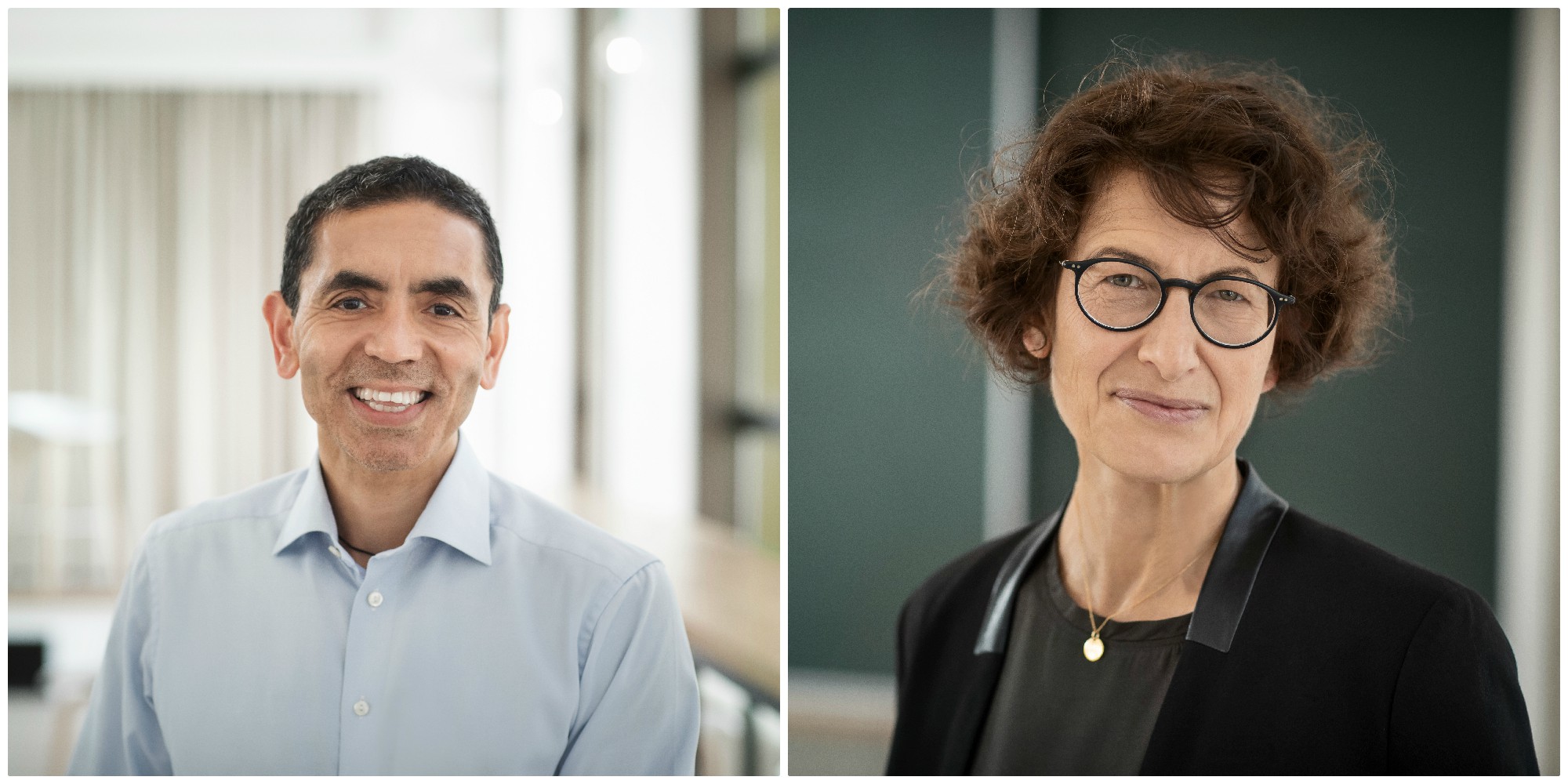 BioNTech CEO Uğur Şahin and CMO Özlem Türeci. Photo from BioNTech
The firm, founded in 2008 by Şahin and Özlem Türeci, helped develop the serum. The husband and wife team of Turkish origin met studying medicine at a German university, and they possess a deep expertise of Messenger RNA (mRNA) vaccine development.
mRNA is the intermediate step between the translation of protein-encoding DNA and the production of proteins in the cytoplasm, a liquid that fills the inside of a cell.
According to Pardi, N., Hogan, M., Porter, F. et al., mRNA vaccines represent a promising alternative to conventional vaccine approaches because of their high potency, capacity for rapid development, and potential for low-cost manufacture and safe administration.
As of October 2020, Germany registered 97 COVID-19 clinical studies, 54% of which are carried out by the nation's over 40 university hospitals, according to Germany Trade & Invest (GTAI).
Germany's importance as a pharma exporter to Islamic nations has gradually grown, according to data from DinarStandard's State of the Global Islamic Economy reports.
In 2014, Germany sold $3.99 billion of pharma to OIC member states, behind France ($4.68 billion) and Switzerland ($4.38 billion). In 2016 it leapfrogged its European neighbors with $4.8 billion, while France exported $4.6 billion and the Swiss $3.1 billion.
Since then, Germany has remained the OIC's biggest pharma provider, exporting $5.1 billion in 2018 and $5.2 billion in 2019.
Growing by 18% year-on-year, in 2018, Germany manufactured pharma worth 36.1 billion euros ($43.7 billion). About 7.4 billion euros ($9 billion), or 12.5% of revenues generated, were reinvested in R&D, reports GTAI.
The country's rankings in global pharma has also risen. The CPhI Pharma Industry Rankings & Annual Industry Report 2020, published in October and surveying over 550 industry executives from over 30 countries, revealed Germany passed Japan to take second place of innovation-led pharma economies after the U.S.
The Federal Republic ranks first in the high-quality production segment, second in the Active Pharmaceutical Ingredient (API) manufacturing index, and regained third place in the competitiveness arena after dropping down to fourth in 2019.
CPhI is a subsidiary of the London stock exchange and FTSE 100 Index listed business intelligence firm Informa.
Consisting of more than 500 pharmaceutical companies, Germany's pharma sector is driven by SMEs. Around 90% of the drug manufacturers have less than 500 employees, according to GTAI.
The opportunity for Germany's pharma industry moving into 2021 is in the halal sector, where standards and R&D remain at a nascent stage across the world.
© SalaamGateway.com 2020 All Rights Reserved
---