Saudi Arabia women in sports: Miles ahead five years on but still a lot more ground to cover
---
Sameera Aziz walks outdoors an hour a day, just like many of her friends. She sometimes takes advantage of the dedicated walking tracks, built especially for families, around Jeddah where she lives. "I am more comfortable and relaxed [exercising outdoors] than ever before. Life has become easier. I can now breathe," the businessperson told Salaam Gateway.
The simple act of exercising outdoors was unimaginable a few years ago for women in Saudi Arabia. Today, they're not just walking, cycling and jogging out in the open, women in the Kingdom are competing in national and international championships, and leading sports organizations.
Almost five years after the April 2016 launch of Vision 2030—Saudi Arabia's big reform masterplan to move its economy away from its dependence on hydrocarbons—women have been thrust into socio-economic life across arenas, sports included.
"The sporting environment has changed so much," Cheryl Sewsunker, a sports and fitness professional told Salaam Gateway.
South African-born Sewsunker has lived in Saudi Arabia for eight years and has witnessed the large-scale changes that have happened over this period. In 2020, she set up DM Sports Evolution in Jeddah with the goal of developing and promoting homegrown female talent.
"We now see women out cycling and they want to be part of cycling clubs. We see women running in groups, and coaching courses are widely available. In the past, you would find one or two courses, and only the more athletic women would join. Now, women want to get involved; they want to improve their health and fitness," she said.
The sands have shifted. Sameera Aziz noted that Saudi Arabia used to have one of the highest levels of physical inactivity among women in the world, a point supported by various studies. The reforms outlined in Vision 2030, she added, recognized that opportunities for women to participate in regular sports practice were limited and presented a roadmap for economic and developmental growth.
As well, Sewsunker's new company falls in line with Vision 2030's goal of a bigger private sector to contribute 65% of GDP by 2030 from around 40% currently. Her sports-focused business is one of many that have emerged following changes to create a more open society. Since authorities started licensing women's gyms in 2017, many such facilities have opened, attracting investments and creating thousands of jobs for women.
One of the newest is a 3,000 sqm women's fitness centre opened by Saudi fitness company Leejam in Jeddah in September last year. In the same month, U.S.-based Xponential, a curator of boutique fitness brands, debuted female-only fitness studios in Riyadh as part of a plan to open in at least 50 locations in the kingdom. But these private gyms come at a cost for members, a reminder that universal access to sports may still be wanting.
"I personally have joined a ladies' gym," said Sameera Aziz. "I feel that the membership should be less costly but it's private and that's why it costs a lot." She suggests government-supported gyms with high-quality services across Saudi cities.
While private businesses pick up speed on the ground, the Saudi government is also reforming its infrastructure to include women, and installing them in positions of power. One of the government's biggest moves was appointing Princess Reema bint Bandar as the first female president of the Saudi Federation for Community Sports in 2017. Princess Reema, who was appointed to the International Olympic Committee in 2018, is currently serving as Saudi Arabia's ambassador to the United States.
While the reform blueprint that launched in 2016 started the ball rolling for gender inclusion in sports, it wasn't until August 2019 that women in Saudi Arabia were truly able to take their socio-economic participation to the next level—with the loosening of "guardianship laws" that was extended to the workplace and home, allowing women in the Kingdom, among other things, to apply for passports and travel independently.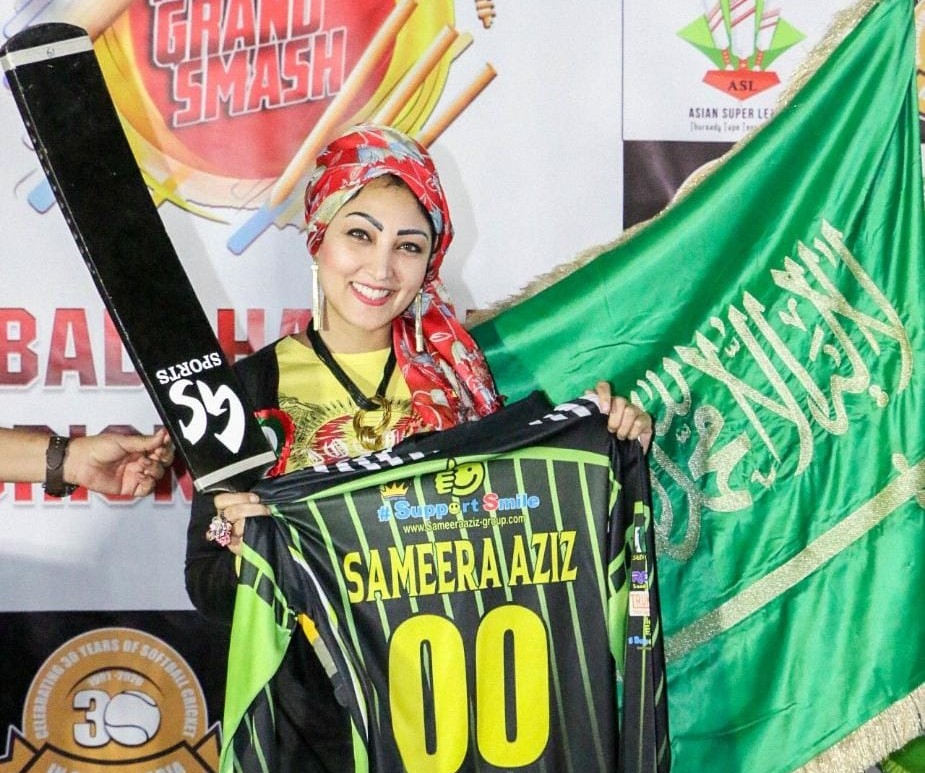 Photo: Keen cricketeer Sameera Aziz has set up her own teams - three for boys and one for women that she says is in the process of registration. Photo supplied by Sameera Aziz.
WHAT NOW?
Female participation in sports increased by nearly 150% since 2015, according to Saudi Arabia's Ministry of Sports. 12 Saudi women were elected as members of international sports organizations, and 30 of the 64 sports federations under the umbrella of the Saudi Arabian Olympic Committee (SAOC) have at least one female board member, according to Adwa Alarifi, deputy of planning and development at the Ministry of Sports and board member at SAOC.
With a lot of the reform groundwork in place, what needs to happen next is a public awareness drive, according to Dania Akeel, the first woman in the Kingdom to get a motorcycle racing licence from the Saudi Arabian Motorsport Federation.
"We are at the knowledge-building level. Some people are exposed and understand this industry, and there are people who have never even considered going to a gym. It's going to be an interesting developmental stage and discovery process for that demographic," she told Salaam Gateway.
Akeel, along with Mashael Alobaidan, who recently obtained a sports driving license and is a certified scuba diver, aim to make history together as the first female athletes from the kingdom to participate in the 2022 Dakar Rally.
The annual event is one of the most challenging desert championships in the world, where drivers race across sand, rocks, and dirt, covering hundreds of kilometres each day. To prepare for this tough competition, the two-member team plan to compete in six Cross-Country and Baja Championship rounds in Saudi Arabia this year, followed by the Abu Dhabi Desert Challenge in November.
Saudi Arabia has become a playground for high-quality rally experiences as it has miles of untouched terrain, which makes it a perfect place for such events, according to Akeel.
"My background is in circuit training but in Saudi Arabia, they still don't have a circuit that's suitable for motorcycle racing, so my attention has shifted to the rally scene here. The country has high standards for cross-country rallies, and they have a local championship that attracts racers from all over the world. I plan to participate in these rallies as training for the Dakar 2022."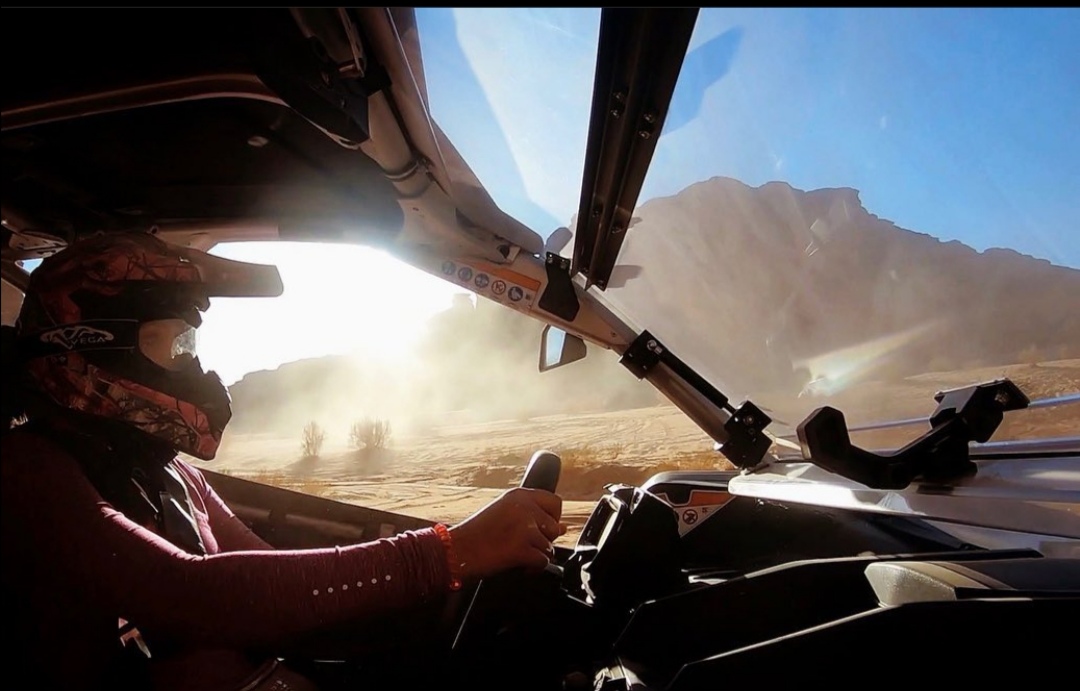 Photo: Dania Akeel rally driving. Photo supplied by Dania Akeel.
'HOLISTIC' PACKAGE
The greater inclusion of women in sports has come so far in the last five years that the industry's professionals have scaled to a position from where they are able to observe that the development of adjacent and supporting ecosystems is lagging.
While athletes like Akeel wait for further growth of the local infrastructure, Sewsunker points out that a lot of competitions are coming to Saudi Arabia, that would hopefully drive the development of the sports ecosystem.
Riyadh was recently awarded the 2034 Asian Games, in a first for Saudi Arabia. The 22nd edition of the Games is expected to provide many opportunities for women, and force the country to develop the needed ecosystem.
"The infrastructure in Saudi Arabia is on its way up. This is one of the things we saw in the bid that Riyadh put forward. We have the facilities, the finance and the people's interest. Yes, it's a long road ahead, but we are moving in the right direction," said Sewsunker.
Last month the Kingdom's sovereign wealth fund announced it plans to pump in at least $40 billion a year into domestic projects and investments. Entertainment, leisure and sports is one sector in its core domestic strategy.
The growth of sporting events is also stimulating economic activity by attracting large numbers of participants who bring their services to the host country. This goes hand-in-hand with the kingdom's efforts to promote tourism.
For example, the Dakkar Rally 2021 involved 3,000 people over two weeks, and they travelled a total distance of 7,646 km.
"There was a huge benefit to the logistics and shipping industry, as the teams had to ship all their equipment and parts. They also needed hotel stays and flights, and they had to stop at gas stations, supermarkets, pharmacies, and cafes. That's just from one event, so multiply that across different sports events," said Akeel.
"Even for national events, people fly in from neighboring GCC countries, so no matter how small, you're still going to get on a plane and stay in a hotel," she added.
While the infrastructure between cities is reliable and petrol stations are available everywhere, accommodating the knowledgeable tourist, especially when it comes to restaurants, coffee shops, and small grocers, will require upgrades, according to Akeel. There is also room for souvenir shops and self-service kitchens that cater to road travellers, she said.
"It's a holistic package, and because it's a new domain, you have to build every layer. Right now, these facilities are at a bare minimum that is reserved for shipping trucks and cargo; they are not tourist friendly. The infrastructure needs to improve, and rural and inter-city tourism needs some upgrades," said Akeel.
"I think it's a lucrative opportunity; maybe now there aren't many customers [due to COVID-19 restrictions], but it's matter of time, especially when the tourism industry in Saudi Arabia is based on hiking trips, coastal adventures, and nature-oriented activities."
The professional speedster is not alone with her forward-looking mindset. Newly-empowered, women in Saudi Arabia are impatient to move ahead.
"Women are being ignited and they're saying: 'if she can do it, I want to do it'. Sports promotes your freedom, it's liberating. We're not right there yet, but we're flying. It's time to set the bar for the younger generation," said Cheryl Sewsunker.
BUSY YEAR AHEAD
Despite the disruptions caused by COVID-19, women in Saudi Arabia have the opportunity to participate in several socially distanced sporting events this year:
November: Second edition of Saudi Ladies International golf tournament
Throughout 2021: Global Goals World Cup, a football tournament that uses the power of sports to tackle the UN's Sustainable Development Goals
Saudi Arabia considering hosting the women-only W Series as a support race for the country's inaugural Formula One Grand Prix in November 2021.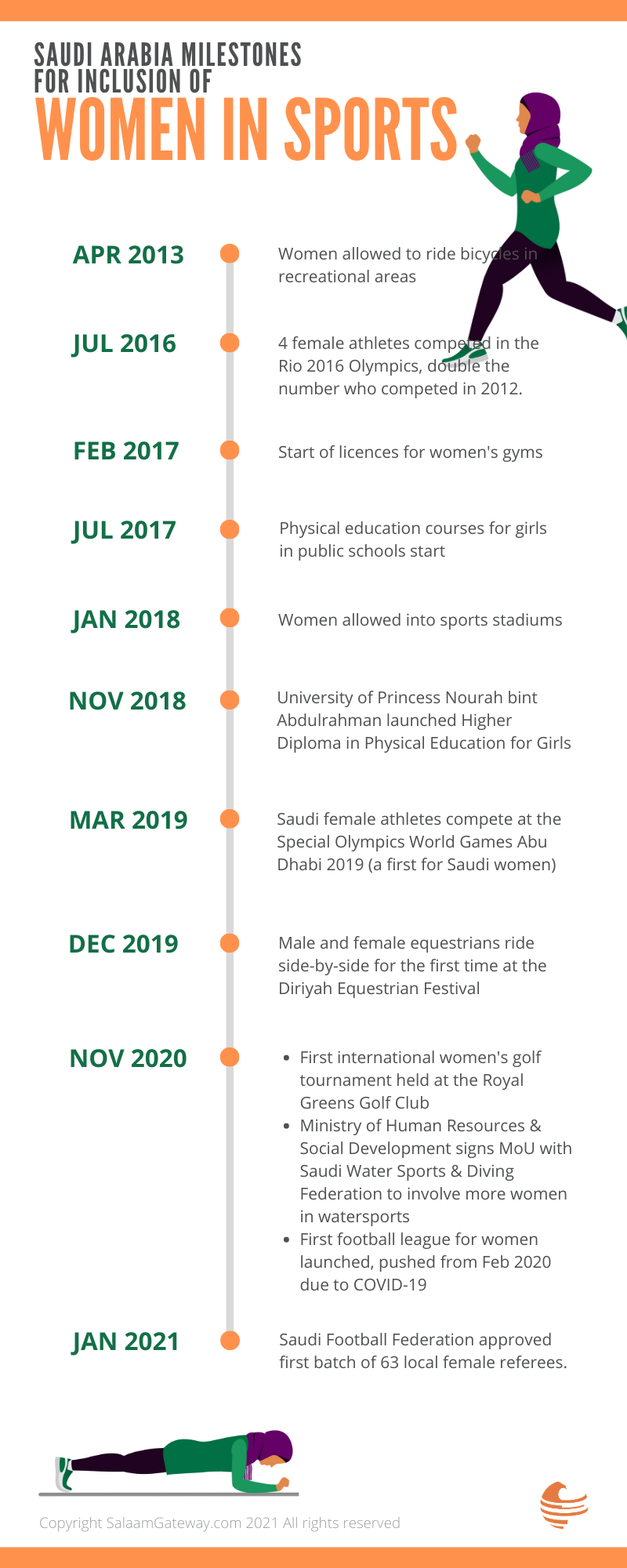 (Reporting by Heba Hashem; Editing by Emmy Abdul Alim emmy.abdulalim@salaamgateway.com)
© SalaamGateway.com 2021 All Rights Reserved
---