Saudi Arabia's Neom to promote religious heritage for global tourists
---
The $500 billion investment into the economic zone and megacity aims to attract 5 million international tourists annually by 2030.
Dubai: Marketers for the planned Saudi Arabia megacity of Neom, a key plank in the Kingdom's Vision 2030 strategy of economic growth and diversity, will highlight the site's ancient religious heritage and develop adventure tourism to attract 5 million international tourists annually by the new decade.
Located in Tabuk Province in the kingdom's northwest by the Red Sea and Gulf of Aqaba, the $500 billion economic zone is currently owned by the Public Investment Fund (PIF), the sovereign wealth fund.
The development will stretch over 26,500km2 with a projected 1 million residents. Government-backed construction started last October with the authorities hoping the first residents will take occupation in 2024.
"We're a land of the prophets. Both the Qu'ran and Bible agree the Prophet Moses lived in this area for a decade when he was exiled from Egypt," Andrew McEvoy, Neom tourism managing director, told the Arabian Travel Market (ATM) 2022 held in Dubai, United Arab Emirates (UAE), in May.
"I like to think Prophet Moses took his inspiration from Neom thousands of years ago. This is a heritage that is untold and worth preserving," he said.
Neom is also home to two hajj pilgrimage trails, namely the Egyptian Hajj Road and the Syrian Hajj Road, both of which are candidates to be listed as United Nations Educational, Scientific and Cultural Organisation (UNESCO) World Heritage Sites.
The routes historically linked Egypt, Sudan and Damascus with the holy cities of Makkah (Mecca) and Madinah. The food and accommodation services supplied Muslim pilgrims with their most basic needs during the long journey.
Beyond its religious heritage, Neom boasts stunning landscapes with mountains reaching 2,500m and topped with natural snow in winter as well as vast stretches of desert. It also has 450km of the Red Sea coastline with vibrant coral reefs and 39 islands, 12 of which sit above the sea year-round and could be developed.
"We have raw nature that's authentic, spectacular and undiscovered. One of the fastest growing experiential sectors is adventure travel and Neom has some of the most challenging environments in the world; we have incredible winds for kite surfing and high mountains for mountain sports," said McEvoy, who is the former CEO of Tourism Australia.
The global market research company Research Dive predicts the adventure tourism market will be nudging $1.8 billion by 2027 from $609 million in 2019. This represents a 15% compound annual growth rate with the Indian-based company expecting the growth to be driven by an escalating interest to explore new places.

This brings Neom into the frame as the megacity development capitalises on its diverse terrains by blending natural and developed landscapes, while setting global benchmarks for responsible tourism and maintaining cultural heritage. Around 1,200km of trails have already been mapped out.
"Our aim is to go where travellers want to go, particularly post-pandemic. How do we unlock the explorer in all of us? For some young Saudi girls who are colleagues, unlocking the explorer in them was their first-ever snorkelling experience. They had never done it and they were overjoyed," said McEvoy.
He said for sports gurus the experience might be jumping off a great cliff and paragliding to the ground, adding that unlocking the explorer in each of us "is a highly covetable consumer benefit".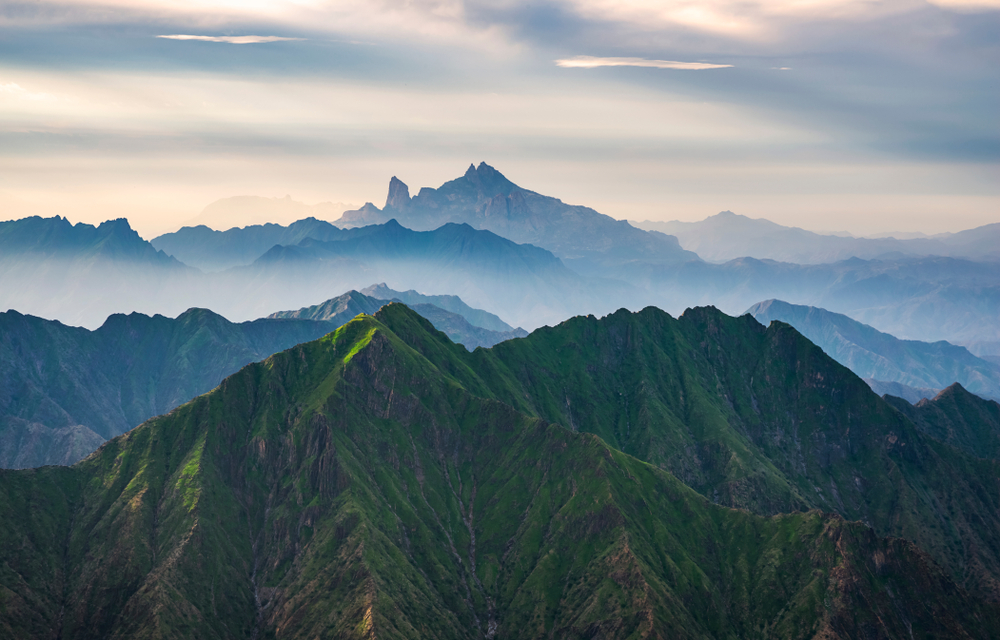 Sunrise over the Sarawat mountains (Shutterstock).
Neom builders are already creating nature-based tourist attractions such as Trojena, a destination carved into the Sarawat Mountains running along the country's Red Sea coast. Scheduled for completion by 2026, Trojena will boast a ski slope, paragliding and mountain climbing, alongside wellness and family-friendly resorts.
"For two or three months each year Saudi Arabia will have a ski village. It's not in a mall – it's on a mountain where you'll be able to ski through the winter and, for the other nine to 10 months, it will be an adventure paradise with mountain biking, rock climbing, hiking, bouldering and other sports," said McEvoy.
The Neom developers were also constructing a freshwater lake in the mountain that would provide a year-round active place.
"This will probably be one of the most Instagrammed places on earth," he predicted.
Neom is made up of three main regions: the mountain development of Trojena; The Line as a 160-kilometre-long sustainable city expected to house 1 million residents and Oxagon as a major floating industrial complex hosting food, health, energy, construction, education and other businesses.
The government wants 15 new hotels to be opened in the futuristic city annually between 2023 and 2025, before ramping up the pace to 20 to 30 hotels thereafter. Neom will be subject to the sovereignty of Saudi Arabian regulations; however, it will enjoy some special regulations related to investment, the Saudi Press Agency reported May 16.
"When it comes to the availability of alcohol and permission (for women) to wear swimsuits, nothing's off the table. In my opinion, if you want to be a competitive global destination, you have to seriously consider that," McEvoy said, indicating the government will establish a special administration to run the city.
"Neom is literally a country within a country. We're building our own authority, our own founding laws and, on the availability of alcohol, nothing's off the table. As we modernise, not Westernise, this will be considered," he said.
He said for many Saudis, this was a modern country and they did not want to be stereotyped or depicted as Bedouins. That said, the Bedouin culture was "alive and well" in places like Neom.
"Perhaps the biggest asset of all is the Arabian hospitality that's felt in Saudi Arabia, where visitors are treated as guests and not just as tourists. They will literally give over their house to you – if we can bottle this Arabian service culture, it's something the world will want to experience," said McEvoy.
© SalaamGateway.com 2022. All Rights Reserved
---