Saudi G20 Presidency seeks int'l framework for economic empowerment of women
---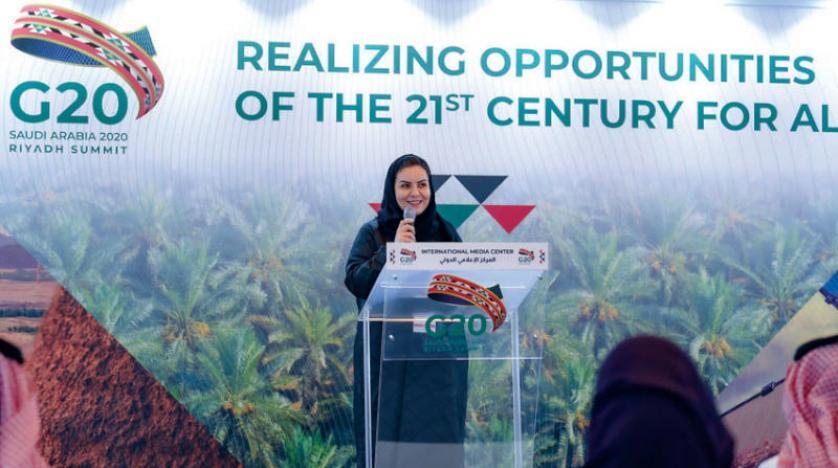 Dr. Hala al-Tuwaijri, chair of the Women's Empowerment Team at Riyadh's G20 summit, Asharq Al-Awsat/ Bashir Saleh
Published 19 Nov,2020 via Asharq Alawsat (English Edition) - Under Saudi Arabian presidency, the G20 is undertaking strong endeavors to promote the empowerment of women in the global economy. This is a key element in the Saudi presidency's aim of empowering people under the theme "Realizing Opportunities of the 21st Century for All."
Officials participating at the G20's Women Engagement Group (W20) confirmed the international forum's interest in promoting women empowerment agendas as a key enabler for reviving the global economy.
"Empowering women is a major global challenge, and women still face barriers to accessing opportunities—the worldwide rate of participation of women in the workforce stands close to 49%," said Dr. Hala al-Tuwaijri, chair of the Women's Empowerment Team at Riyadh's G20 summit.
Tuwaijri, speaking at a media briefing on the sidelines of G20 events, emphasized the presence of a collective responsibility towards empowering women today, adding that global cooperation on the matter has become more important than ever before.
She added that the G20 countries bear a joint responsibility to promote the role and empowerment of women in all parts of the world.
Among scores of G20-sponsored initiatives on women empowerment was setting a goal to reduce the gender participation gap in the workforce by 25% by 2025.
Saudi Arabia has put women's empowerment at "the core of its agenda, building on previous momentum," Tuwairji affirmed.
The Empowerment and Progression of Women's Economic Representation (Empower) Alliance was launched at the G20 Osaka Summit in 2019 to promote the advancement of women in the private sector.
G20 2020 has highlighted a remarkable year for women's advancement, said Rania Nashar, chair of the Empower Alliance.
"We are collecting gender-related data to measure progress in women's access to leadership positions ... we host supportive and inclusive cultures to combat many obstacles like stereotypes, to remove barriers and end all kinds of discrimination," Nashar said.
"If companies cooperate in hiring women, we will see a big difference. In the past decade, leadership positions for women were only 8%," she added.
Copyright © Saudi Research and Publishing Co. All rights reserved. Provided by SyndiGate Media Inc. (Syndigate.info)
---
DISCLAIMER: This content is provided to us "as is" and unedited by an external third party provider. We cannot attest to or guarantee the accuracy of information provided in this article from the external third party provider. We do not endorse any views or opinions included in this article.
---