Smart cities: Abu Dhabi, Dubai top cities among Islamic countries
---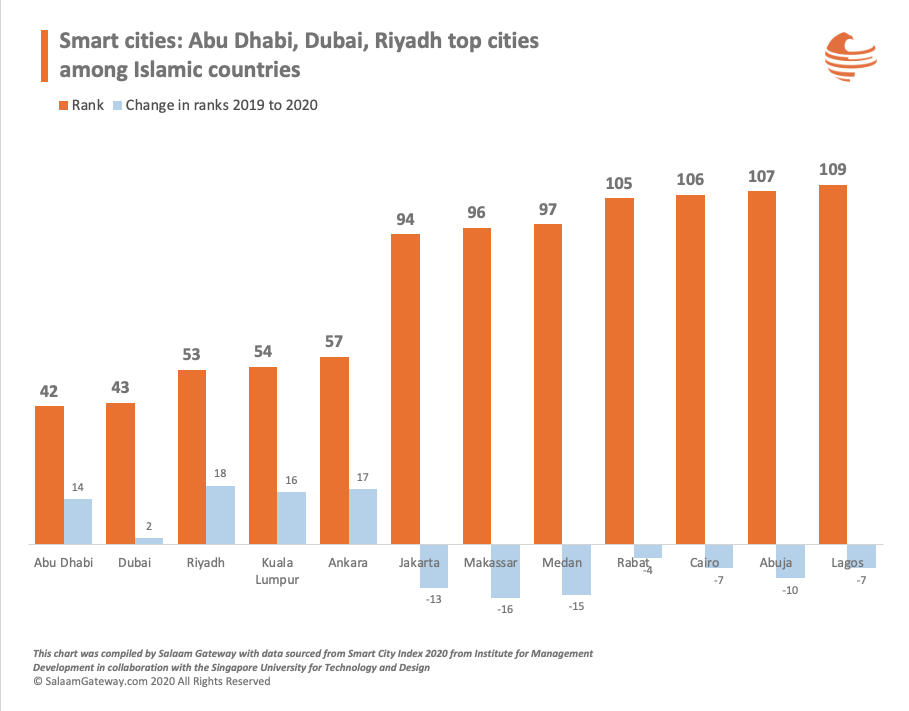 Abu Dhabi and Dubai are the top cities among Islamic countries on a global Smart City Index published by Switzerland-based Institute for Management Development in collaboration with the Singapore University for Technology and Design.
This is only the second year the Index is published. Singapore retains its top billing among 109 cities, with Helsinki, Zurich, Auckland, and Oslo in tow. Abu Dhabi is ranked 42nd and Dubai 43rd.
Hundreds of citizens in each city were surveyed in April and May and asked questions on the technological provisions across five key areas: health and safety, mobility, activities, opportunities and governance.
"This year's Smart City Index suggests that the cities that have been able to combine technologies, leadership and a strong culture of 'living and acting together' should be able to better withstand the most damaging effects of such crises (COVID-19)," said Bruno Lanvin, President of the IMD Smart City Observatory.
SMART CITIES IN ISLAMIC COUNTRIES
Abu Dhabi made a huge leap compared to the previous year and improved by 14 places.
Both the capital city of the UAE and neighbour Dubai score high on basic sanitation meeting the needs of the poorest. Recycling and medical services are deemed satisfactory, as well.
However, not even 50% of both cities' residents agree that finding housing with rent equal to 30% or less of a monthly salary is not a problem.
"The more important things go on behind the scenes," Dubai-raised Pallavi Dean told Salaam Gateway about what makes Dubai a smart city. "The real clever stuff is Dubai's efficient water and electricity network and that the transport authority digitally monitors the traffic to ensure a smooth flow."
Dean is the founder of the award-winning Dubai interior design studio Roar. For the Prime Minister's Office, she developed the Nursery of the Future, a school design project integrating technologies to encourage active play and introduce children to computer coding.
Dean observes that artificial intelligence has started to impact hospitality interior design. "To reduce food waste, organizations now use AI to monitor how much food is used in hotel and restaurant kitchens, hotels have sensors on scales and cameras monitoring buffets."
Jebin George, Program Manager of market intelligence firm International Data Corporation (IDC), told Salaam Gateway the Middle East's smart city initiatives mostly focus on three areas: Energy and Infrastructure, Public Safety, and Transportation.
For example, the Abu Dhabi International Airport partnered with UAE tech start-up Meta Touch to install touchless elevator panel technology. The panels of 53 elevators can be controlled by gestures only, making physical button-pressing redundant.
IDC forecasts that spending on smart city initiatives for the Middle East, Turkey and Africa will reach $4.4 billion by 2024 from around $1.9 billion in 2019.
George pointed out that in the last decade the majority of the spending went to greenfield developments where the smart city technologies are built into the design.
"We expect such spending to continue well into this decade, as many Middle Eastern nations are pursuing large scale projects," George said, naming Saudi Arabia's Neom and Egypt's New Cairo City as examples.
In other Islamic countries, Riyadh climbed 18 places to 53rd and Kuala Lumpur improved by 16 rungs to 54th.
However, Jakarta slid by a whopping 13 places to 94th. Public safety, air pollution, traffic congestion, and corruption stand out as structural problem areas for Indonesia's capital city of 10.3 million people.
Only 55.6 % of the respondents in Jakarta feel that basic sanitation meets the needs of the most impoverished areas. The Asian Development bank, citing government data from 2019, stated that 21% (31.8 million) of Indonesia's urban population do not have access to handwashing facilities with soap and clean water.
In Jakarta, water supply has yet to meet the 1997 target for clean water.
About three-quarters of the respondents find that the current internet speed and reliability meet connectivity needs and that the city's online services have made it easier to start a new business. Online scheduling and ticket sales have made public transport more comfortable to use.
DIGITAL FUTURE
While some cities, like Jakarta, will have to work on more basic structural changes, others streak ahead with digital development.
ABI Research, a tech market advisory firm, said in May that city governments are adjusting to a new reality with COVID-19 driving urban resilience and digital transformation strategy agendas. It highlighted a range of technologies for new use cases that have emerged amid the pandemic:
Drones – Communication and enforcement of social distancing rules; delivery of medical supplies
AI-based remote temperature sensing as a new type of surveillance
Autonomous last-mile delivery
Digital Twins – Holistic, transversal, real-time visibility for resources, assets, and services
Real-time dashboards (e.g. City of Boston) and data sharing, including the use of smartphone data crowdsourcing for location tracking
"While many of the measures taken by city governments during COVID-19 are decided on-the-fly requiring high levels of improvisation, it has resulted in a rich laboratory type learning experience in terms of how to take advantage of the inherent flexibility of technologies to address emergencies and challenges linked to demand-response management of assets and services," said Dominique Bonte, Vice President End Markets at ABI Research.
"This will have a lasting impact."
(Reporting by Petra Loho; Editing by Emmy Abdul Alim emmy.abdulalim@salaamgateway.com)
© SalaamGateway.com 2020 All Rights Reserved
---