The evolving sophistication and elegance of modest clothing
---
Diversity of interpretation and trends as influencers offer alternatives adding another dimension to modest clothing fashion.
Selangor, Malaysia; Dhaka; Tunis; Dubai and Lagos: There was a time when modest Muslim fashion was about being unseen – practising piety without giving as much as a nod to style or fashion – but today, Muslim women globally are increasingly combining their desire to proclaim modesty and religious identity without discarding elegance and sophistication in their clothing choices.
Malaysian fashion model and social media influencer Ike Diana argued there is no real conflict between mixing modest clothing choices and attractiveness and she willingly mixes modern pieces with traditional wear.
"Modesty is about finding the right balance of guarding your skin and wearing clothes that cover, yet are comfortable and fashionable. It is all about proportion because you can pair straight-cut jeans with a looser top or a fitted top with a flowy skirt," she said, explaining that in southeast Asia, modest fashion was about dressing comfortably, not showing too much and clothes that fit the climate.
She said successful brands paid attention to Malaysia's tropical climate with consumers increasingly conscious of the fabrics they choose, targeting breathability and comfort.
"We can't wear anything leather or wool or at least wear them for long periods because it doesn't suit the weather," she explained.
Noting current modesty trends as being minimal yet trendy, Ike said there has been increasing interest in streetwear or basic pieces with an elevated look. This season vibrant colours, such as hot pink, have made a comeback. With more media influencers playing their roles through social media, consumer inspiration was being drawn from a variety of sources.
For Malaysian mother of one Amirah Najla Saidin, 29, choosing her modest wear demands comfort first. She observed that Malaysians lean towards more experimental choices when picking modest wear.
"Some say modest wear is loose clothes and some interpret it as long as your skin is covered, even with sheer or tight clothes," she noted.
There certainly is plenty of choice. In Malaysia, brands such as UMMA, Imaan and Petit Moi sell an array of fashionable modest wear.
Malaysia's influencer and model Ike Diana says modesty was about finding the right balance (Ike Diana).
Bangladeshi style
In Bangladesh the rise of ecommerce and related social media sites, including influencer webpages, has generated more creativity and choice in modest fashion ranges. Previously total coverage through burqas was common for women, but especially since 2014/15 as ecommerce took hold, retailers have been selling more abayas, khimar (traditional skirts and tops) and jilbab (another skirt and tops combination).
With ecommerce and social media opening Bangladesh to international fashion influences, these styles have been promoted by consumers seeing how women dress in Turkey, Indonesia, Malaysia and other diverse Muslim countries, said Tasnuva Rahman, co-owner of Reflections of Haya, an online modest clothing retailer
These influences are driving change in Bangladesh's modest clothing market.
"One reason is women can try different fashions and trends. The burqa fully covers one and has mostly loose fittings, but the abaya, khimar, jilbab or a simple shrug can be fitted and worn in style," noted Rahman.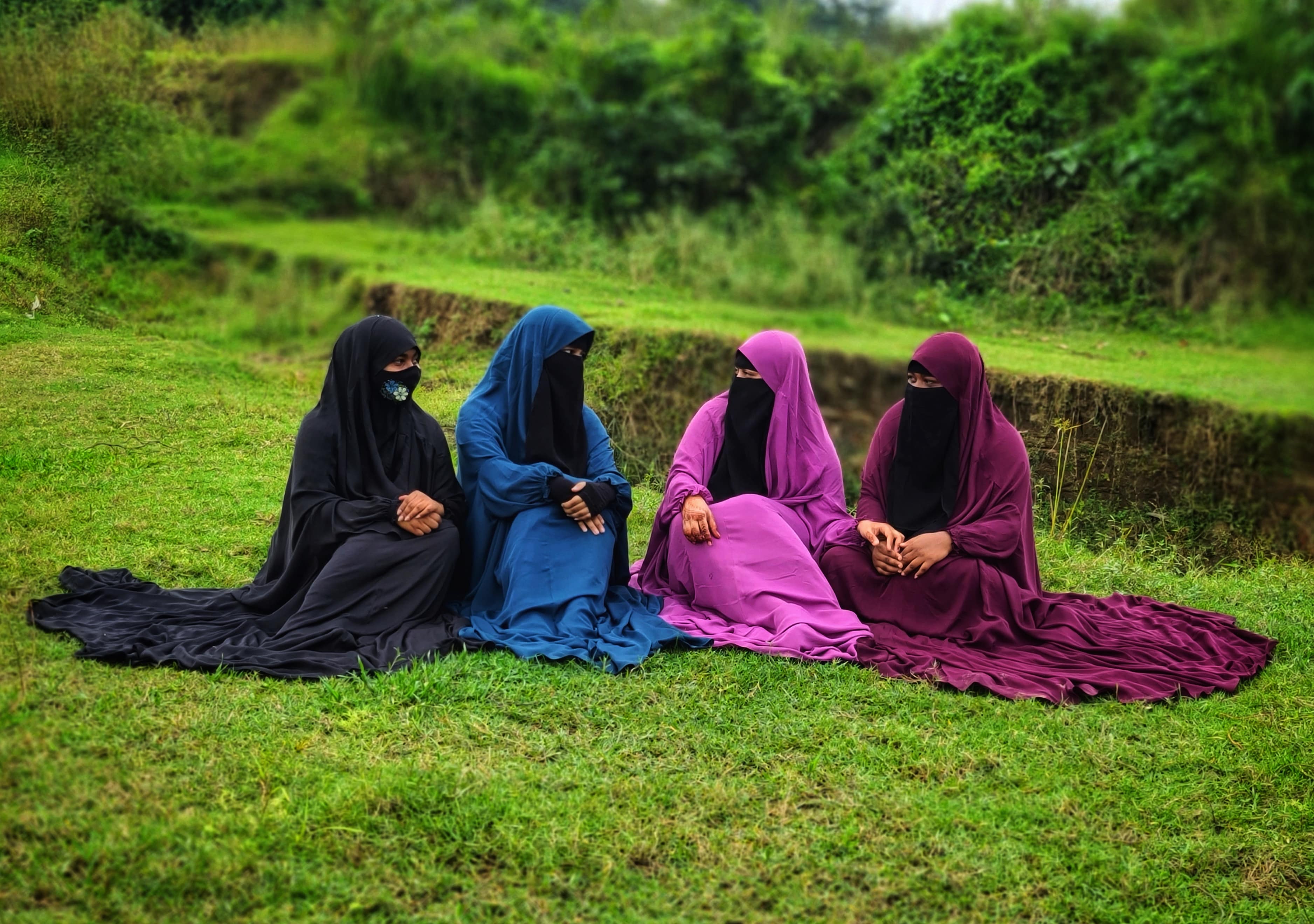 Bangladeshi Muslim women wearing khimar (Reflections of Haya).
She added that teens and young girls preferred bat-wing abaya or shrugs over long tops, while middle-aged women prefer khimar and jilbab. Khimars are now also produced on a large scale by Bangladesh's strong clothing industry:
"One can easily get a khimar for $5 when custom-tailor-made items cost $45 to $50. So, women buy khimar from any market," said Rahman.
Fabric choices have also diversified. One e-retailer noted where previously women for burqas, women preferred BMW fabric, a variant of georgette from China, for their burqas, they now choose lightweight cherry georgette, silk, polyester cotton and pure synthetic fabric.
Old women like free-shaped, batwing cut, light-weighted fabric to carry with any dress, especially during summer and for winter, when temperatures fall to 11-14°C, they wear a coat or shrug over long tops.
Rural women still prefer heavy-work long burqas, while urban women prefer abaya shrugs to wear over any dress, noted Rahman.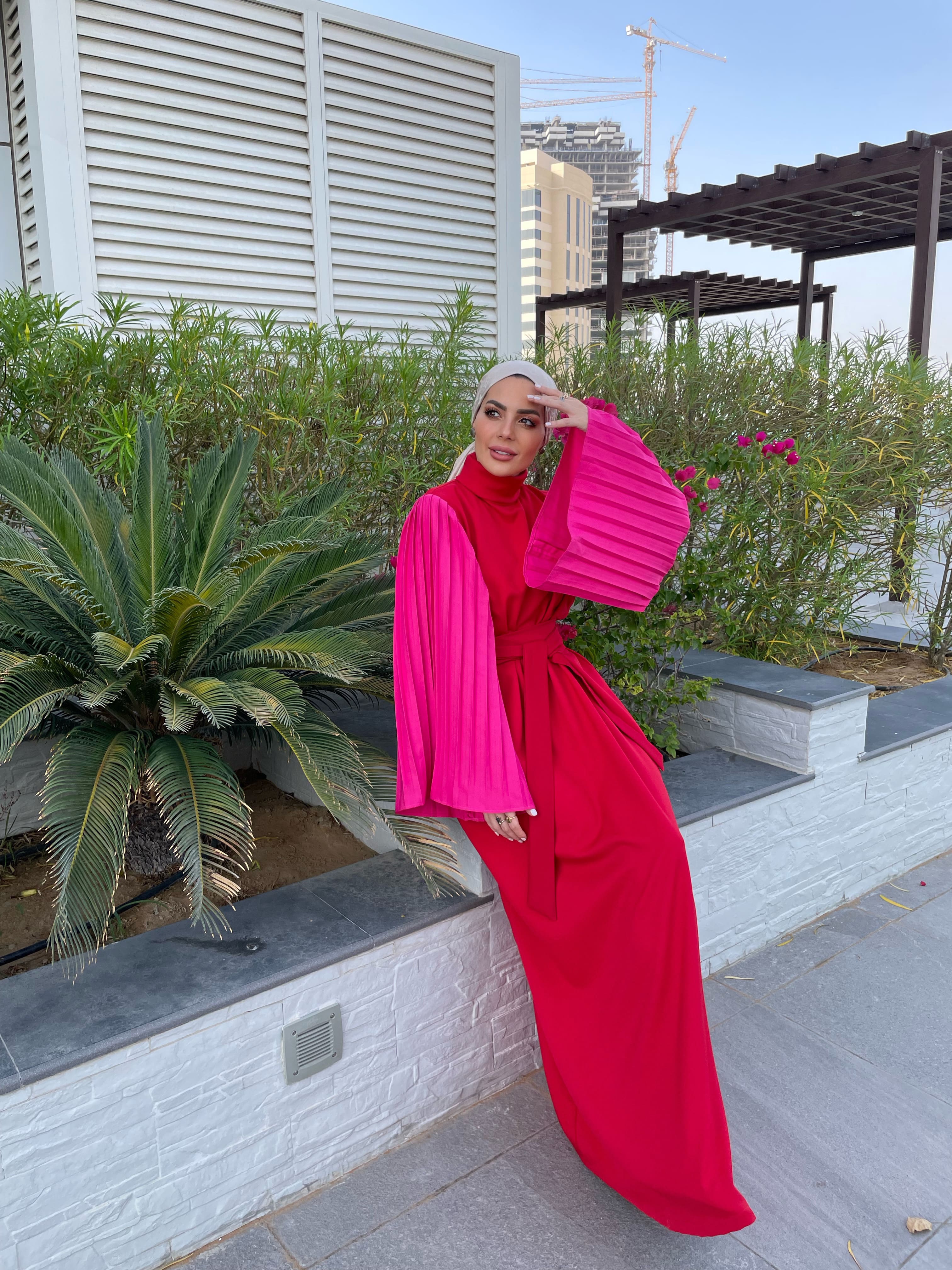 Colour blocking is one of Gulf influencer Nada Nader's favourite styles that she often promotes on her social media (Nada Nader).
The Gulf gets colourful
In the wealthier Gulf region, modest fashion is becoming increasingly inclusive and diverse with streetwear, activewear and fast fashion now trending among Muslim women.
"Modest fashion is no longer about wearing long-flowing gowns and loose-fitting black abayas. We now see colourful outfits and abayas, as well as modest streetwear, innovative hijabs and turbans with patterns," Sarah Bradshaw, a modest fashion designer and founder of United Arab Emirates-based (UAE) Sarah Bradshaw Couture, told Salaam Gateway.
She said as the region's often-fierce summer heat kicks in, women are opting for eye-catching colours such as light green, orange, mustard, beige and light pink – and for fabrics like silk and linen that are appreciated for their softness, elegance and comfort.
Born in Paris and based in Dubai, the 31-year-old social media influencer who has more than 22,000 followers on Instagram, said while high-end brands are becoming aware of the market's potential and launching modest-wear collections, so are fast-fashion brands.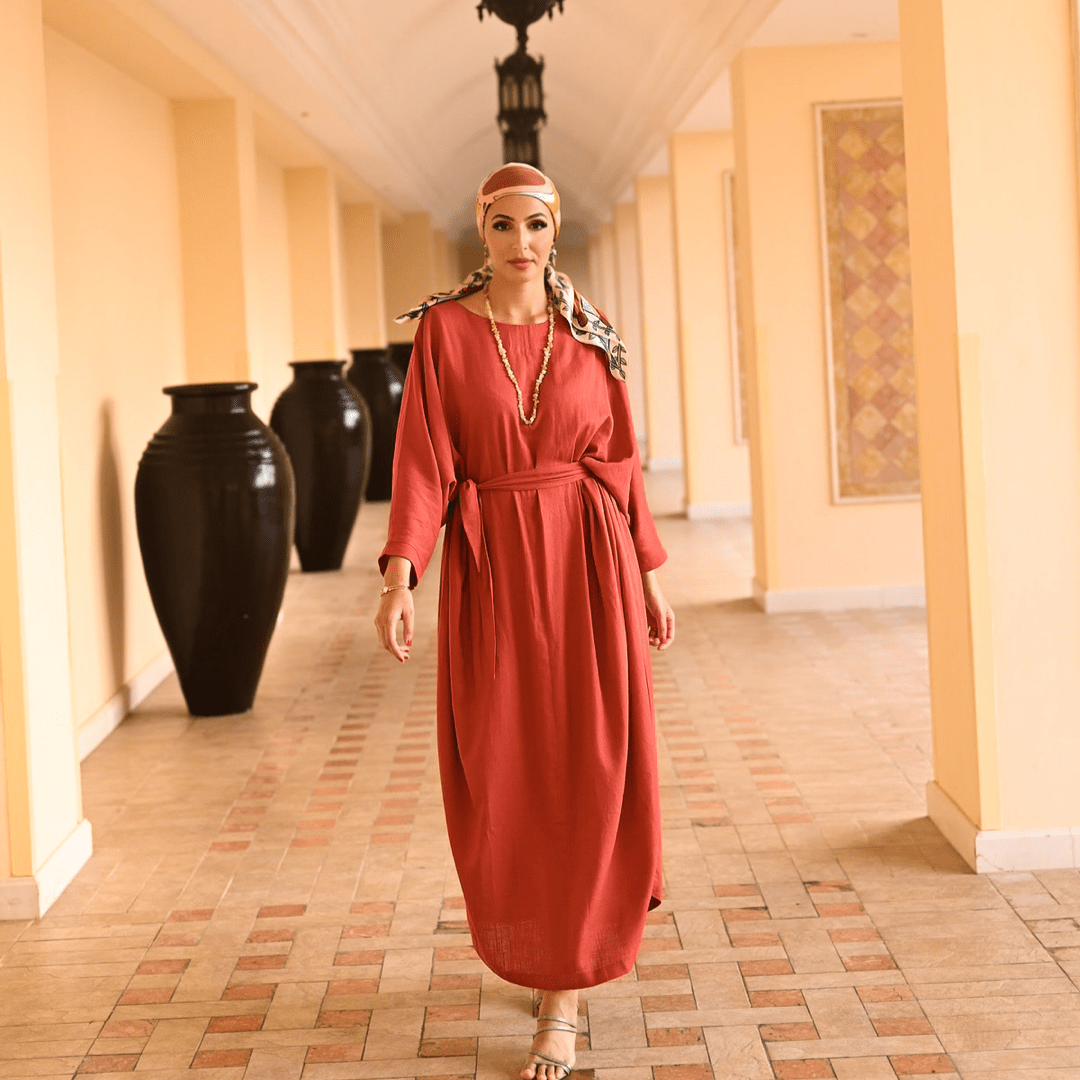 Colours such as orange, mustard, and beige are trending this summer in the Gulf (Sarah Bradshaw).
Mainstream retailers eye up modest fashion
For instance, PrettyLittleThing, a UK-based fast-fashion retailer, has gained popularity since launching a Middle East-dedicated ecommerce platform in 2020. The brand, known for its affordable prices, offers a collection of modest outfits.
Bradshaw said many modest-fashion influencers are also promoting low-cost outfits from Shein, the Chinese online fast fashion retailer, and Modanisa, a Turkish modest fashion ecommerce platform.
"Although I think the modest-fashion industry is becoming more sustainable thanks to educated and conscious consumers," she said.
One example is The Giving Movement, a Dubai-based sustainable athleisure label that offers modest activewear, streetwear and loungewear. With its emphasis on ethical manufacturing and recyclable fabrics and its promise to donate $4 to charities for every item sold, the brand has gained numerous fans since its 2020 launch and recently raised $15 million from investors.
Bradshaw has also observed modest fashion becoming more inclusive, embracing different age groups, styles and body shapes.
"We have to keep in mind that the success of the market lies in understanding everyone defines modest fashion in their own way," she said.
However, one challenge for all modest fashion brands in the region is the summer heat and humidity that does not encourage people to dress up.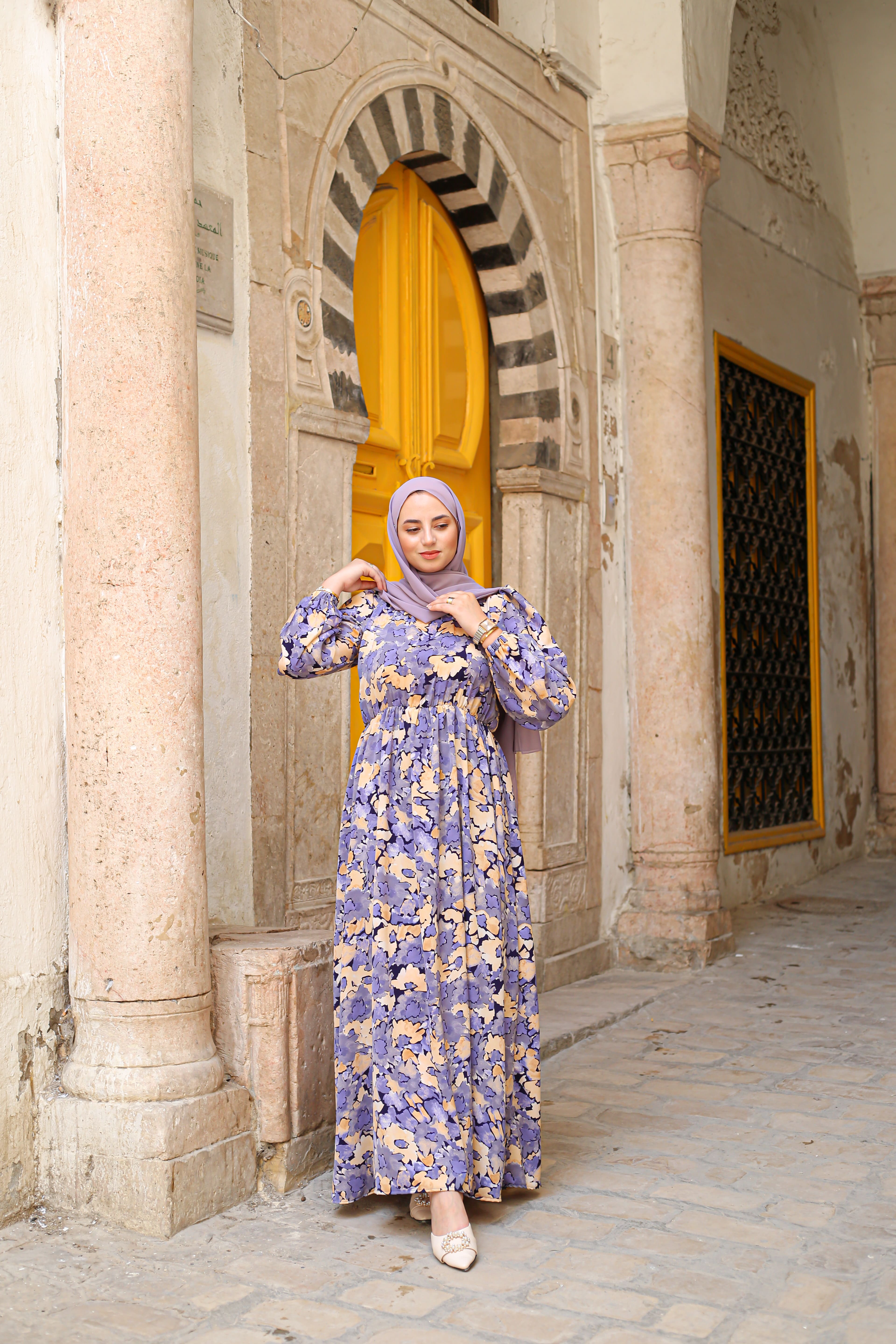 Tunisia's Sabrine Sbei, an influencer and retailer, wearing a modest fashion design (Sabrine Sbei).
Keeping it cool
"During the UAE's summer, some people find it difficult to stay stylish and fresh outside. They might think it's a waste of money and time to wear nice clothes as they won't be able to enjoy them outdoors. This can negatively impact the modest fashion market," said Bradshaw.
Modest fashion also reflects the diversity of consumers in a society. Tunisia, with its strong secular and religious traditions, has a mosaic of tastes when it comes to fashion and style. This has fed into modest fashion that is often more stylish in North Africa than in some more conservative Muslim cultures.
Sabrine Sbei, an Instagrammer, stylist and model and owner of ecommerce line Spity Shop told Salaam Gateway modest fashion trends incorporate both loose and tight outfits. For more modest consumers, a tight dress will be worn with an upper robe, such as an abaya, but for more secular women, these dresses could be worn alone.
As for colours, trending hues for modest and regular clothing are the same.
"Fashion focuses on bright colours, such as pistachio, bright orange, bright pink and similar funky colours," said Sbei.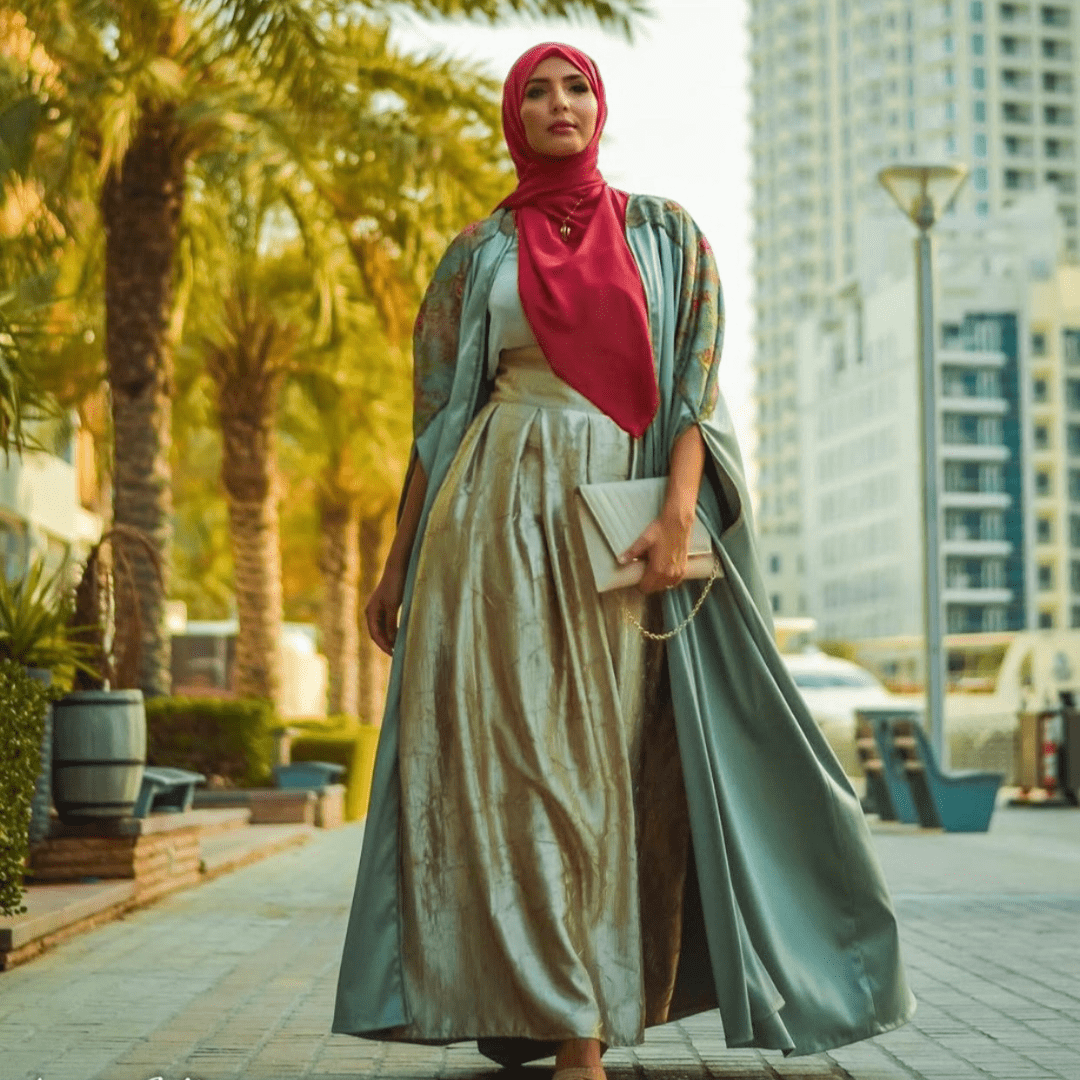 Modest fashion influencers are promoting soft, cool fabrics like silk and linen this summer (Sarah Bradshaw).
Arabic calligraphy
Tunisian fashion manufacturers can make variants of the same style to suit consumers' modesty.
"The same clothing style is made for both women with and without hijab; the only difference is the length of the outfit, and what it covers," she added.
When it comes to fabric, she said trendy fabrics like crumpled crepe fabric that achieve the perfect shape for loose trousers are common. The increase in local digital textile printing and its ability to deliver elaborate designs was also having an impact.
"Arabic writing is trendy on modest clothing this year, along with flowery vests and robes that are elegant and beautiful," said Sbei.
Ultimately, in Tunisia, as elsewhere in the Muslim world, modest fashion is about wearing long clothes, made to cover the whole body, except for the hands and face.
Sbei said: "I love modest religious outfits myself, but it depends on everyone's tastes and beliefs. There are Muslim women who would prefer a turban; others who cover their chest with an extra layer of their hijab and others just throw the hijab extra layer on their shoulders. It remains a personal choice based on how they apply their religious beliefs."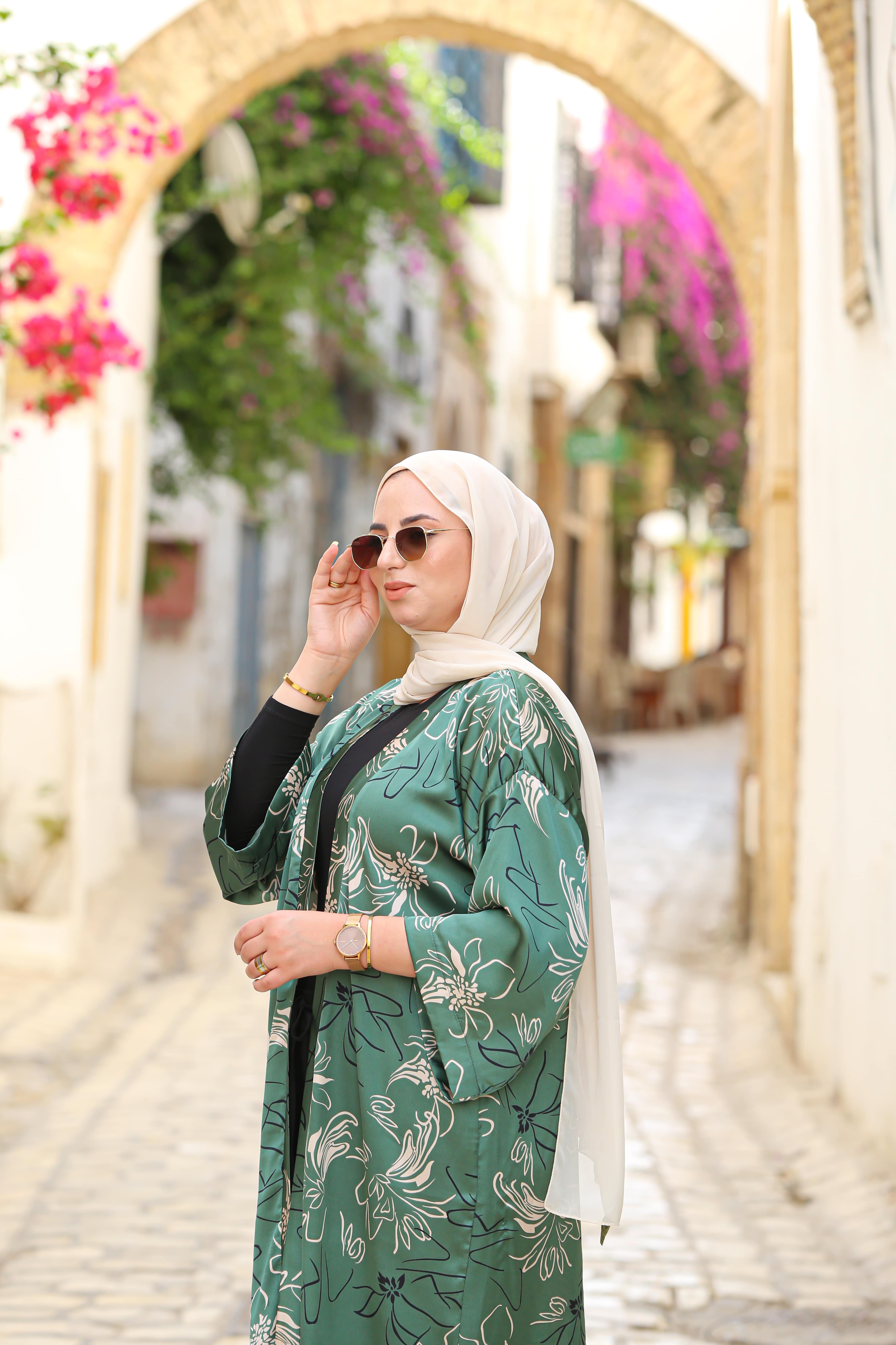 Tunisian influencer and retailer Sabrine Sbei wearing her own 'Spity' modest design (Sabrine Sbei).
The Nigerian khimar
If more evidence was needed to reflect modest dressing is becoming a matter of style, consider Nigeria where the khimar, the long hijab-style robe that can be worn from head-to-toe, is becoming a symbol of trending modesty fashion.
"For Muslims it's a good sign of faith, but it's becoming more fashionable and people are really interested in wearing it, making it and selling it," Amuda Faridah, a Lagos-based retailer of modesty fashion wears, told Salaam Gateway.
Faridah, a Muslim with an online store on Instagram, said social media has been instrumental in making the khimar popular across Nigeria.
"It's becoming more stylish because it's coming out in different colours with modesty fashion influencers portraying different styles on social media."
For less formal modesty wear, two-piece outfits are also popular.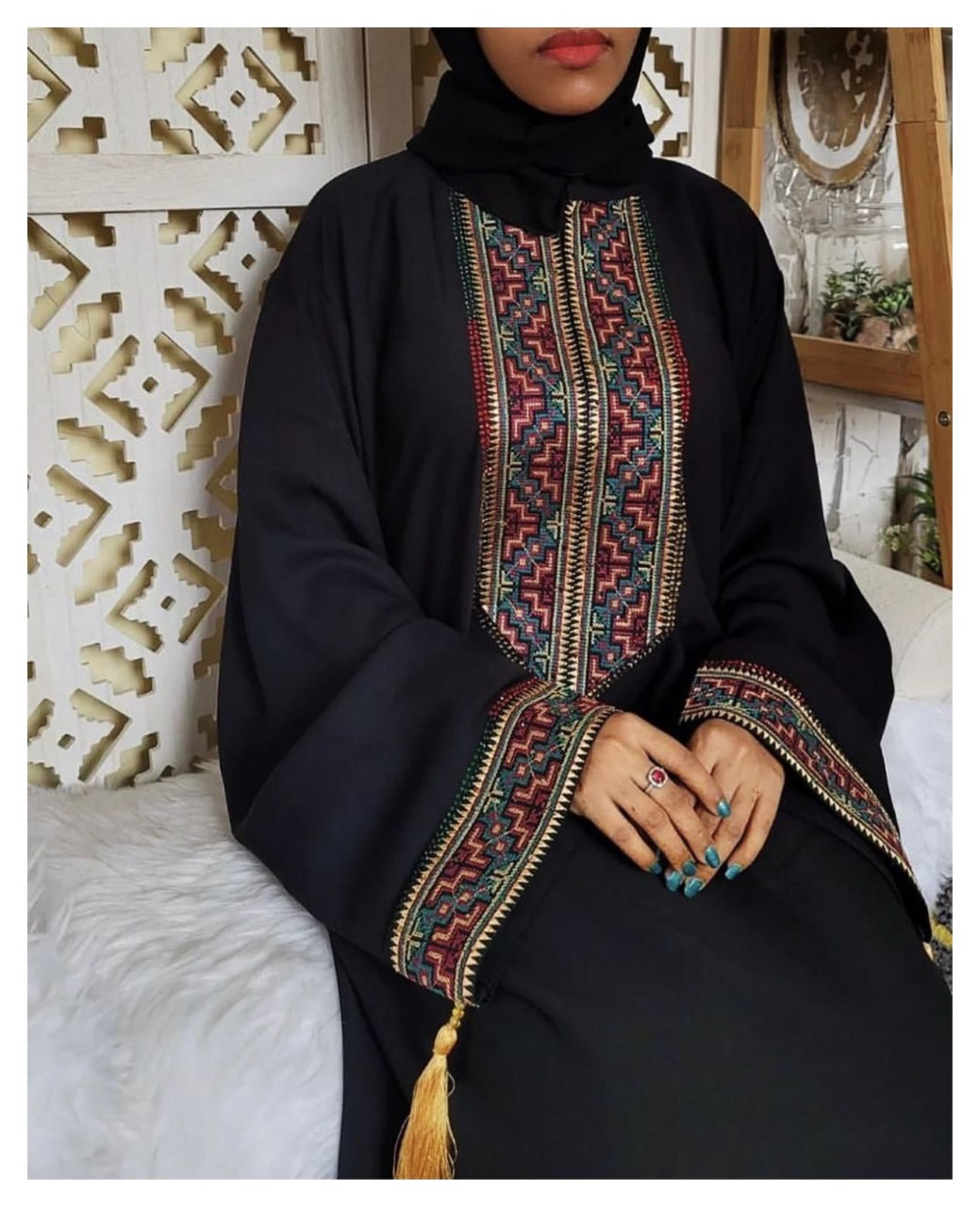 Nigerian Muslim modest fashion has real flair (Amuda Faridah).
"It's either a shirt and a palazzo (trousers) or a shirt and skirt, but it's a two piece. Most times it can be same the fabric with the same or different colours … it can be plain or patterned," Faridah noted.
She added that Nigerian Muslim women sometimes paired these two piece outfits with a kimono for a three-piece look. These combination outfits are popular with Nigerian designers who often sell them online as ready-to-wear packages.
However, Faridah said dresses and abayas bought in Nigeria were often imported from the UAE, Malaysia and Turkey. The one currently trending was embroidery abayas with theses dresses fitting into what modesty fashion means for Faridah and countless other Muslim Nigerian women.
"They cover 80% of your body. Your arms are covered, your sleeves are covered and the pants are long. That's what I understand as modesty. For instance, abayas are fashionable. They carry embroidery, are colourful and make modesty look fashionable," she said.
When it comes to how these clothes fit, Faridah said consumers should have a choice. However, modesty wear should not tight fitting.
Not all modesty consumers would agree, rather stressing the need for skin coverage – and it is this diversity of views that is feeding energy and choice into the global Muslim fashion world.
© SalaamGateway.com 2022. All Rights Reserved
---