The Gulf's battle against food waste
---
Managing food waste remains a critical challenge in the Gulf Cooperation Council (GCC) countries.
Nearly 17% of the food available to consumers in 2019 – an amount nudging 1,000 million tonnes – ended up in the rubbish bins of households, retailers, restaurants and other food services, reveals United Nations (UN) research conducted to support global efforts to halve food waste by 2030.
In high-income countries like the GCC, food is mainly wasted at the consumer level. It typically ends up in landfills where the decomposition process emits methane gas 25 times more damaging than carbon dioxide.
Studies highlight that wastage increases on social and religious occasions such as the holy month of Ramadan. However, various local organisations offer solutions for businesses and private households to reduce food waste; help the needy and generate alternative energy.
"Putting a serious dent in food loss and waste will slow climate change, protect nature and increase food security – at a time when we desperately need these things to happen," said Inger Andersen, Executive Director of the United Nations Environment Programme (UNEP), adding these issues account for up to 10% of greenhouse gas emissions.
The UNEP Food Waste Index Report, published in March 2021, exposes western Asia, including the GCC, with 110kg per capita annually as the region with the highest average household food waste. Following on its heels is sub-Saharan Africa with 108kg and then southern Europe with 90kg.
Dubai – household food waste is 95kg per person each year
The Food Waste Index reveals the United Arab Emirates (UAE) estimated household food waste amounts to over 923,000 tonnes per year or 95kgs per capita per year. According to Dubai Carbon, roughly 38% of the food prepared daily in the Emirate is wasted. This jumps to around 60% during Ramadan.
In 2013 the Dubai Municipality's Waste Management Department launched an integrated waste management master plan, aiming at slashing the amount of waste sent to landfills by 75% by 2021 and 98% by 2030.
Although Dubai achieved a total waste diversion rate of 31.8% in 2018 versus the 25% target, the domestic waste reduction rate disappoints. According to Dubai Municipality Statistics 2018-2020, published in February 2022, the percentage of domestic waste that went to landfills grew from a 62.7% share of total waste in 2019 to 77.8% in 2020.
Equally, while the composting rate increased from 0.35% to 1.035% during the same period, the recycling efforts dropped from 36.9% share to 21.1%.
However, food waste disposal technology is available to Dubai households and businesses, helping them to turn food waste into biogas and soil nutrients. Emerson, an American multinational Fortune 500 company serving the industrial, commercial and consumer markets, has regionally distributed the InSinkErator® brand since the firm opened its Dubai office in 2010.
"The food waste gets ground and shredded into small particles. Then it goes through the sewer system to the wastewater treatment plant," Mohamed Karam said, explaining the InSinkErator concept using centrifugal force.
Karam is Senior Business Development Manager Middle East and Africa at InSinkErator®.
"Over the twelve years, we managed to increase our business between 8% to 12% on average almost every year. By helping to have a clean house, we increase hygiene. Moreover, we reduce the household's carbon footprint as the waste doesn't need to be stored or transported," he told Salaam Gateway.
Taking the waste issue to the next level, Dubai's Crown Prince Sheikh Hamdan bin Mohammed bin Rashid Al Maktoum approved the Integrated Waste Management Strategy 2021-2041 at the beginning of this year. Its AED74.5 billion ($20.2 billion) budget covers waste management, recycling and energy conversion projects.
Sheikh Hamdan highlighted the private sector's role as a critical strategic partner in Dubai's efforts to become a sustainable city, noting the sector's direct contribution amounts to 94.6% of the budget.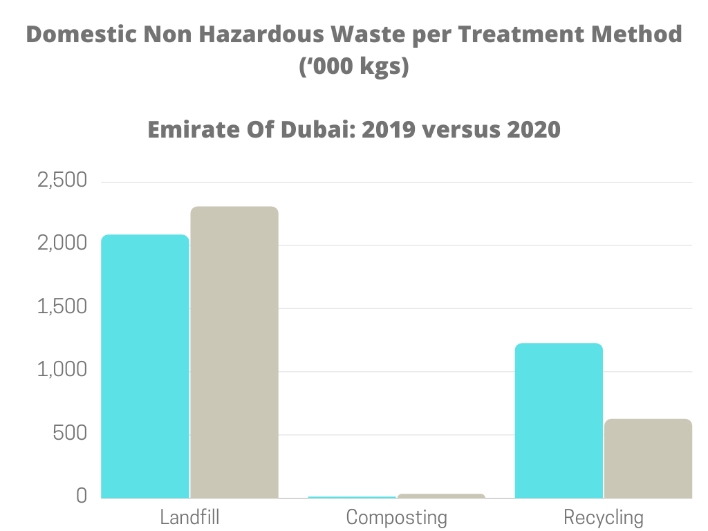 Qatar – high consumption and low recycling translates into excess food wastage
The Food Waste Index indicated Qatar's annual estimated household food wastage exceeds 267,000 tonnes given the country's high consumption and low recycling rate. This translates to 95kg per capita.
Qatar-based sustainability advocacy group EcoMENA estimates leftover food makes up about half of the waste sitting in Qatar's landfills. Moreover, only a minimal portion of this discarded food is composted, despite the short supply of good soil.
EcoMENA's research shows people throw away up to 25% of all food prepared during Ramadan.
In Qatar charitable enterprises like Wahab play a vital role in humanitarian activities to preserve food and reduce waste. The non-profit organisation collects food leftovers from hotels, supermarkets and restaurants to deliver to the needy.
Sport related events have also been a focus with Wahab's EcoProbe, a 24-hour composting machine, operating at the 72nd FIFA Congress and Final Draw at the Doha Exhibition and Convention Centre (DECC) on 1 April.
In a LinkedIn post, Wahab's founder and social entrepreneur Wardha Mamukoya said organic waste and compostable products from the event were successfully processed, proving seamless food waste management is possible, even in urban settings.
Moreover, Wahab redistributed over three tonnes of surplus food after the MotoGP event at the Lusail Circuit Sports Club held in March. Instead of being thrown into landfills, the charity collected fruit, vegetables and other food items and shared them with the community.
While Islamic teachings prohibit wastage in every life aspect, Andrea Cattaneo, a senior economist at the UN Food and Agriculture Organisation, highlights three dimensions in which countries benefit from food waste reduction.
According to Cattaneo, economics improve as the reduction in losses increases business productivity, food security advances and the environment recovers as resources aren't used to no end.
© SalaamGateway.com 2022. All Rights Reserved
---