Too early for conclusions, says Islamic Centre of Brazil on COVID-19 positive chicken in China
---
China's recent claim that a surface sample of chicken wings from Brazil tested positive for the novel coronavirus could have "disastrous consequences" for the South American economy, the Islamic Center of Brazil told Salaam Gateway.
The SARS-CoV-2 virus that is responsible for the COVID-19 disease was found on the surface of a batch of imported frozen chicken wings, a statement from the Shenzhen Epidemic Prevention and Control Headquarters said on Thursday (August 13).
The sample was found positive for the virus during routine sample tests in Longgang district and confirmed during a re-examination by the city and the Guangdong Centre for Disease Control and Prevention.
All personnel who might have come in contact with the frozen chicken products were given nucleic acid tests, those who had close contact with the sample were being monitored, and all inventories of the products have been tested and found to be negative to the virus, the statement said.
These findings could have serious repercussions on Brazil's halal food exports to Organisation of Islamic Cooperation (OIC) countries, estimated at $5.5 billion, according to the State of the Global Islamic Economy Report 2019/20.
"A claim such as this one should not be released so quickly because it can lead to extremely negative consequences for the [Brazilian] economy and society. At this point in time, we need accurate and scientific information from a source that is agreed on by all countries," Nasereddin Khazraji, secretary of the Sao Paulo-based Islamic Center of Brazil (Centro Islamico no Brasil), told Salaam Gateway.
"If this news proves to be inaccurate, it would have already caused suspension of jobs and millions of dollars in losses. At this stage, our most reliable source is science, and Islam stresses the importance of science in Shariah."
The Islamic Center of Brazil is an educational, cultural, and social charity institution established in São Paulo in 1999. It houses a halal food division responsible for certifying food locally and for accrediting Brazilian companies to export halal products.
Khazraji, who is also director of Alimentos Halal Brasil, a certifier linked to the center, said that novel diseases such as the COVID-19 usually take years to be fully understood in terms of their impact on human health, how they can be transmitted, and their potential treatments.
"So far, there is no cure for this disease, and we don't have sufficient information about it; it needs studies and analyses, and these may take years. New information could emerge any moment."
Brazil has the world's worst coronavirus outbreak after the United States. As of August 13, the number of fatalities in Brazil due to the COVID-19 was 105,463 while the number of confirmed cases reached 3,224,876, 2.3 million of which have recovered, according to Brazil's health ministry.
The South American country is the world´s largest exporter of chicken meat, and the largest supplier of beef to the China and Hong Kong region. Halal chicken makes up around 40% of Brazil's chicken exports, according to the ABPA, the Brazilian Association of Animal Protein.
The country exported 922,200 tons of halal chicken to Arab countries during the first half of 2020, according to ABPA. The biggest importers were Saudi Arabia (204,330 tons), UAE (153,710 tons), Kuwait (64,679 tons), Yemen (52,812 tons) and Qatar (42,478 tons).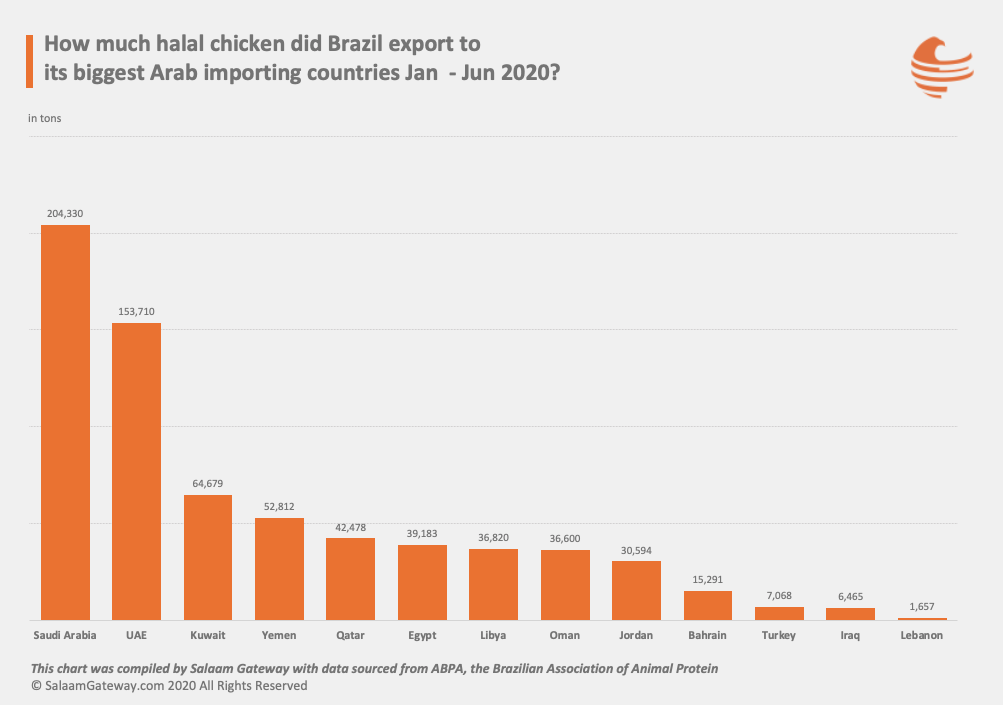 ORIGIN OF THE SAMPLE
The chicken in question came from an Aurora Alimentos Central Cooperative plant in the southern state of Santa Catarina, according to a registration number given in the statement (SIF601). The number is listed in the database of AQSIQ, China's Administration of Quality Supervision, Inspection and Quarantine.
The Aurora Alimentos Central Cooperative is one of the largest industrial conglomerates in Brazil, with 13 affiliated cooperatives, more than 7,000 members and more than 15,000 employees. The cooperative, established in 1993, exports to 80 countries around the world, supplying halal and non-halal frozen whole chicken and frozen chicken parts.
"Aurora Alimentos is a long-established and reputable company in Brazil that has several plants. They are well known for their high-quality products and they export to many Arab and African countries," said Khazraji.
A spokesperson from the Centre for Food Safety in Hong Kong said that according to current scientific information, there is no evidence indicating that humans can be infected by the coronavirus via food.
In addition, the World Health Organization and the U.S. Centers for Disease Control and Prevention have said the risk of contracting coronavirus through food is very low, with the virus spreading primarily through contact with contaminated droplets from coughing and sneezing.
STRICT PROTOCOLS
According to Khazraji, Brazilian meat companies have implemented strict safety protocols to limit the spread of COVID-19, such as halting all visits to plants and conducting weekly swab tests.
"Most meatpacking facilities have stopped receiving visits from other cities. If there is a strong necessity for someone to inspect a meatpacking plant, from the Ministry of Health or Ministry of Agriculture, for example, this person would have to have to get tested for coronavirus after arriving in the city. After a couple of days, if the results are negative, it is possible for them to enter the facility," he said.
Prior to the coronavirus pandemic, Brazil's meat plants also received foreign delegations from authorities in Muslim and non-Muslim countries, who would come to inspect and check the halal production process.
Delegations included from the Emirates Authority for Standardization and Metrology (ESMA), Saudi Standards, Metrology and Quality Organization (SASO), and Department of Islamic Development Malaysia (JAKIM). However, these visits have been stopped since January due to the pandemic.
Additionally, Brazilian meat companies are required to monitor those with coronavirus symptoms, conduct weekly tests for all employees, and immediately remove for 14 days anyone suspected of having been infected.
Every meatpacking facility in Brazil also has a permanent team of medical specialists working on site, according to Khazraji.
(Reporting by Heba Hashem, Editing by Emmy Abdul Alim emmy.abdulalim@salaamgateway.com)
© SalaamGateway.com 2020 All Rights Reserved
---