UAE halal fast-food brand ChicKing to open 30 outlets in Canada by 2023
---
Halal fast-food chain ChicKing plans to expand its global footprint with up to 30 new outlets across Canada by 2023.
Dubai: The company opened its first ChickQueen branch in the multi-cultural city of Mississauga, Ontario in May 2021 as part of an expansion plan into all major Canadian cities, AK Mansoor, founder and chairman of ChicKing, told Salaam Gateway.
"As a brand owner, it was my dream to have footprint in Canada, one of the high-potential markets globally," said Mansoor.
The halal-compliant restaurant chain is also looking to expand into Africa and Europe over the next two years.
"We already signed (franchise agreements) for some potential markets like South Africa, Ethiopia, Egypt, Kenya, Turkey, Jordan, Fiji, Palestine and USA, besides the additional stores opening in the existing locations," said Mansoor.
ChicKing's diverse menu is influenced by Mexican, American and Italian cuisine with options ranging from fried chicken to grilled chicken, burgers, wraps, pizzas and spaghetti dishes. In Canada, ChickQueen offers a more American-influenced selection including grilled chicken, fried chicken buckets and burgers with several Indian cuisine-inspired options such as tandoori wraps and bites.
Halal advantage
While halal certification has been essential for the UAE market, it continues to offer ChicKing an advantageous position from which to approach international ones. The company generally follows a two-step approach to halal-certify its products. It acquires the halal certification from its local and international suppliers and then coordinates with the local halal certification bodies to recognise the brand as halal.
In Canada, ChicKing sources free-range chicken and other raw materials locally, while importing its "secret recipe" spices and flavourings, as well as packaging materials from Dubai.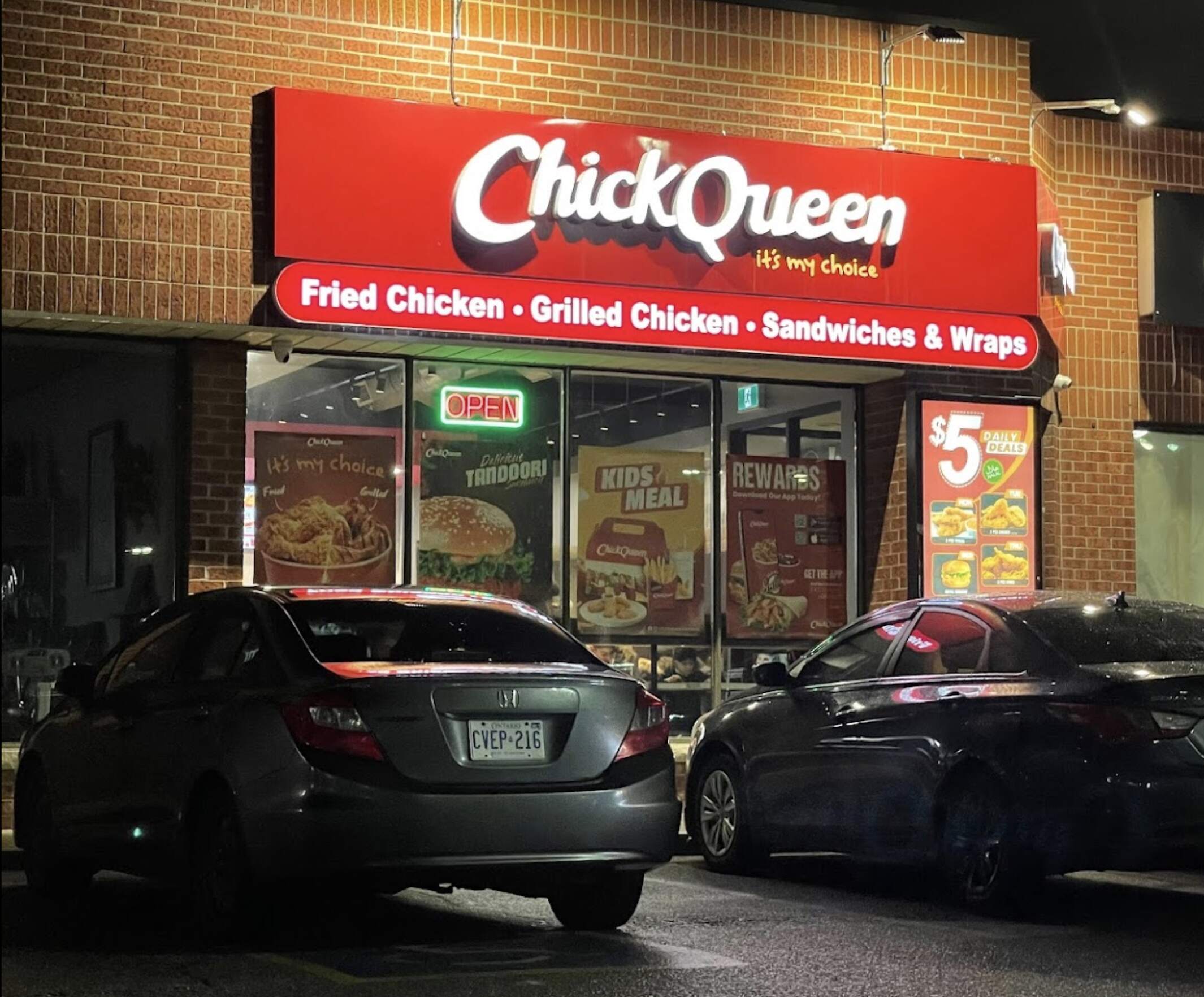 The first ChickQueen branch opened in Mississauga, Ontario in 2021 (Courtesy: ChicKing).
Global expansion
Starting in 2000 in Dubai, ChicKing grew quickly, expanding into 27 countries across the UK, Middle East, Africa and Asia. It currently serves more than 20,000 customers each month. The company created a global franchise management division to manage its expansion plan and find suitable franchisees.
"As per the business plan with the master franchise, we will develop 100 (new) stores within a five-year timeframe in Canada," said Mansoor.
ChicKing opened its 230th outlet in December 2021 at Expo Village, in Dubai, giving Expo 2020 visitors a budget-friendly dining option – the exhibition was postponed to October 2021 to March 2022 because of Covid-19.
In the same month, the company announced it was launching a new outlet in West Bromwich, its third outlet in the Midlands, England.
Rising from the pandemic
Like most restaurant companies, ChicKing was challenged by the Covid-19 pandemic. However, Mansoor said it used this period to explore opportunities in the home delivery business to balance sales lost in dine-in and takeaway.
"We tied up with major online aggregator partners to expand our home delivery service and used the ChicKing mobile app and online delivery to reach our customers. We were able to cater to a lot of new nationalities in those two years through home delivery platforms," he said.
With tourists representing a sizable percentage of ChicKing's turnover, the company observed a decline in this customer segment during the pandemic.
"Immediately, we adapted our business model by focusing on delivery segments, be it our deliveries or partnering with third parties' aggregators. Overall, it wasn't that bad; we adapted quickly and recovered the sales," said Mansoor.
Despite the challenges presented by the pandemic, ChicKing did not lay off any employees, around 2,300 people globally.
"We kept them on board because they are our loyal staff. We take care of them both in good and bad times. Our recruitment now is in full swing as we continue to expand through international franchising," said Mansoor.

© SalaamGateway.com 2022. All Rights Reserved
---