UAE plant-based foods strike new ground with local production and voluntary halal certification
---
DUBAI - Businesses in the UAE's food sector are finding lucrative opportunities in the rapidly growing plant-based market as more consumers choose to reduce their meat and dairy consumption.
"Vegan food products are seeing huge levels of growth. We put a particular focus into the plant-based range that we have within our frozen category because it's a good way of bringing good quality, highly nutritious and good-value products from all over the world as well as locally produced options to our customers," Tom Harvey, commercial manager at Spinneys Dubai told Salaam Gateway.
The UAE-based supermarket chain, which has 34 stores across the city, has seen its frozen plant-based category grow by 600% over the last year, up from 100% the previous year.
In 2019, the global plant-based meat sector's retail sales hit $18.6 billion and is forecast to grow at an annual rate of 6.7% through 2024, according to Euromonitor International.
Of this global value, the Middle East accounted for $176.5 million, with annual growth projected to be 4-5% over the next four years, Somaia Basha, Middle East Analyst at Euromonitor International told Salaam Gateway.
"We have seen that ever since the launch of Beyond Meat's burger in 2015 in the UAE, there have been small penetrations of local and international players in the market, who are trying to slowly educate people about plant-based food," said Basha.
She noted that plant-based milk alternatives in particular have seen strong growth over the last two years, while vegan jellies and protein bars are also gaining traction, offering low-fat and gelatine-free ingredients.
"Most people choosing these products are looking for something healthy. With COVID-19 and people becoming increasingly aware of what goes into their body, there has been a lot of demand for immune-boosting food and that funnels down into plant-based products positioned as healthier options," said Basha.
LOCAL PRODUCTION: HEALTHY FARM, BROOKLYN CREAMERY
The growing demand for meat and dairy alternatives has created a compelling business case for local producers such as Healthy Farm, the frozen food brand under Sharjah-based Albatha Group. The company, which operates Healthy Farm Eatery, recently launched a vegan range of six frozen products that includes burgers, meatballs, kebabs, and chunks.
"Plant-based [brands] are seeing strong double-digit growth, which indicates the opportunity for companies to enter the market. We already have global companies in plant-based protein, and they are well advanced, but we are the first to produce plant-based products in the UAE," Jacek Plewa, CEO at Healthy Farm Food Innovation told Salaam Gateway.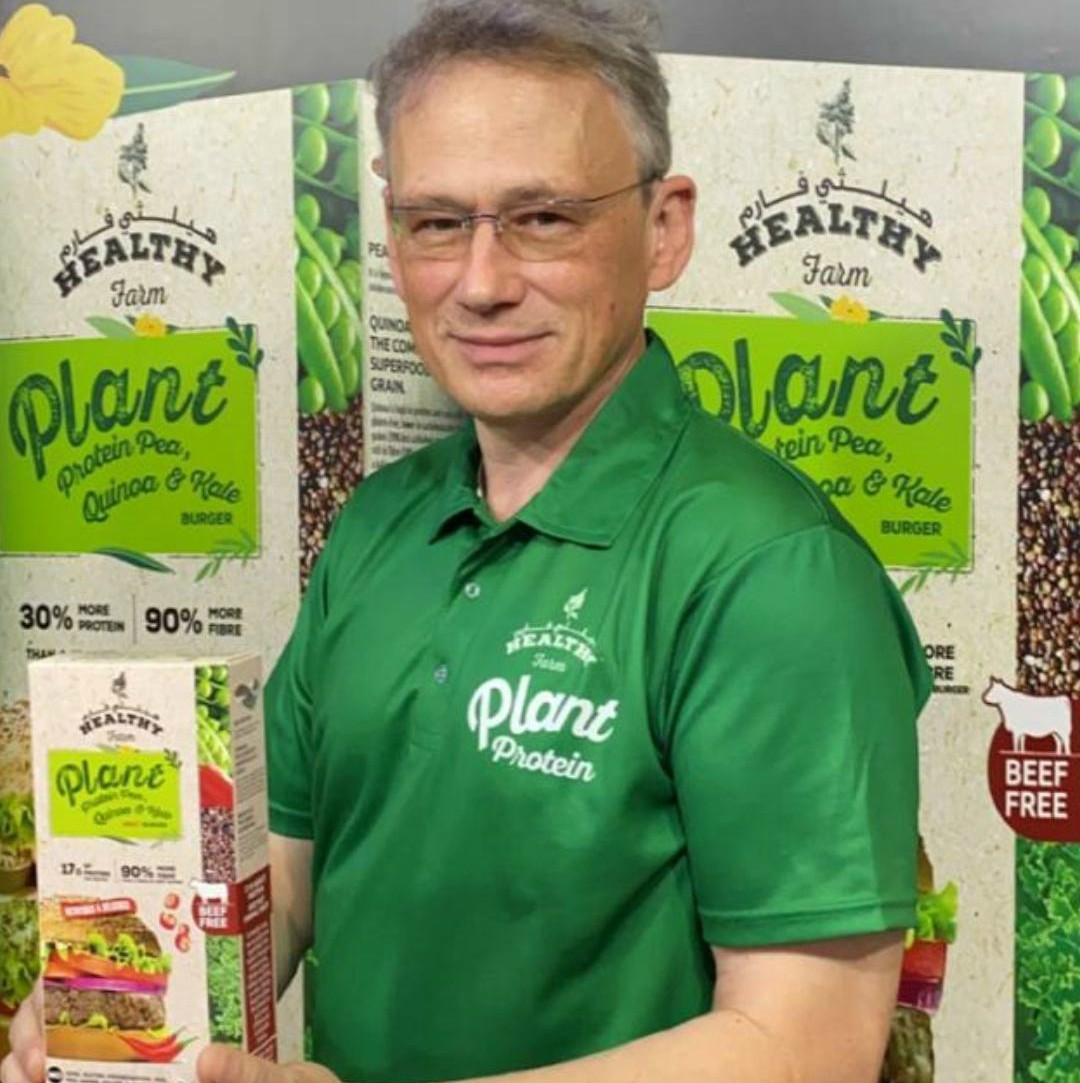 Photo: Jacek Plewa, CEO, Healthy Farm Food Innovation, holds a pack of plant-based meat product. Photo supplied by Healthy Farm Food
Research and development for the plant-based range took Healthy Farm about four years, with hundreds of tests carried out to get the right texture, juiciness, and taste.
The company sources half of its ingredients from the UAE, including kale and spinach, which come from its organic farm, and imports ingredients such as pea protein and quinoa, although it is currently looking into developing pea protein locally and growing quinoa on its own farm.
Healthy Farm decided to use pea protein and not soya protein due to controversies surrounding soy, such as allergies and the presence of isoflavones, which can adversely affect thyroid function, according to Plewa. The company also uses quinoa protein, which contains all nine essential amino acids.
"There is so much debate in the $1 trillion meat industry over the lack of amino acids in plant protein and that is not true, because quinoa has all nine amino acids. I think the meat industry will see a massive backlash and try to protect its position as consumers move away from meat for different reasons," said Plewa, who also serves as board member at the UAE Food & Beverage Manufacturers Group.
He said that per capita annual meat consumption in the UAE is around 79 kilograms, which is quite heavy and needs to be addressed with movements such as Meatless Monday.
Instead of starting with supermarkets, Healthy Farm will begin by supplying hotels, restaurants and cafés and has partnered with Dubai-based Intelligent Foods to help with this process.
"We started delivering the first batch of our products to them and they're turning it into ready meals. We're excited about the coming months when the UAE market usually picks up," said Plewa.
In addition, the company plans to sell its plant-based products through online food retailers such as Kibsons, and Organic & Real to reach its target group of millennials and Generation Z, the biggest online shoppers.
"Major supermarkets are not really our priority at the moment. We want to be in e-commerce to create a connection with our brand at home, which people consider a safer environment than eating outside. We want to be in households with our target group," said Plewa.
E-commerce is also a priority for U.S.-based Brooklyn Creamery, which introduced a locally produced dairy-free ice-cream range to the UAE this summer.
The company has seen the biggest percentage of its dairy-free ice-cream sales from online delivery platforms, driven by strong demand especially amid the current pandemic that has led more people to order food online.
"We decided to launch our products on aggregator platforms such as Deliveroo and Talabat first. We recently launched our dairy-free range in Souq Planet outlets and BiOrganic and Scuzy in Dubai," Vikram Seth, CEO of Brooklyn Creamery, Middle East told Salaam Gateway.
The ice-cream brand has also partnered with vegan-friendly cafes such as Ultra Brasserie, Protein House and Soul Café, and will soon expand its availability across major hypermarkets in the UAE.
IMPROVED TASTE AND TEXTURE
In recent years, technology advances have enabled plant-protein alternatives such as soy, peas, and nuts to look and taste somewhat like meat or dairy-based products. These improvements are especially important when targeting markets with high meat and dairy consumption.
"Arab consumers are generally fonder of the dairy taste so we're trying to come closer to their preference. However, the trend with younger consumers is different from previous generations – they are more open to new ideas," says Amarnath Mylavarapu, a consultant chef who works with restaurants in the UAE, most recently Gyspy in Dubai Mall, where he helped develop vegan chocolate bon bons and coffeecakes.
Local customers are already showing interest in plant-based food. Sharjah, the UAE's third largest emirate, where UAE nationals account for 12.5% of the population, is getting a new vegan-friendly restaurant called Ark Café that is targeting young Emiratis.
This follows the opening of Veganity in Dubai last October, which claims to be the biggest vegan restaurant in the world, serving more than 200 plant-based dishes.
LOCAL INCUBATORS
While the UAE plant-based market is currently dominated by imported brands, there is plenty of room for locally produced, high-quality products at lower price tags. The country is already supporting local production through public and private-sector initiatives as part of its efforts to achieve food security.
One of the successful initiatives in this area has been Mubdiah, which means "female innovators" in Arabic. Started by Abu Dhabi Businesswomen Council in 2015, the programme supports Emirati women to run small enterprises from their homes.
Mubdiah has helped Emirati entrepreneur Aisha Bin Brook to set up her food start-up Treat Me Gluten Free in 2019. The brand produces vegan, gluten-free mixes for popular dishes such as pancakes and Lgaimat (an Emirati dessert), the latter which saw sales increase by 13 times over the last seven months.
"We produce our food entirely at home. I have a gluten-free dedicated kitchen with its own equipment and cutlery to avoid cross contamination. We have regular customers who buy in bulk, so we have seen demand grow," Bin Brook told Salaam Gateway. The biggest demand is for lgaimat mix.
Spinneys' local business incubation programme is another initiative that was launched this summer to support aspiring FMCG entrepreneurs in the UAE and help grow their businesses.
Of the 165 applications that the programme received in June, about 10% were vegan-focused. 25 have been shortlisted since then, two of which cater to the plant-based market.
"It's not particularly easy for local brands to get on supermarket shelves, which is precisely why we launched the Spinneys incubator program. We want to help give future entrepreneurs the confidence that they can start manufacturing more food products here," said Harvey.
As part of the incubator's suite of support functions, Spinneys will also be assisting the winning start-ups to get inspected and halal-certified, he said.
HALAL ASSURANCE
It is not necessary to have halal certification for vegan products but some companies are going the extra mile and applying for it.
"We have received halal certification from the Emirates Authority for Standardization & Metrology, specifically for the hospitality and food-service sector. For us, it is important to give this assurance to consumers that our entire range of vegan products is also halal," said Healthy Farm Food Innovation CEO Plewa.
Similarly, Brooklyn Creamery is in the process of applying for halal certification and expects to receive it by the end of this year.
Having a halal certification can prove advantageous when expanding to Muslim-majority markets such as Saudi Arabia, which Healthy Farm is eyeing due to its large population and high per-capita consumption of meat.
"I see a growing role for vegan products in the halal food industry and I encourage policymakers to create an environment that supports plant-based products, for instance by establishing an institute or department in one of the UAE universities to research and promote plant-based nutrition," said Plewa.
Euromonitor's Basha believes that halal certifications will also benefit plant-based products in the long run, because when consumers start to regularly turn to such products, they need that level of assurance that these items don't have any ingredients that are questionable to their faith.
However, while the growth of the plant-based market could boost the halal food market, she expects that to be to a limited extent.
"The plant-based market is still very small so it's not at a point where it could have a big impact on the halal economy as a whole, but it's one of the drivers that might help solidify the ground that this economy stands on."
(Reporting by Heba Hashem; Editing by Emmy Abdul Alim emmy.abdulalim@salaamgateway.com)
© SalaamGateway.com 2020 All Rights Reserved
---