US company launches halal certified CBD products
---
Certified by the American Halal Foundation last October, the firm enters the US legal cannabis market expected to be worth more than $30 billion in 2022.
Washington D.C.: The CEO of an American company that has been awarded a halal certification for hemp products containing active CBD (cannabidiol) ingredients says his business will be contesting false claims about CBD, a non-psychoactive compound treating pain and relieving anxiety.
"We saw a gap in the industry. There were a lot of claims, sometimes unethical claims" about the health benefits of CBD, Fareed Syed, CEO of HalalCBD, told Salaam Gateway. Based in Las Vegas, Nevada, his company sells CBD extracts and gummies in three flavours as well as a topical moisturising lotion.
The company's products were halal-certified by the American Halal Foundation last October (2021). Halal CBD claims to be selling "the first superior halal certified CBD brand. All natural ingredients, local grown hemp and 100% made in the USA." That is important for halal certification - halal hemp must be made with additional manufacturing practices and standard operating procedures to comply with halal standards, Syed said.
"Ingredients are a major factor when it comes to manufacturing CBD and halal products. When halal products are created, every ingredient's origin and manufacturing processes are audited to ensure the highest quality while following halal standards," he added.
One key issue in halal certification is that a hemp-based product does not intoxicate the user. CBD (cannabidiol) is one of more than 80 biologically active chemical compounds contained in cannabis, according to the US Centre for Disease Control (CDC). Cannabis also contains delta-9-tetrahydrocannabinol or THC, the chemical that creates the psychotropic high for marijuana users. That is not present in Halal CBD products at present.
"It was so new we decided to have zero [THC] now. We will be looking at some products that have a small amount of THC," he said, although that would probably not be certified halal, at least for the time being. A CBD product "can be halal certified as long as it has zero THC in it," according to Syed. He said it was easier to gain halal certification for the lotion than the tinctures or gummies: "Anything you're not ingesting is easier to get certified."
The company's CBD oil is made by extracting CBD from the cannabis plant and then diluting it with coconut oil or hemp seed oil. CBD can be found in a variety of products including dietary supplements, drinks, foods and lotions. Halal CBD markets its products through blogs, brand ambassadors and its social media presence, according to Syed. "Educating our community is the biggest thing to us."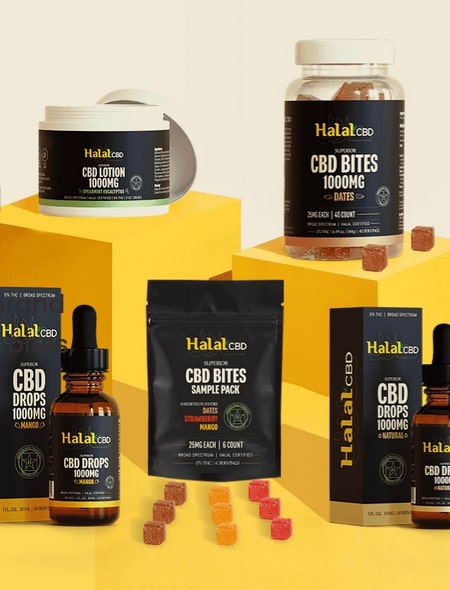 Screen grab of HalalCBD products.
Mohammad Husseini, vice president of the American Halal Foundation, based in Chicago, said halal-certified CBD is a relatively new frontier. More than one company in the USA has now become halal-certified for CBD products, said Hussaini. Other examples include Denver-based Noble Hemp.
"Zero THC is allowed, but what about a little THC? We're still doing research," he said. One thing is clear, Hussaini noted, recreational use is not allowed, while some medicinal cannabis products have THC content. Hussaini said a comprehensive certification process evaluates each ingredient, carrier, production process and other materials present in a manufacturing facility in addition to laboratory analysis of products. "Particularly, no non-halal animal derivatives should be present and ethanol residuals should be below 5,000 ppm [parts per million]."
The Islamic Services of America (ISA), a for-profit business based in Cedar Rapids, Iowa, is also studying halal certification for CBD, according to a member of ISA's quality assurance department, but the work is a complicated undertaking. "There are few [prior] studies and each plant can vary. THC is an intoxicating chemical, but CBD can be formulated with a lot of other products and we don't know how those combinations work," he said. "On the certification level we have to do more due diligence. We try to err on the side of caution" until long-term effects are better known.
In January, global cannabinoid market researcher BDSA reported that 2021 was a breakthrough year for legal cannabis in the USA, with total sales figures for the country expected to be worth $25 billion. BDSA predicted the US legal cannabis market will reach more than $30 billion in 2022. And if the US Food & Drug Administration (FDA) eventually approves CBD as a legal additive, BDSA projects that sales could soar far higher.
© SalaamGateway.com 2021 All Rights Reserved
---