Vietnam halal: Still early days as Malaysians continue to tout its 'high potential'
---
Already a contender for being Southeast Asia's rice bowl, Vietnam could eventually become a leading supplier of ingredients, goods and services to the regional halal market.
But though its potential is seemingly boundless, it will take some time for it to make an impact, according to Ramlan Osman, a Malaysian industry veteran who since 2018 has been working to build halal in Vietnam.
"The awareness of halal in Vietnam is almost non-existent," Ramlan told Salaam Gateway over the phone from Hanoi.
Usually based in Ho Chi Minh City in the south, Ramlan was at the time on a trip north to the capital for the latest of many meetings with provincial officials around the country to discuss boosting their halal competence.
"I have been doing it for the last two years using my own resources. During this time, I have engaged with more than 2,000 Vietnamese companies and more officials on my own," he said.
The former Halal Development Corporation (HDC) executive is not tilting at windmills, even if he may feel like the only knight on the plain.
His former colleague, Hairol Ariffein Sahari, who is now the chief executive of HDC, the Malaysian government-backed agency charged with promoting the halal industry internationally, believes Vietnam is brimming with halal potential.
"It is just a matter of awareness," he told Salaam Gateway from HDC's headquarters in Kuala Lumpur. "The reason why a country like Vietnam is not yet being regarded as a powerhouse in halal is because there is a lack of awareness of it.
"The acceptance level is still very low over there, but Ramlan is doing a very good job in instilling knowledge about halal and the halal industry."
FERTILE GROUND
With an area a little smaller than Bangladesh under cultivation, amounting to about 40% of its land size and growing, Vietnam is tremendously fertile.
In 2017, the Food and Agriculture Organisation of the United Nations put Vietnam's food production at $40 billion, after adjusting for inflation.
Crops, cereals, fruits and vegetables, and livestock have all grown substantially in the last 20 years, while fish production has doubled since 2006 and dairy has quadrupled.
Even beyond agriculture, the country is booming.
The World Bank estimated GDP growth at over 7% in 2019 after more than two decades of rises at around 5% and higher. "In 2019, Vietnam's economy continued to show fundamental strength and resilience, supported by robust domestic demand and export-orientated manufacturing," it said.
It forecasts the country's 2021 real GDP growth at 6.7% after an estimated 2.8% rise in 2020 largely due to its success containing COVID-19.
A young and well-educated population is nudging towards 100 million, with a fast-growing middle-class consumer base attracting the attention of investors.
"The way I see it, Vietnam is a densely populated developing agricultural country that has been in transition since the mid-Eighties to a more industrial and market economy with substantially rising income. It is like Malaysia 20 years back when our economy was booming," said Hairol.
"From a resource standpoint, Vietnam possesses an abundance of potential halal raw materials, including coffee, rice, marine and aquaculture products, spices, nuts, vegetables and fruits. These indicate high potential in producing halal end-products, in particular halal processed F&B products, for consumers all over the world."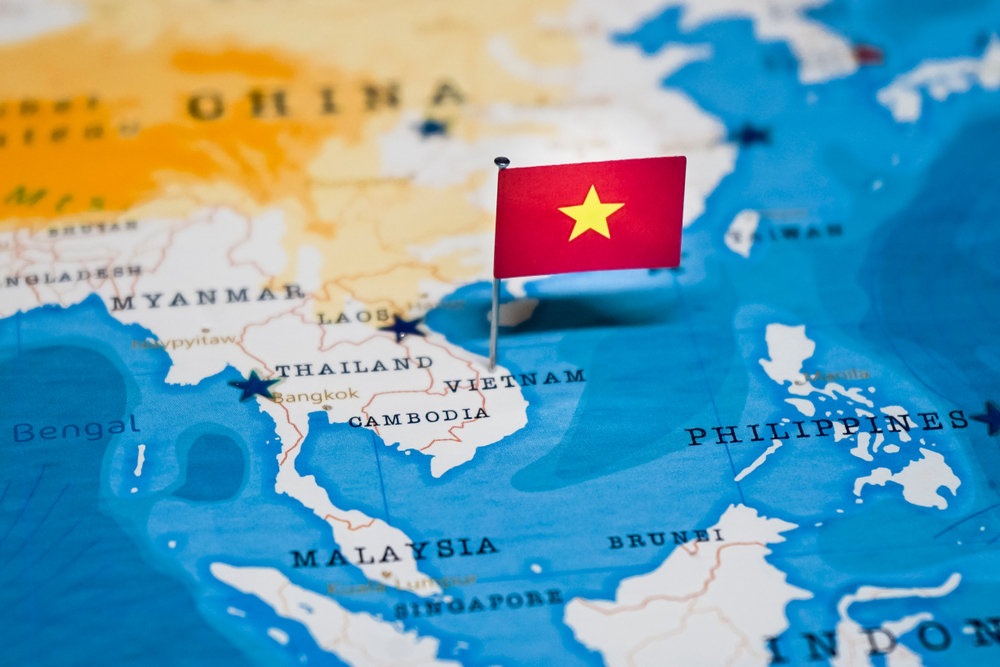 Image: Vietnam on the map, sitting next to Thailand that shares a land border with Malaysia.
LUCRATIVE LINKS
Vietnam's close ties with France give it an advantage in trade flows to the European halal market, as does its recently signed free trade agreement with the United Kingdom. Its membership of the massive CPTPP trade agreement between 11 countries bordering the Pacific and being part of ASEAN link it to even more halal markets.
From Malaysia's point of view, Vietnam's production base, and also potentially its manufacturing base, would slot right in with Malaysia's ambitions to become Asia's halal supply base.
"For Malaysia to become a strong halal hub, it has to be connected to others. Vietnam's strength comes from the production of potentially halal raw materials such as coffee, rice, cashew nuts, pepper, fresh fruits and vegetables—these are the products Malaysia does not produce, at least not in great quantities," said Hairol.
"Raw materials from Vietnam could be exported to Malaysia for us to turn them into finished goods for export and vice versa."
Based on HDC calculations concerning the current rate of global halal supply, only 20% of global demand for all goods and services is being met.
"With Malaysia and Vietnam working together, I think we can tap into the remaining 80%," said Hairol. "The important thing here is to establish a robust supply chain that can help us improve the entire supply and demand equation."
EARLY DAYS FOR VIETNAM HALAL
With this syzygy of compelling factors, it may come as a surprise that Vietnam is not already well tapped for halal. Based on his experience over the last couple of years in a country with only an estimated 200,000 Muslims, though, Ramlan says it is still early days.
Vietnam Halal Centre, his business, focuses on industry development, capacity building, integrity management and lobbying for a local halal industry. His partner is the Investment and Trade Promotion Centre of Ho Chi Minh City, a government agency.
"Our main thrust is to help the local business community to get their products and services to be halal standard in order for them to export to OIC (Organisation of Islamic Cooperation) countries," he said.
There is just a handful of local certification bodies, of which one operates under standards of JAKIM, Malaysia's halal authority. There are more than 150,000 SMEs in the country, of which about 500 have halal certification currently, Ramlan says.
HALAL PARKS
The number of certifiers will have to grow if Ramlan is successful in his mission to introduce halal manufacturing parks to the country.
Previously in charge of the development of 24 such parks in Malaysia for HDC, Ramlan hopes to replicate the model in Vietnam. These will seek to attract big manufacturing companies and SMEs, along with allied services, into a single halal campus.
"I'm doing the legwork now, which is trying to get companies to understand what halal manufacturing is. My halal park is going to take four or five years to take shape and I'm already into the second year. I'm building up momentum to get some support from provincial governments," he said.
NEW ISLAMIC MARKETS
"Vietnam has agriculture, it has aquaculture, it has manufacturing. If you look at coffee, cashew nuts or tea, there are plenty of these products that are only going to traditional markets; that's about it. I'm trying to suggest why we should get these to halal standard so that Vietnam's products can go to the 57 Muslim countries [of the OIC] which they have no clue about," said Ramlan.
Pharmaceuticals, cosmetics and services such as logistics would also be welcome in this first stab at building a halal ecosystem.
"Homegrown pharmaceuticals, there are plenty. But as far as halal, there's zero. Cosmetics is the same thing. Lifestyle brands: nothing. And with logistics, there's zero again. You talk about entire value chain of halal, and in Vietnam it is almost non-existent."
Even though Vietnam does free trade with ASEAN, of which about a third of the population is Muslim, the country has spent too much time in the thrall of neighbouring China, which has traditionally taken most of its exports. But China's orders have been dwindling in recent years, forcing sleepy Vietnamese planners to wake up and find ways to diversify its exports.
This is in part why local officials have been receptive to Ramlan's halal proposition, even if their understanding of it has so far been limited.
A number of Malaysian government bodies have given support to Ramlan's mission, including the Ministry of International Trade and Industry and its agencies, HDC and Malaysia External Trade Development Corporation (MATRADE).
For him to succeed, he must persuade Vietnam to adopt a halal strategy that is institutionalised and implemented at a government level.
"If they are going to do this piecemeal, then it is not going to work. Ramlan Osman cannot bring halal to Vietnam on his own," he said.
When we spoke to him, it was ahead of his meeting on Jan 13 with officials. At the time, he said he would tell senior party leaders they need to form a provincial halal agency that will act as a role model for all the other 62 provinces and municipalities.
"If we can pull this together, other provinces will be wowed and ask for their own agencies. The whole thing must be institutionalised so that a halal industry can emerge."
MALAYSIA'S HDC'S VIETNAM HALAL PLAN
While HDC concentrates on opening up new markets in East Asia as part of its five-year strategy, it is also considering redoubling its focus on other parts of Southeast Asia.
"We are exploring either Indonesia or Vietnam, since both carry big potential. If you ask me, these are the green fields of halal," said Hairol Ariffein Sahari.
Whereas Indonesia is packed with Muslim consumers and a government-backed halal infrastructure, Vietnam would be a completely different proposition with its own challenges.
"Getting people to understand the halal concept there is one big headache, and getting them to understand on how to translate halal into something that can generate an economic impact in terms of trade, investment and employment: that's another level of understanding and challenge for us."
But halal in a non-Muslim or non-Islamic country in the region where Vietnam sits can be well-organised and profitable, as Thailand has demonstrated.
HDC has a "very big plan" to encourage halal in Vietnam. This would have started with promotional activities in collaboration with MATRADE and the Vietnamese embassy in Malaysia were it not for disruption caused by the pandemic.
"Players in Vietnam need to make sure their F&B production conforms to the highest hygiene standards before they go into the halal space. They must also learn to use halal as a value proposition for them to enter certain specific markets," said Hairol.
"Later when HDC comes to Vietnam, this is what we are going to do: we are going to help by offering the government there advice in two ways. The first is in the governance of halal, to do with certification, standards and human capital. The second is to assist the government in coming up with their own industry development framework.
"Later, we need to get their industry players to be on board with the platform or system that's used. Then Malaysia can have a very strong partner in the halal industry."
(Reporting by Richard Whitehead; Editing by Emmy Abdul Alim emmy.abdulalim@salaamgateway.com)
© SalaamGateway.com 2021 All Rights Reserved
---