Women, Business and the Law 2021: Long way to go for Islamic economies as 75% score below world average
---
75% of Islamic countries scored below the world average on The World Bank's latest Women, Business and the Law Index, indicating a long way to go to achieve equal opportunities for men and women across Muslim-majority nations.
The index of 190 countries analyses economic rights during different milestones in a woman's working life through eight indicators: mobility, workplace, pay, marriage, parenthood, entrepreneurship, assets, and pension.
The 2021 report, covering the period September 2019 to October 2020, said that on average, women around the world still have only three-fourths the legal rights of men.
"This matters because better performance in the areas measured by the Women, Business and the Law index is associated with a narrower gender gap in development outcomes, more female policy makers, higher female labour force participation, and lower vulnerable employment," said The World Bank on Tuesday (Feb 23).
Overall, ten countries scored 100, reflecting equal opportunities for men and women: Belgium, Canada, Denmark, France, Iceland, Ireland, Latvia, Luxembourg, Portugal, and Sweden.
Global average scores for the 190 economies analysed was 76.1 in 2020, up from 75.5 in 2019.
56 of the 190 economies fall below the world average. 42 of these in the bottom 40% are member countries or territories of the Organisation of Islamic Cooperation. In all, there are 56 Islamic economies on The World Bank Index.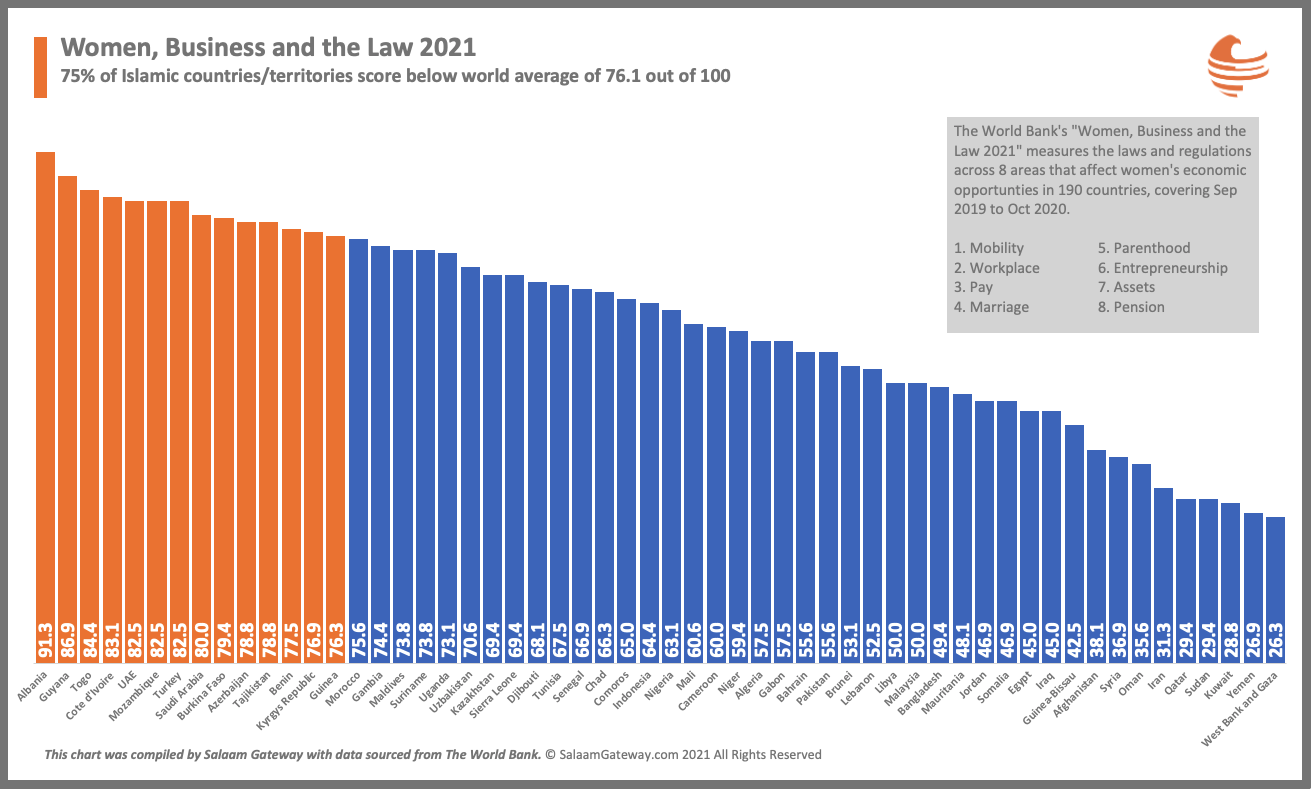 BIGGEST MOVERS: UAE, KSA, BAHRAIN
14 Islamic economies scored above the world average, led by Albania, Guyana and Togo.
Among the Islamic nations, the UAE was the biggest improver, jumping 23.1 points from 59.4 to 82.5 in this year's Index.
President of the UAE Gender Balance Council, Sheikha Manal bint Mohammed bin Rashid Al Maktoum, said this is a result of new laws and more than twenty legislative reforms focused on enhancing women's economic participation, reported state news agency WAM.
The UAE scored a full 100 in five indicators: mobility, workplace, pay, entrepreneurship, and pension.
Saudi Arabia and Bahrain both improved by 9.4 points, reaching 80 and 55.6, respectively.
Saudi Arabia eliminated all restrictions on women's employment and scored 100 points in the same exact five indicators as the UAE.
Bahrain made job opportunities more equal for men and women by eliminating discriminatory restrictions on women's employment in arduous jobs, and improved access to credit for women by prohibiting gender-based discrimination in financial services.
Bahrain scored a full 100 for entrepreneurship.
ISLAMIC COUNTRY
2020
2021
CHANGE
1
Albania
91.3
91.3
0.0
2
Guyana
86.9
86.9
0.0
3
Togo
84.4
84.4
0.0
4
Cote d'Ivoire
83.1
83.1
0.0
5
UAE
59.4
82.5
23.1
6
Mozambique
82.5
82.5
0.0
7
Turkey
82.5
82.5
0.0
8
Saudi Arabia
70.6
80.0
9.4
9
Burkina Faso
79.4
79.4
0.0
10
Azerbaijan
78.8
78.8
0.0
11
Tajikistan
78.8
78.8
0.0
12
Benin
74.4
77.5
3.1
13
Kyrgyz Republic
76.9
76.9
0.0
14
Guinea
76.3
76.3
0.0
15
Morocco
75.6
75.6
0.0
16
Gambia
74.4
74.4
0.0
17
Maldives
73.8
73.8
0.0
18
Suriname
68.8
73.8
5.0
19
Uganda
73.1
73.1
0.0
20
Uzbakistan
67.5
70.6
3.1
21
Kazakhstan
69.4
69.4
0.0
22
Sierra Leone
63.1
69.4
6.3
23
Djibouti
68.1
68.1
0.0
24
Tunisia
67.5
67.5
0.0
25
Senegal
63.8
66.9
3.1
26
Chad
66.3
66.3
0.0
27
Comoros
65.0
65.0
0.0
28
Indonesia
64.4
64.4
0.0
29
Nigeria
63.1
63.1
0.0
30
Mali
60.6
60.6
0.0
31
Cameroon
60.0
60.0
0.0
32
Niger
59.4
59.4
0.0
33
Algeria
57.5
57.5
0.0
34
Gabon
57.5
57.5
0.0
35
Bahrain
46.3
55.6
9.4
36
Pakistan
52.5
55.6
3.1
37
Brunei
53.1
53.1
0.0
38
Lebanon
52.5
52.5
0.0
39
Libya
50.0
50.0
0.0
40
Malaysia
50.0
50.0
0.0
41
Bangladesh
49.4
49.4
0.0
42
Mauritania
48.1
48.1
0.0
43
Jordan
40.6
46.9
6.3
44
Somalia
46.9
46.9
0.0
45
Egypt
45.0
45.0
0.0
46
Iraq
45.0
45.0
0.0
47
Guinea-Bissau
42.5
42.5
0.0
48
Afghanistan
38.1
38.1
0.0
49
Syria
36.9
36.9
0.0
50
Oman
35.6
35.6
0.0
51
Iran
31.3
31.3
0.0
52
Qatar
29.4
29.4
0.0
53
Sudan
29.4
29.4
0.0
54
Kuwait
26.3
28.8
2.5
55
Yemen
26.9
26.9
0.0
56
West Bank and Gaza
26.3
26.3
0.0
Data source: The World Bank
© SalaamGateway.com 2021 All Rights Reserved
---