Muslims kids platform DuriooPlus launches
---
Malaysia-based streaming platform soft launches, pushed by investment from Silicon Valley's Y Combinator.
The creator of hit Islamic content children's shows has launched its new streaming service DuriooPlus as a mixture of Durioo original productions, cartoons and live action content.
Durioo is the new venture of Digital Durian, the company behind the Islamic cartoon series Omar & Hana and pre-school cartoon Didi & Friends. The platform soft-launched on iOS – iPhone, iPad and Apple TV and this week got approval from Google for the android release.
"From past experience, the majority of downloads come from android, while iOS is a bigger (monetary) conversion – normally more paid subscribers compared to android," Durioo founder and CEO Sinan Ismail said.
So far DuriooPlus has more than 4,000 subscribers tuning into its 130 videos. It is to upload around 30 videos a week.
"It is a living platform; there will be updates," said Sinan.
The company pushed the launch date a year early after being selected by Silicon Valley-based Y Combinator (YC), a venture capital firm that has backed globally renowned start-ups Airbnb, Stripe, and Dropbox. Durioo applied to join the US firm's programme, being selected out of 17500 global applicants.
"If you get in with YC, it is like you have an MBA from Harvard (University). YC said our app was one of the most unusual, but also the most interesting being the first animation tech company they are funding, and secondly addressing a Muslim market they haven't addressed. Thirdly, we have the history of producing Omar & Hana," said Sinan.
Omar & Hana has reached over 3 billion views on its YouTube channels in 50 countries. As part of the YC programme, Durioo will pitch before more than 2,000 investors at the end of the month when it goes through its seed round.
Durioo has pulled out all the stops to get the platform up and running in its six months of operations. "At Digital Durian we had two cartoons in 10 years. In six months Durioo has 12 IPs (intellectual property rights), a platform and global investors," said Sinan, crediting the move to the company's 50-person team and the YC push.
DuriooPlus features original and licensed content.
"We have Arabic songs for kids to learn the language and we have documentaries and more family viewing," said Sinan.
The platform also features cartoon Maryam and Fatima Massoud, particularly popular in the US with more than 2.2 million Facebook followers. Out of the 11 original productions, five are animations and six non-animated including live action shows Habibi, and The Challenges.
"Not all are ready yet; eight are on the platform and three are in production. But every other week there will be new originals for DuriooPlus," he said.
The content is based on in-depth interviews with parents in Malaysia, the UK, the US and the UAE to "understand what their challenges are and what they would like to see on the platform. A lot of effort was put into that. We can start to see the impact in the kind of content we have on DuriooPlus. The content is something kids enjoy to watch and there is also a touch of Islamic values, virtues or learning".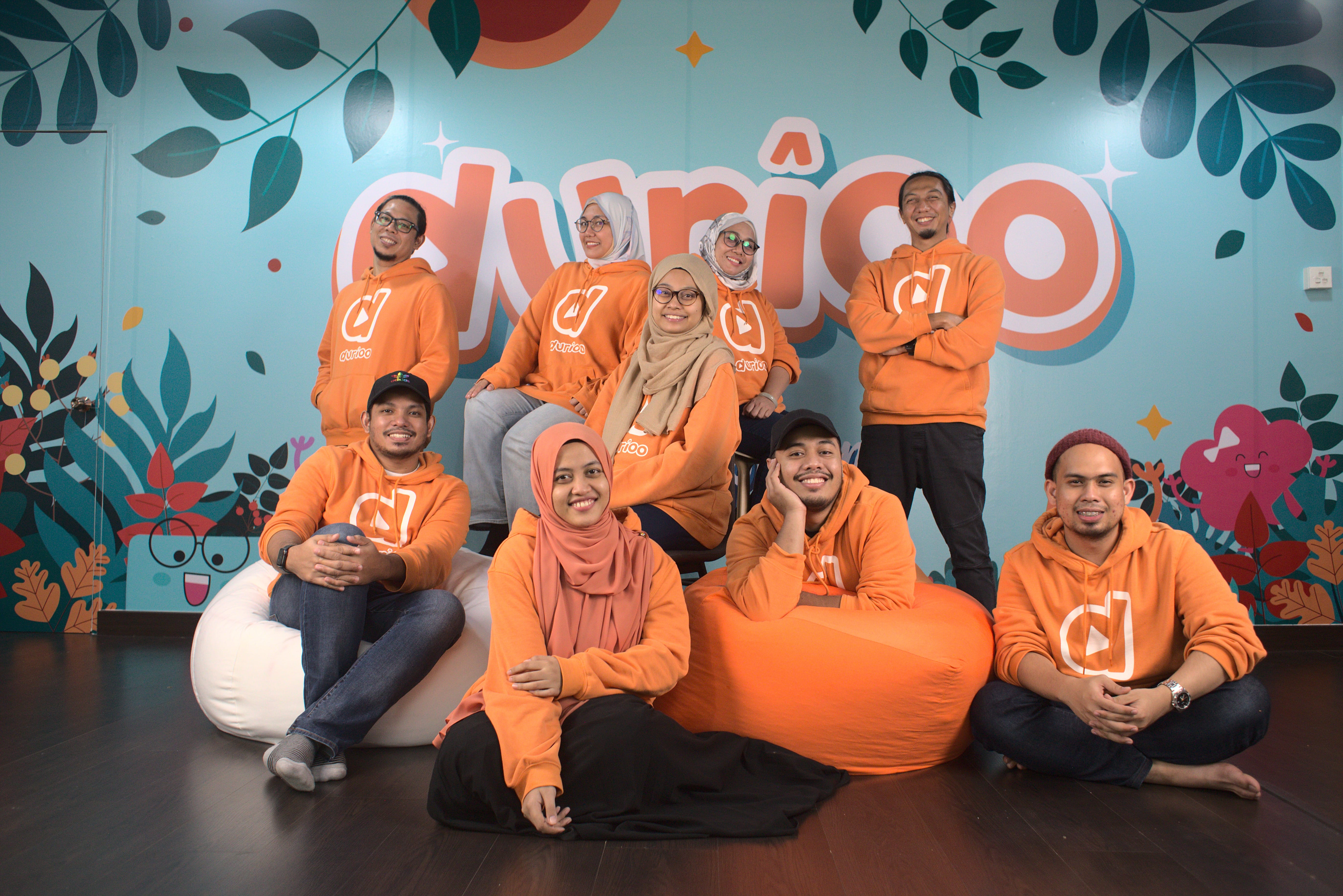 Some of the Durioo team. Sinan is back right (Courtesy: Durioo).
Durioo has entered into partnerships in Malaysia and internationally to spur growth, as well as give back. It is working with non-government organisations (NGOs) to provide a special code on the platform for users to make zakat donations.
"When they subscribe to DuriooPlus, we take X amount to give to certain organisations. The content producer is looking into partnerships with other content producers such as Noor Kids and to have more film content. Our objective is to be an ecosystem player, so not just producing our own content, but also co-productions," said Sinan.
Durioo has inked three such deals already, one for Zehni, a co-production with Malaysia-based social impact company Philandure.
"The idea is to build that ecosystem supporting other Muslim producers and buying other Muslim content. Hopefully one day we can fund these producers to create great content for Muslim children," said Sinan.
Durioo is also striking deals with merchandising partners, all currently in Malaysia, as well as licencing educational books and vitamins for kids.
"A big thing for us at Durioo, which has not changed since Digital Durian, is we believe we need to create impact beyond the screen. It is not just content, subscribe and watch, but subscribe, watch and learn through the books and have fun with the toys and at our events. We are not a traditional animation or tech company or a licensing company, but a combination of all three. And as parents we really want to go beyond the screen at the same time," said Sinan.
© SalaamGateway.com 2022. All Rights Reserved
Read – A decade on, Noor Kids is on an upward trajectory
Read - Muslim-focused media expands worldwide and across multiple platforms
Read - Muslim-themed streaming platform USHUB to invest in original content
Read - Newcomer Durioo to launch two Islamic-themed cartoon series in 2022
---