Natural halal beauty products link sustainability and faith to deliver strong growth 
---
The global trend towards more natural and vegan ingredients is bringing multi-national brands closer to halal beauty brands.
Dubai, UAE and Selangor, Malaysia: The gap between halal and natural beauty is narrowing as halal beauty brands integrate natural and vegan ingredients into their products and global cosmetics companies use more inherently halal ingredients.
"In essence, the majority of halal ingredients are of non-meat origin, hence vegan products are, by default, usually halal," Amna Abbas, consultant for beauty and fashion at market analysis company Euromonitor International, told Salaam Gateway.
Not every halal beauty product is vegan as some contain ingredients derived from permissible animals slaughtered according to Islamic law; are marine animals deemed halal or include beeswax and honey.
However, plant-derived ingredients are increasingly replacing animal-derived ones in the manufacture of halal cosmetics to remove doubt and gain acceptance among both Muslim and vegetarian consumers, according to research by Asian researchers published in the academic journal Cosmetics.
"Many times, halal products bearing the halal logo are (sold as featuring) cleanliness, quality, purity and safety," Husain Indonesiawala, director and market research specialist at India-based Straits Research, told Salaam Gateway.
He said certified natural-halal beauty products often followed current good manufacturing practice (CGMP) certification standards that ensure cosmetics manufacturing process of high quality. They also followed hazard analysis and critical control points (HACCP) guidance to reduce hazards posed by biological and chemical elements that made cosmetics unsafe.
"Products used for halal beauty products are expected to be traceable and often incorporate a myriad of thickeners (such as carnauba wax), solvents (corn and avocado oil, sesame oil and polyethylene glycol), colourants, anti-ageing agents (phloretin) and skin whitening agents (vitamin B3) among others," said Indonesiawala.
Since halal-certified beauty products cannot contain harmful substances under many halal certification systems (like those imposed by Malaysia's National Pharmaceutical Regulatory Agency), they usually do not contain harsh ingredients such as sulfates and parabens.
Consequently, many halal cosmetics rely on natural ingredients, creating an overlap with products qualifying as halal without having the certification.
"Ethical and natural concepts are in line with halal principles as the term 'halal' includes products that are ethical … therefore, halal certification is primarily an ethical certification," Mohamed Elkafrawy, CEO of Italy-based World Halal Authority (WHA), told Salaam Gateway.
He said around 45% of WHA-certified cosmetic companies have certified natural products.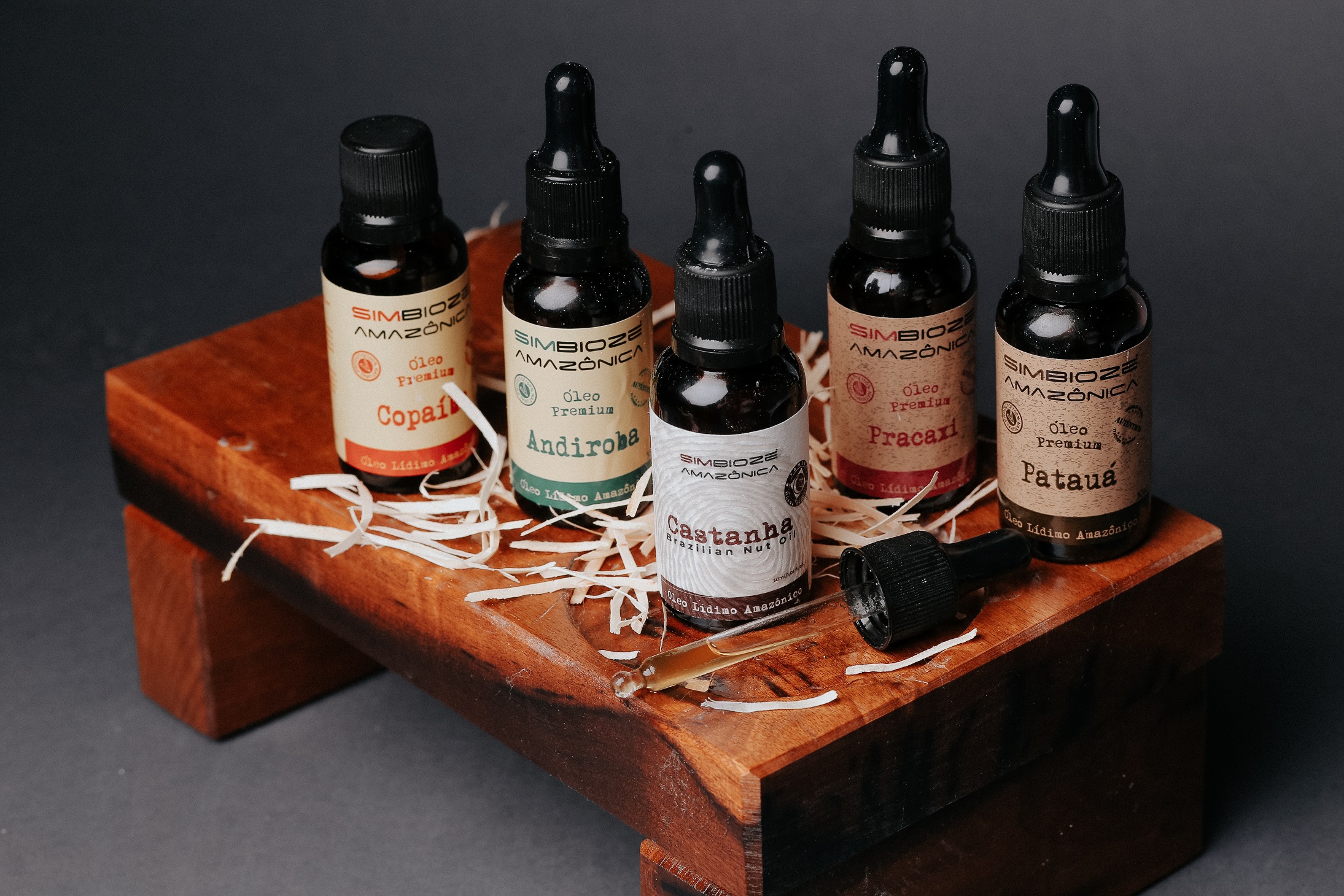 Simbioze Amazônica's range of clay-based masks and essential oils are exported to the Middle East (Courtesy: Simbioze Amazônica).
Reaching a wider market
As Muslim consumers actively seek out more natural and ethically-sourced products that are also halal, companies are raising their game to match these demands. This is evident from the growing number of beauty brands offering both halal-certified and natural products.
These include US-brands Lyda Beauty, Alzo International and Amara Beauty, as well as L'Oréal (France), Unilever (UK/Dutch), Beiersdorf (Germany), Inglot (Poland), Inika Organic (Australia), SO.LEK and Breena Beauty (Malaysia), Iba Cosmetics (India), Wardah Cosmetics (Indonesia, and PHB Ethical Beauty (UK).
The Muslim spend on cosmetics increased 6.8% year-on-year in 2021 to $70 billion and is expected to reach $93 billion by 2025 translating into a 7.4% four-year compound annual growth rate (CAGR), according to DinarStandard's State of the Global Islamic Economy Report 2022.
The market for organic personal care and cosmetics products is also booming. Valued around $33.4 billion in 2020, it is expected to hit $58.6 billion by 2031, registering a 5.3% CAGR according to India-based research company Allied Market Research.
Joao Paulo Da Silva Elvas, head of international office at Brazilian cosmetics manufacturer Biozer da Amazônia, said halal certification was essential for brands looking to expand their market boundaries and reach the fast-growing global Muslim population.
His company secured halal certification from the Federation of Muslim Associations in Brazil (FAMBRAS Halal) for its Simbioze Amazônica range of clay-based masks and essential oils in 2019 to export its products to Middle East countries.
"Halal certification is important if you want to enter Arab markets. It legitimatises the process and materials used in the products that gives confidence to your potential clients and puts your product at a higher level," he said.
Additional guarantees
Alongside halal certification, brands are adding other labels to guarantee their ingredients are from natural origin. Simbioze Amazônica obtained the COSMOS Natural seal for three of its essential oils and Biozer da Amazônia is securing this certification for other products.
Having both halal and natural labels has made it easier for the brand to market its products in the Middle East, US, Canada, Australia and Chile and will facilitate its planned expansion to Europe, said Da Silva Elvas.
Similarly, Spec-Chem Industry, a Chinese manufacturer of natural cosmetics ingredients supplying the US and European markets, has invested in multiple certifications including COSMOS; a halal certificate from the Asia Pacific Halal Council and vegan certification from the American Vegetarian Association.
Malaysia offers sound examples of how halal natural beauty products can be developed and successfully sold, as the country has a highly developed halal certification system. Brands such as Malaysian Millefleur use vegan-friendly formulas for its skin care lines; are affordable and environmentally conscious. Using a mix of natural oils and extracts, the brand appeals to the mass market and the devout.
Another Malaysian beauty brand satisfying halal and environmentally-aware consumers is Nurish Organiq, a brand offering a home-grown range of skincare products developed by an experienced team. The range infuses wholly natural extracts and organic ingredients, eschewing artificial colourings and mineral oils.
In neighbouring Singapore, Handmade Heroes has grown as the go-to natural halal beauty brand in the city-state, expanding its reach to Malaysia and across south-east Asia. Its lip scrubs are made from sugar and a mix of natural oils. Handmade Heroes also boosts sustainability by using minimalistic packaging.
Founder and managing director of Malaysia-based beauty product manufacturer Indochine Natural Sdn Bhd Mike Thair stressed the transparency delivered by following certification systems – for halal and natural lines – boosts consumer confidence and sales.
"Transparency is a big part of our brand messaging," he said.
Ahmad agreed, saying halal consumers were increasingly aware of the possible presence of critical substances in products beyond food, but also cosmetics and pharmaceuticals. This meant they paid greater attention and made a more scrupulous and careful selection of the goods they consumed.
"All this translates into market opportunities for those who certify themselves and limitations for those who do not. From this perspective, it can be said natural products have a great potential in halal cosmetics," she said.
© SalaamGateway.com 2022. All Rights Reserved
---